'The Battle for England' titled show brought with it an electrifying line up of fights, with an IBO international heavyweight title eliminator as the main event and several fighters making their professional debuts.
The night saw young super bantamweight Jack 'The Ripper' Smith take his first steps into the ring as a professional to battle against the more experienced Craig 'Dynamite' Derbyshire. Smith showed true determination throughout the first round, keeping his boxing style neat and precise. However, his opponent proved too much for him and he walked away with a 2nd round loss due to a technical knockout.
[sam id="1″ codes="true"]
The middleweight division saw its own fresh-faced warrior enter the ring, with 25-year-old Samuel Antwi facing Italian-born Victor Edagha. Samuel bought heavyweight hits into the middleweight fight, with his hard blows proving too much for his opponent and leading to a well-deserved 2nd round win by TKO.
The lead-up to the main event was a long awaited return by heavyweight AJ Carter, who had been forced to take a break from the ring due to a shoulder injury. Carter faced a tough opponent, 30-year-old Kamil Sokolowski, who's heavy landing jab in the first round and series of devastating blows in the 2nd led to Carter walking away with a 2nd round loss due to a TKO.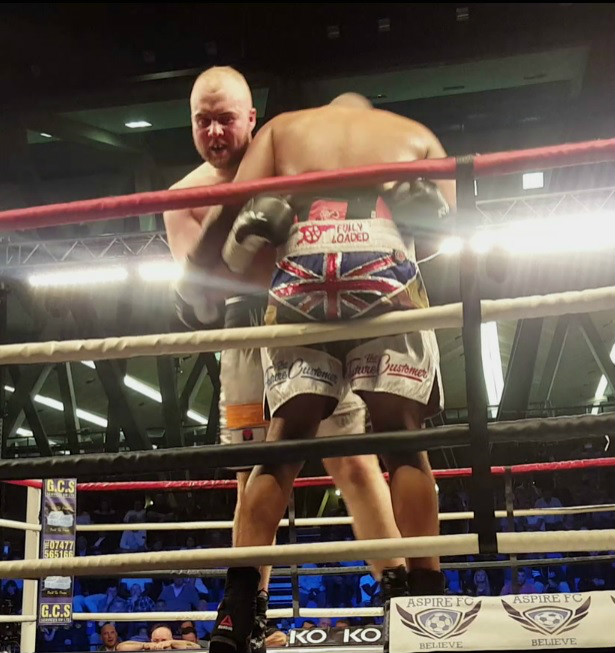 The main event itself proved to be the battle that had been promised, with 20-year-old Nathan Gorman facing fellow heavyweight 36-year-old Dominic Akinlade in an action packed IBO International heavyweight title eliminator.
From the very first bell, both fighters showed their skills and strength, with hard landing shots from both sides. The first round saw both boxers keeping a busy pace with Akinlade working the jab well. However, round 2 saw Nathan step up the game, with a series of well-placed and heavy combinations, that he then continued to execute throughout the fight. These, along with his use of good defense led to him walking away with a 10 round point's victory and a still-undefeated record.
This final battle was an impressive ending to a night of boxing that proved, whether they win, lose or draw, every single fighter leaves the ring a true warrior.
[sam id="1″ codes="true"]
GORMAN PASSES TOUGHEST TEST
NATHAN GORMAN bolstered his experience and passed his toughest test to date with a comprehensive ten round points victory over Dominic Akinlade on Saturday night.
Gorman, boxing in his ninth professional contest at the tender age of 20, took charge of the contest early with clever use of the jab on the backfoot.
Akinlade pressed forward through each of the ten sessions and was always dangerous with single right hooks, but Gorman's cleaner counters were the order of the day for referee Jeff Hinds, who scored the fight 100-92.
The victory earned Gorman the right to contest both the English and IBO International heavyweight crowns while also giving him his first taste of boxing beyond five rounds.
With wins over the likes of Adam Machaj and Tom Little, Londoner Akinlade is a sizable scalp for any boxer and Gorman's trainer Ricky Hatton believes the bout will prove to be a crucial step in his charge's education.
"I'm very proud of the way Nathan performed," Hatton said. "He boxed coolly throughout, listened to what I told him in the corner and completed ten rounds for the first time.
[sam id="1″ codes="true"]
"I think some fans were expecting to see Nathan blast Dominic out early like he has with a couple of his recent opponents, but we knew it was always going to be a long fight and those rounds will stand him in good stead for the future.
"People forget he's only 20 and he's still very much a work in progress. Wins like this provide the building blocks for him to get where I expect him to and that's the very top."
Gorman will now some time away from the gym as his wife Natalie is expecting their first child in the next few weeks.
An announcement on his next fight will be made later in the spring.