There have been many examples historically of good corner work but if we take the most recent example, Virgil Hunter got Andre Ward through the Sergey Kovalev fight. He got Andre through the tough times. It helps that Andre is a naturally tough fella – he had to be because he was getting hurt for the first couple of rounds – but when he got back to the corner after getting knocked down, Virgil knows him so well that he was able to speak to him quite harshly.
In the past we've seen fighters get spoken to harshly and they've gone into their shell and clammed up. You've got to know your fighter and know what you can say and when you can say it. If you scream and shout every round, they will become immune to it. 
We've seen Virgil speak to fighters like Andre Berto – who he hasn't known that long – and they just clam up and can't perform. Virgil and Andre Ward have such a long and intimate relationship that he could speak to him in the most stark and harsh terms. Over the last four rounds, I thought he was absolutely brilliant. Andre knew what he had to do, Virgil just had to make him do it.
We can't say that Virgil is lucky to have Andre because he has helped to build him but in many ways, Virgil has been made by Andre Ward. Mickey Duff said to me years ago: "Gary, I've seen more fighters make trainers than I have seen trainers make fighters." He's spot on.
No matter how good you are as a coach you need a product. Using a modern example, Adam Booth needed David Haye at the time and to go back in time, although Ray Arcel trained many great fighters, it was a little kid from Panama that made his name. In the 1940's he was respected, but in the 1970's he was revered. He was revered because of one fighter: Roberto Duran.
A good coach has knowledge of not only what his fighter can and can't do but also knowledge when he needs to tell him what to do.
[sam id="1″ codes="true"]
He will look at what an opponent does really well but he also has to cater for what the opponent is weak at. For example, if an opponent has a great left hook then straight away you don't want to be walking towards it and when you want to start swapping shots, you don't hook with a hooker. My thing has always been that when a guy wants to hook with you, throw straight and at the very least, keep stepping off to your left – like Bernard Hopkins did against Felix Trinidad – and take away his left hook.
Does the opponent move his head after they punch? If he doesn't, you know that you can use your own defensive skills and that you'll be able to counter punch. It carries on, but basically a good coach should know what his fighter's strengths and weaknesses are but also what his opponent is and isn't good at.
I was fortunate enough to watch the great Eddie Futch in the corner with Mike McCallum when he came here sparring. It's something that has stuck with me. He would speak to Mike like he would a man on the street. He was ultra calm. He would say the poignant things but they were always said in the calmest manner.
I think that there are lots of trainers that are set in their ways of coaching and they can't deviate from what they do. There are some trainers that love it to be known how cerebral, intelligent and calm they are in the corner but sometimes, you have to give a fighter a kick up the butt. You have to be able to say: "Mate, you've lost three out of four rounds. You need to win the next four!" 
I'm not a fan of the trainers who rely on histrionics all the time. Teddy Atlas' tactics didn't always work with Michael Moorer. It worked in that one fight with Evander Holyfield but it never did again. Moorer never looked like he was listening to Teddy in the fight with George Foreman.
When a round ends and the fighter returns to the corner, I don't know why but I always say to my fighter: "You alright?". One time, I had Joeboy Taylor come back to the corner and I asked if he was alright. He said: "Funnily enough, I'm not Gal. I think I just broke my hand." 
I'll get them to breathe up for about 20 seconds and then I'll either give key points or I'll say to them  what I wan't them to do and why I wan't them to do it.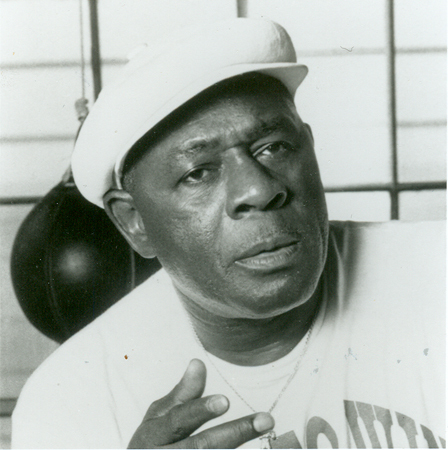 I used to love watching George Benton (pic left) work the corners. He was always one of my favourite trainers because he used to reason with his fighters. I remember the Mike McCallum and Don Curry fight. George said: "Mike, just keep digging to the body because you've got him moving and while he's moving, he's not dangerous to us." He was so right. Don landed the odd flashy combination but Mike was doing the bread work and putting it in to the bread basket. Because Benton reassured him about what he was doing, he didn't get phased.
He did the same with Meldrick Taylor and Pernell Whitaker. He was able to reason with his fighters about what they were doing and why it was working and he could do it in such a short space of time. In that minute you've got, you have to make clear and concise points and make the fighter believe that he can do it. 
When I got dropped by Roy Rowland in our Southern Area welterweight title fight, I got up and back to the corner and my trainer, Carlie Carew, said: "You know what, you've already proved one thing tonight by getting up. Now go and prove something else by hurting him.
[sam id="1″ codes="true"]
You can break his heart. Don't stand at range. Get close and keep working the body but be careful. He'll keep trying to bring his head down into yours." We knew that if I could get past his classy jab, I could break him down. That's exactly what I was doing until the fight unfortunately got stopped when Roy got a cut after clashing heads. Carlie had predicted that Roy would headbutt me. 
In fact, that little story sums it all up. Carlie knew Roy's strengths and weaknesses and knew what I was good at beforehand. When I got back to the corner after being in trouble he was calm and he reasoned with me. I trusted him enough to listen and in the end, we got the result.