"We're raising £100,000 to for Dean Francis who has just been told his cancer is untreatable and incurable and that the NHS can't help him" – Lee Haskins
Dean Francis is a man that needs little introduction, nicknamed STAR in his boxing career winning titles such as British European and commonwealth is well known and respected throughout the boxing world. Writes World IBF bantamweight champion Lee Haskins.
Training out of Bristol boxing gym, Dean trains and mentors people like myself and inspiring boxers & youngsters within the community.
He has found happiness and is very much a family man and well loved by many close friends. Recently married to Ghalia Francis after a nine year relationship and now father to his precious three year old son Rocco Francis.
Dean also supports his wife in her business little star workshops' in their hometown Chepstow. An independent, thriving child's workshop and cafe located in the town centre which has been open less than a year, an adventure the newly married embarked on, inspired by their special little boy.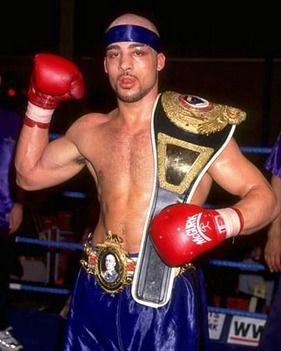 Having always been a fighter Dean (left with his belts) has overcome the impossible in his boxing career after a shoulder injury that told him he can never box again. Against all the odds he fought his way to the top again. We need your kindness and support to help Dean and his family a chance to fight this illness that destroys so many lives.
We are raising £100,000 for Dean Francis who has just been told that his cancer is uncurable and untreatable, and that the NHS cannot help him.
Dean's only chance now faced with such a life-limiting illness is look for alternative treatments in the hope that we can not only prolong his life, but that we can find a cure. Already, the illness has progressed quickly as Dean was first diagnosed in January.
While this has come as a massive shock Dean and his friends and family are not prepared to just sit back and do nothing. We are so grateful for every donation received. x
A PERSONAL MESSAGE FROM DEAN FRANCIS
Pls RT Message from the champ Dean Francis who faces his biggest fight against cancer. https://t.co/ChsK7BD9j9 @jamesdegale1 @LeeHaskins118 pic.twitter.com/kwFYwQ5BCH

— Jamie Sanigar (@JamieSanigar) March 5, 2017