Droitwich heavyweight Louis 'Razor' Robinson will make his eagerly-awaited pro bow on Friday 14th April at the Bowlers Exhibition Centre in Manchester on a Keiran Farrell Promotions show, titled 'Young Kings' 
The nine-fight card at Trafford Park features four debutants and five unbeaten prospects with a combined record of 20-0. 
[sam id="1″ codes="true"]
The 27-year-old commented, "I've been working towards my debut since November last year, so I've been training hard in the gym for a while now." 
Razor is signed to Amir Khan's former manager Asif Vali and has recently relocated from Droitwich to Bolton to team up with Alex Matvienko in his Elite Boxing Gym. 
He continued to say, "I'm taking it serious so that's way I'm moving up to Bolton to be closer to the gym and my trainer Alex Matvienko." 
The heavyweight hopeful has already benefitted from top class sparring with the 'White Rhino' David Allen and Ricky Hatton's young charge Nathan Gorman. 
New trainer Matvienko, a former pro himself known as the 'One Man Riot', has promised to arrange world-class sparring for his new charge.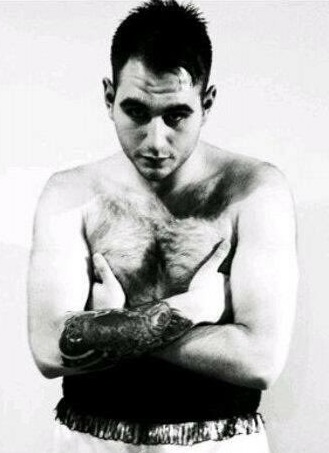 "Alex said he's going to get me top class sparring with the Fury's in the next few months, which will be the best preparation I can get," said Razor. "If I can spar with the Fury's then I should be ok going in there with anyone." 
The debutant was approved by the BBBofC for his professional licence despite only experiencing a handful of white collar fights. 
Razor explained, "My dad used to box and I used to go the gym with him back in early 90's. 
"I had eight white collar fights and won all of them. I didn't have my first fight until I was 18 and I won that over four two-minute rounds." 
The West Midlander talked about his ambitions for his pro career, "Obviously, I'll take it one fight at a time but I truly believe I can win the British title, and I'll give it everything that I've got. 
"I'm 6ft 6" so I like to fight on the outside. I'm technical but also like to get on the inside if I see an opening. I'm quick for a heavyweight, been told by many that I move like a middleweight. 
"I want to get down to about 18st but still be strong and lean at the weight." 
[sam id="1″ codes="true"]
The 'Young Kings' event on Good Friday will also see fellow debutants Khaleel Majid; Irish welterweight Dylan Moran; and featherweight Sean Higginson all make their pro bow on the same night as Robinson. 
Unbeaten prospects Osman Aslam (9-0); bantamweight George Brennan (3-0); 21-year-old Reece MacMillan (4-0); Halifax heavyweight Josh Sandland (2-0); and Warrington welterweight Danny Craven (2-0) are all in action on the night, looking to continue their winning runs. 
Razor added, "I should also be fighting on May 19th at Bolton FC and also June 3rd either in London or Sheffield." 
For tickets to the next fight, please call: 07958 389 220 
To follow Louis 'Razor' Robinson on Twitter, click here @LouisRobbo1 
Louis 'Razor' Robinson would like to thank his sponsors Fresh Prints Shop, Rokkar Watches and Agent Tim Rickson