Renowned boxing and fiction author Ian Probert makes his Britishboxers debut with a look at what we can expect when Anthony Joshua meets Wladimir Klitschko in a faux heavyweight title unification fight.
Ian was one of the architects of a new, raw style of British boxing writing alongside the much-missed Glyn Leach and recently made a welcome return to writing about the sport and business that binds us all.
An inspiration to those who have followed him, including all of BB's current team, Ian will cast his unique eye over key fights and events.
Every once in a blood supermoon boxing will reluctantly throw up the kind of fight which tends to encapsulate everything that drew you to the sport that isn't a sport in the first place. IF it indeed happens (and if you know boxing, even on a purely casual basis, you will understand that the 'IF' is fully deserving of those all caps) I'm talking, of course, about the upcoming IBF/WBA heavyweight 'unification' fight between Anthony Joshua and Wladimir Klitschko.
As heavyweight confrontations go the occasion has enormous potential significance on a number of levels. Firstly, in time-honoured fashion, the fight appears to be enacting one of boxing's most essential traditions: that of the passing of the torch; in which young, sharp-clawed uber cub usurps ageing bedentured lion to beckon in a new era of boxing. (Notwithstanding that the sport has conveniently turned a blind eye to the fact the the 'real' linear heavyweight champion is actually our own Tyson Fury.)
It's a ceremony that heavyweight boxing in particular seems to meticulously respect and draws to mind images of a rampaging Rocky Marciano chopping down the shell of the once unbeatable Joe Louis; of Larry Holmes punching holes in the torso of an eroded Muhammad Ali; of Mike Tyson slapping down a choleric grandfather named Larry Holmes. I could go on.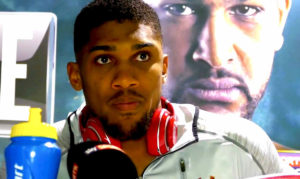 What the fight also promises is a sense of perspective. In matching the leading exponents of two heavyweight generations a number of questions are crying out to be answered. Does, for example, Klitschko's record of 28 successful title defences of one description or another over two decades say more about the quality of the era that he inhabited? Or will Klitschko be able to demonstrate that Anthony Joshua's ridiculously routine destruction of 18 separate opponents in only 44 rounds of boxing flatters to deceive? In other words: was Wladimir Klitschko ever really as good as we were told he was? Or is Anthony Joshua nowhere near as good as we're given to believe he is? It's a fight, then, that seems to be giving every indication of possessing a little more importance than a six-rounder at the York Hall.
All the more surprising then, that most people in the know seem to have already written Wladimir Klitschko's obituary before a punch has been landed. This idiot you're reading here learned a very long time ago that when it comes to boxing only a dilettante or a fool is a slave to certainty. Nevertheless sheer weight of numbers seems to indicate an overwhelming consensus. (But then wasn't David Haye supposed to easily limp his way through Tony Bellew in the course of the last racing certainty that we were all party to?)
[sam id="1″ codes="true"]
Shaky confession here: against my better judgement I'm going to break a personal promise and use this, the occasion of my auspicious (or is that suspicious?) debut column for BritishBoxers, to offer my own prediction regarding the outcome of this momentous event, with the proviso that over the years I've invariably been more wrong than right. For this reason I'm going to offer two possible outcomes to the contest: that of a win for Joshua or a win for Klitschko. Don't be surprised or disappointed by my blatant bet hedging. Ordinarily I'd cover my tracks by offering the third outcome of a draw — but, what the hell, I'm feeling lucky today.
I'm offering two separate outcomes to the fight because to my mind we're potentially dealing with two entirely different fights here.
The accepted wisdom regarding Fight #1 is, of course, that come the latter hours of 29 April we're all going to bear witness to an uninhibited Anthony Joshua doing what an uninhibited Anthony Joshua does best: namely chasing down his man in the manner of a Komodo dragon tracking its poisoned prey; launching an avalanche of hooks and power punches that are as deadly as they are relentless, towards a climax that many learned observers believe will not go beyond a paltry six clangs of the bell.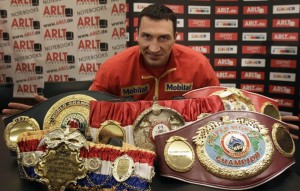 It doesn't really need to be said that in Anthony Joshua we have a fighter who might very well be the real deal in every sense of this overused expression. ABA champion in 2011 and European silver medalist that same year; Olympic Super heavyweight champion 12 months later; WBC International champion within 9 fights (whatever that may be); British and Commonwealth champion by fight #16; IBF world champion two rounds later. A flawless professional record comprising eighteen one-sided knockouts backed up by a crowd following not seen in the division since the days of housewives' choice Frank Bruno. Does even a boxer of the undoubted pedigree of Wladimir Klitschko possess the qualities necessary to halt this human steamroller?
Less popular, for this reason, is the notion that in Fight #2 Wladimir Klitschko, consummate safety-first ring general that he once was and still may be, will be able to use his experience to repel the coming storm, to pick and prod at the young pretender and take charge in the latter rounds to return Joshua back to his crèche. I say less popular — but if you were to head over to the latest press conference with a handful of rice you'd be hard pressed to connect with any boxing writer willing to espouse such an opinion.
Many point towards the stats. Indeed, when we met a few weeks ago my good friend and all-round nice human being Matt Christie, of Boxing News, was keen to highlight Klitschko's dwindling punch count over progressive outings; evidence that would seem to clearly indicate that the veteran Ukrainian is no more capable of upping his punch rate in the face of Father Time than I am of increasing my typing speed.
Furthermore, during a recent crackly Facebook Messenger voice call with the equally splendid Johnny Oliver, former trainer of Anthony Joshua, I was left in no doubt that Klitschko stands more chance of getting six numbers and the bonus ball than of putting Joshua back in his box. The message, then, seems to be coming across loud and clear.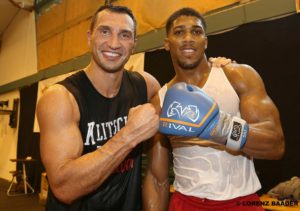 Indeed, so I'm told, one only has to examine Klitschko's last outing, that stagnant, taciturn 12-round loss to Tyson Fury way back in 2015, to observe ample apparent evidence that the Ukrainian is not what he used to be.
But I'm not so sure. I have my doubts. This is, after all, boxing. No doubts, I must explain, as to the anticipated choreography of the upcoming contest. For surely we are unlikely to see any kind of role reversal at play. Both cast members should be content to keep to their lines, with Joshua marching forward and throwing his bombs to dominate the early rounds. And Klitschko using head, shoulders, knees and toes to keep the distance between his chin and Hurricane Joshua at a premium.
My doubts instead rest with one almighty intangible: namely that at 42 Wladimir Klitschko might just have enough left to keep the youth, power and relative inexperience of the 27-year-old Joshua at bay.
I've never pretended to be a boxing historian. Thank heavens for BoxRec, I say. Nevertheless I'm hard-pressed to unearth the name of another boxer who attained a version of the heavyweight title without ever hearing the bell for the eighth round. Correct me if I'm wrong but Frazier… Ali… Holmes… Tyson… Dempsey… Lewis… The list is extensive – all of these fighters had the experience of fighting for at least thirty consecutive minutes before rising to the summit. And this, I suspect, may very well turn out to be Joshua's Achilles Heel. Because IF Klitschko can find a way to overcome fight #1 then it will be Joshua's turn to find a way navigate his way through fight #2.
It's a giant IF. Another all caps IF. Because make no mistake about it: Klitschko has a real job on his hands. The sight of Anthony Joshua marching forward behind his titanium jab is truly a thing of beauty. But if there is a suspicion that the fighter's perfect record owes much to intelligent matchmaking, until Joshua meets an opponent capable of extending him the full distance we have no alternative but to give the fighter the benefit of the doubt. Likewise, if Klitschko's dwindling punch stats are evidence of infirmity rather than diminished quality of opposition we have no choice but to also take him at face value.
Success or failure for the Ukrainian, therefore, rests on his ability to spoil; something that would make a prime Klitschko a clear favourite if this fight were to take place five years ago. The question, therefore, remains: is four-fifths of what Wladimir Klitschko once was enough to stop five-fifths of what Anthony Joshua still is?
The confrontation, then, clearly threatens to be an exciting one: indeed, such is the public frenzy that tickets for the fight are currently being mopped up on eBay for as much as 2k. Boxing, however, being the pernicious animal that it is, may well have other ideas as to the nature of what will happen. After all, so often in the past we have seen combustible elements combine to produce more fluff than explosion.
Make no mistake about it: we are, in my admittedly ill-learned opinion, destined for a dour opening to the fight. Expect to see every minor success from Joshua greeted with hysterical roars from the partisan crown. But also expect to see Klitschko use every power at his disposal to mess around with the man who he is inordinately keen to acknowledge as a friend. Look forward to plenty of elbows and plenty of clinches. Before the bell for the end of round one sounds Anthony Joshua will surely know what it is like to have more than 17 stones of sweaty Ukrainian hanging around his neck.
Talking of weight: Klitschko will no doubt be aware that in attempting to regain his title he will have the full weight of history against him. If, however, the bell to round six sounds and the imposing figure of Wladimir Klitschko is still standing before us, then Anthony Joshua and boxing in general are sure to be asked questions that they has never before been asked.
Those questions are obviously compelling ones: is the modern habit of fast-tracking a prospect towards largely meaningless 'titles' really an authentic means of dealing with genuine talent and raw potential? Does the left hook from Dillian Whyte that stopped Joshua in his tracks during round two of their December 2015 encounter represent clear evidence that there is a limit to the boxer's punch resistance? Was Klitschko's poor showing during in his meeting a month earlier with Tyson Fury down to intelligent strategy by his British opponent or is the Ukrainian's performance representative of endemic decline?
[sam id="1″ codes="true"]
These are questions that I'm very likely to pay good money to see being answered. This article, however, is free for all and as such I have no obligation to lay all my cards on the table. For this potentially career defining fight I'm sticking to my original predictions. It could, indeed, very well be all over within a couple of rounds; tenderfoots and experts could quite easily find themselves united in a chorus of 'I told you so'. This, however, as I keep stressing, is boxing. And boxing has its own way of dealing with any situation.
Alternatively, it's entirely possible that the guile and experience of Wladimir Klitschko may well be enough to weather the storm; and that come round five or six we might very well find ourselves watching a real, genuine fight with an authentically unpredictable outcome.
Whatever the case, I'm ruling out a draw. I'm sufficiently confident that by the end of the night those questions will have been answered and already replaced by new ones. But then that's more or less what I said when a certain Lennox Lewis climbed into the ring with Evander Holyfield back in the days when Donald Trump stuck to real estate and the bedrock of Europe was more intact than Anthony Joshua's unbeaten record.
Visit http://ianprobert.com/ for details of Dangerous, Ian's latest boxing book. you can also access his work on fiction, including his critically acclaimed book Johnny Nothing, by going to his Amazon page via this link.
[sam id="1″ codes="true"]