Anthony Cacace tells Danny Flexen why it has taken five years to reach this point
IDENTIFYING the missing ingredient, the fatal flaw that prevents an undeniably talented fighter from achieving crossover superstardom, is often easier than discerning the x-factor that distinguishes the elite.
Perhaps it's a depressing part of human nature, that we find the negative more readily apparent. Clever operators like Pernell Whitaker and Winky Wright were rapidly pigeonholed as uber-talented, defensively astute geniuses with styles that entirely failed to captivate the mainstream; categorised as a purist's wet dream but a promoter's cold-sweat-inducing nightmare.
Then there are the skilful, charismatic boxers who lack eye-catching power and their thrill-providing counterparts who are frustratingly rendered taciturn dullards when confronted by cameras and microphones. If someone falls short of marquee celebrity, there is usually a reason and that reason is usually obvious.
All of which makes the Anthony Cacace situation rather perplexing. Anthony is 28, unbeaten in 15 fights and was an accomplished amateur. His style is relatively easy on the eye – for a 5ft 10in switch-hitting super-featherweight, at least – and the Belfastman boats a fearsome whack.
Despite turning pro over five years ago, however, Cacace is only getting a first British title shot next month and few people beyond his home city and the sport's hardcore fraternity are familiar with his prowess. The natural presumption if one had never spoken to him – as your author had not until just recently – is that he must surely be a big, dull dud, but nothing could be further from the truth. Charming, engaging and funny, Cacace would not embarrass himself in a post-fight interview or, indeed, on A Question of Sport.
Cacace might be the Noble Art's best-kept secret. Maybe he's simply the least fortunate Irishman of recent times. Could he actually be both?
"I'm the unluckiest boxer, really," he laughs wryly, but only half-joking. His July 15 tilt at the Lonsdale Belt held by Martin Ward, on an ITV pay-per-view show at Wembley Arena, is the culmination of a long and winding road that included two uneventful years under the Cyclone Promotions banner and an equally bland trip to America. "I had a very good start – six fights in my first year – but since then it's been a wee fight here, a wee fight there, and they've been really hard to get up for. I've never had the stability or anyone that really wants to look after me.
"The inactivity, that's not through me whatsoever, I would box absolutely anyone in the country, I always wanted to take risks, but getting them big fights always seemed very hard and complicated. I had a short period out in Philadelphia, the guy looking after me at the time never had much to do with boxing and he thought it was a good idea, and I thought I would give it a try. I had one fight out there, nothing else was happening. It put my family through a wee bit of trouble being away all the time.
"Joining Cyclone [in 2014] was a funny one. I was going down to meet a former sponsor who had helped me throughout my career, at the Europa Hotel [in Belfast], and I met [Cyclone boss and Irish boxing legend] Barry [McGuigan] outside, by chance. He always said he thought I was talented, he took my number and two weeks later I had signed a contract in London. I was never allowed to pick a coach, they controlled everything, but Shane [McGuigan]'s a good coach. Barry always had total belief in him and that's paid off, they're all flying now.
"I boxed Ronnie Clarke in Scotland, I was given seven weeks' notice and I was worried it wasn't enough time, but I took the fight. Barry promised if I won I'd be on the Carl Frampton-Scott Quigg undercard but [even though he was victorious, via knockout] I wasn't on it and Barry didn't make contact with me for a couple of months. I was already fed up with how stop-start things had been beforehand, I just wanted to fight and at a high level. It's hard to get your name out there and that opportunity would have got it out there."
Surprisingly, Cacace seems more apologetic than aggrieved, and the experience he laments was not without its upside. He learned plenty from Shane and derived his moniker, "The Apache", from Barry, for the "exact reason that it sounds like my name!"
The win over Clarke in October 2015 earned him a chance at the domestic championship and, though he split from Cyclone last summer and endured an agonising wait for his shot, the big night is almost here and Anthony now feels settled with veteran manager Pat Magee and a new coaching partnership comprised of Ray Ginley and David Walsh, two men he once trained alongside. This follows spells under Sean and Paul McCullough, Tim Witherspoon, McGuigan and Brian Magee.
While Cacace insists circumstance has dictated these frequent changes – moving to the US and back necessitated new appointments, while the end of the relationship with Cyclone meant he had to leave Shane – perhaps they speak to a deeper problem with commitment, both to the sport and the people within it. After starring as a decorated junior amateur, he let things slide and at 19, with his first child on the way, Cacace took an extended break from boxing to support his nascent family.
"I was never allowed to pick a coach, they controlled everything, but Shane [McGuigan]'s a good coach. Barry always had total belief in him and that's paid off, they're all flying now" —Anthony Cacace
"I only ever entered the Irish Seniors once, but I thought I was robbed in the final, against Ross Hickey," he tells me, in a happy-go-lucky tone that suggests he has put the disappointment firmly in the rear-view mirror. "I won the Ulster Championships three times, but I used to come back two weeks before the championships, made weight and won them. I didn't take it serious at all, I would rather go out and hang with me mates, be a bit of an eejit and just go back when the championships were coming up.
"I was doing plastering, I had my daughter at just turned 19 so I had to make some money and get a job. I thought all my dreams of turning pro out were out the window coz I'd left such a big gap, but I never lost it and when I came back at 22, it felt like I had never left. My family, we used to talk about my boxing when we got together, and I missed the buzz I got from it. My whole pro career up to now, I've always had jobs, I've never been solely reliant on boxing coz I can't be! Pat's been helping me out financially but before that I was doing a bit of gardening during the week and pizza deliveries at weekends. The guys that sponsor me now, that make my meals, I was delivering for them."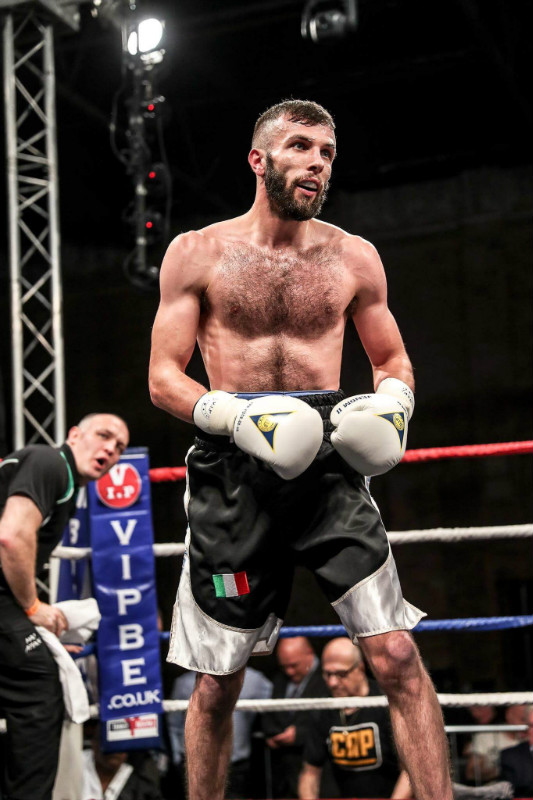 Anthony Cacase – pic: Karen Priestley
That temporary job was, in a sense, perpetuating the family business. His father Antonio, a former long-distance runner in his native Italy, emigrated to Belfast after falling in love with Anthony's mother and would become head chef at the Europa and later make a living from the popular pies. Regardless of the cuisine, Antonio always provided for his brood and now Anthony has two children of his own – eight-year-old daughter Cadhla and baby boy Cillian (eight months) ­- his vocation needs to stop inflicting stress and start paying dividends.
"When I had a child, at the start I didn't know what I was in for; it was hard," he reflects, with bemusement. "It's been great with this lad, but I haven't got anywhere near where I'd like to be. I'd love to buy a house out of boxing for my family – I wouldn't say I wanna be a millionaire or anything along those lines. But a house… I've been in boxing long enough that's the least I deserve."
Even the contest that could prove his salvation has been subject to delay and shrouded in mystery. With champion Ward backed by leading promoters, Matchroom, and his challenger hailing from Belfast, the fight initially appeared a natural to feature on their June 10 bill in the Ulster capital, topped by Lee Haskins' world title defence against Ryan Burnett. The company could not reach an agreement with Magee, however, and the canny stalwart took an upset victory in the resultant purse bids. The showdown also offers the vacant Commonwealth strap for the winner and goes ahead on a marquee card headlined by Chris Eubank Jr against Arthur Abraham, but the confirmed location bequeaths to Brentwood's Ward relative home advantage. Cacace, though, is undaunted, relieved in fact to finally adopt his rightful place in the spotlight. Added incentive comes in the form of potentially inheriting Ward's high European ranking and an accelerated path to world level.
"I haven't got anywhere near where I'd like to be. I'd love to buy a house out of boxing for my family – I wouldn't say I wanna be a millionaire or anything along those lines. But a house… I've been in boxing long enough that's the least I deserve." —Anthony Cacace
"That is the motivation, that I won't have anyone standing in my way, I'll be right there for the European title," Cacace enthuses. Sparring former world rulers like Anthony Crolla and Carl Frampton has only enhanced his confidence.
"If I beat Ward, there will be plenty of opportunities as British champion and I won't need a big promoter. I'll travel anywhere to fight anyone, it doesn't faze me in the slightest, as long as everything is fair. I kinda thought it would be London coz, to be perfectly honest, Martin never wanted to come to Belfast. If he hasn't got the cojones I'll go there; you have to travel for big fights and that's exactly what I'm doing. Maybe he'll see it as an advantage but he shouldn't. It won't bother me one bit, I've been round this boxing my whole life and now I feel like I belong at the very highest level."
After a whole life toiling in the shadows, not to mention chasing them, Cacace approaches his golden opportunity with focus, maturity and the right team supporting him. Perhaps the missing ingredient was timing, all along. What's luck got to do with it? 
LATEST BBTV VIDEOS