The old Frank Sinatra song "That's Life" could have been written exclusively for David Price. Especially the line that goes "Your riding high in April, shot down in May." The 34-year old was once a gilded amateur (Olympic Bronze and Commonwealth Gold), ESPN's 2012 Prospect of the Year, owner of an unbeaten 14 fight pro record and with English, British and Commonwealth titles safely tucked in his locker.
That is until he was "shot down" in February 2013 at Liverpool's Echo Arena by American veteran contender Tony Thompson. This was followed by another stoppage defeat in the rematch less than five months later and further career derailing losses to Erkan Teper and burly Romanian Christian Hammer. These were all fights that pundits and bookmakers alike expected Price to win. The once proud unbeaten record of 14-0 has now morphed into a precarious 22-4. The fact that the last digit comprises solely of all inside the distance defeats, only seeks to add to the fragility.
Following each defeat, much to the Liverpool man's credit, he has in the words of Ol' Blue Eyes "picked himself up, dusted himself down and started all over again." An act that must get increasingly harder with each reverse and the advancing drumbeat of age. Something that the open, affable and straightforward Price is happy to admit.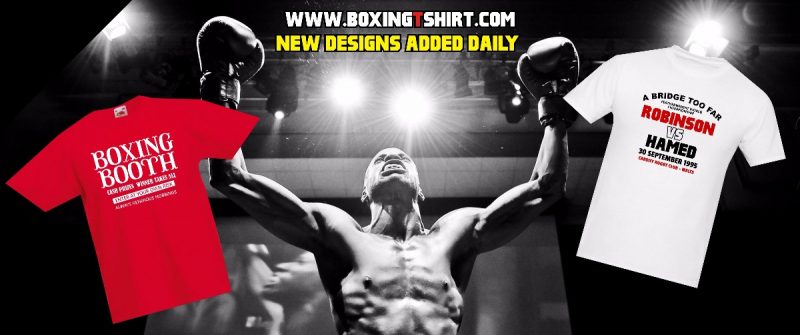 BOXING T-SHIRTS VARIOUS DESIGNS FROM JUST £10 – www.boxingtshirt.com
This weekend's bout vs Alexander Povetkin at Cardiff's Principality Stadium is in all likelihood his final shot at re-establishing himself in the big time. His name jettisoned from the top of the marquee he is now destined to appear on the Joshua vs Parker undercard. That they are nominally facing off for the second-string versions of the WBA and WBO heavyweight titles is no more than coincidental.
His 38 year old Russian opponent enters the ring on the back of seven straight victories following his unsuccessful challenge for Wladimir Klitschko's world championship belts back in 2013. In terms of results this defeat remains the only blot on the Russians record. Last time out he conclusively defeated Christian Hammer on points over 12 rounds. Saturday will mark only the second time that Povetkin has fought outside of Russia or Germany in a 34 fight career, and it is easy to perceive this matchup as a mechanism for him to grow his brand and increase his marketability on a giant stage.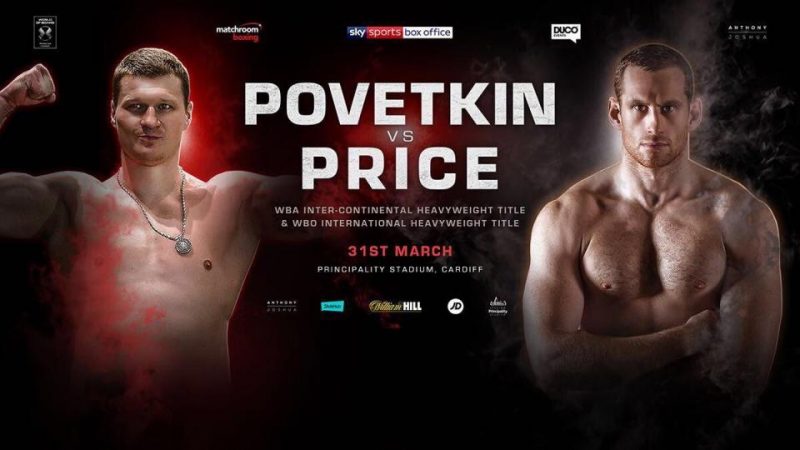 His team have seemingly earmarked Price as a high profile yet infinitely beatable opponent. The type of opposition that can be blown away via a destructive and photogenic knockout. One that can push him into the consciousness of fight fans and pave the way for a full title tilt and a larger slice of the heavyweight division's pie.
But, for true fight fans, there is a different flavour and an all-pervading moral truth that runs through this encounter. Povetkin is a poster boy for everything that is wrong in modern boxing. A sport that is despairingly flimsy and stained with double standards in its approach to drug violations. One overseen by bloated yet insubstantial and myopic governing bodies. A place where the truth is rarely exactly "what it says on the tin."
Povetkin, has previously failed two separate drug tests. Offences for which he was handed a lifetime ban by the WBC in March last year, only for this to be predictably lifted a mere nine months later. In a sport with even the faintest scintilla of integrity Povetkin should not be competing in Cardiff this weekend or anywhere else, ever. That a fighter can so flagrantly disregard the rules and face only minimal censure speaks volumes for the image of boxing to both the dedicated and casual observer.
In the shadow of Canelo Alverez's recently failed drug test and the WBC's frantically inept carpet sweeping efforts, Saturday's encounter transcends both combatants. It is not romantic overstatement to suggest that it is a battle for the sports conscience and reputation. In the one corner we have a fighter reputationally traduced but brazenly unashamed of his violations. In the other is probably one of the most honourable and sinned against fighters of his era. Price, has it within his armoury to vocalise many a lurid and despairing tale of drug cheats and their negative impact on his career to date.His rematch defeat to Tony Thompson and his failed European title bid against Erkan Teper, were both followed by his opponents subsequently failing drug tests. In any ordinarily sanctioned environment with even a modicum of real governance and accountability these defeats would have been fully expunged from the record books. However, in boxing it is only possible to exist by suspending reality and holding ones nose on a near daily basis.
There will be those that question why Price is taking this fight at all considering both his and Povetkin's contrasting histories. The Merseysider has himself previously stated that he would never appear against any opponent that has been sanctioned for drug offences. However, Price's career has since turned the corner and rolled steadily down the hill. He is no longer the one picking the dates and asking the questions and is instead beholden to accept any opportunity that enables him to revive his fortunes. It would be manifestly unfair and inappropriate to aim any further aspersion in his direction.
This encounter, may not be Cardiff's main event, but it is a fight straight out of the Hollywood movies. A consequence of the clear and inextricable divisions that exist between hero and villain. A version of "Rocky IV" played out in reality and with the Russian clumsily cast in the role of Ivan Drago. Whether David Price can bring the fictional resolve of Rocky Bilboa to life on Saturday night and make victory a reality, remains to be seen.
What we do know is that for the first time in his professional career, Price begins as the underdog. Defeat will leave him with absolutely nowhere to go. Perhaps, the same can be said for boxing.
We wish David Price all the very best on Saturday night.