Steve Egan tells #BBTV about the first day Tyson Fury walked in his gym as a 14 year old boy wanting to be a boxer. Head coach of Jimmy Egans's Boxing Academy in Wythenshawe Manchester, since his dad Jimmy passed away, Steve reflects on the 'Gypsy King's' early amateur career, before taking him on to win amateur titles around the world before claiming an ABA title.
We see the ring where he first sparred and here some of the stories from the beginning's of Tyson Fury's story. Steve also gives his thoughts and predictions on Tyson's upcoming battle with Deonaty Wilder this Saturday night. watch the video above… To check out the latest odds for Deontay Wilder vs Tyson Fury visit www.topbettingwebsites.co.uk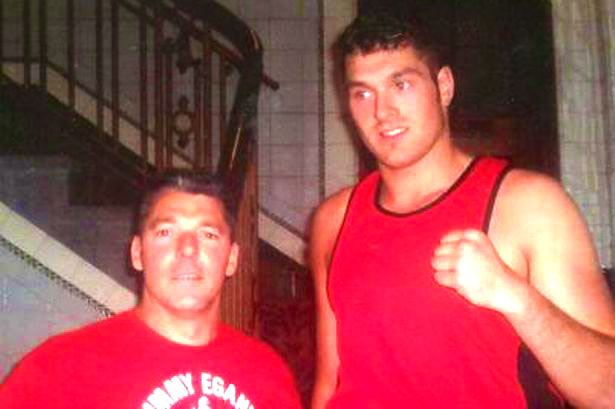 After a successful amateur career with the Egan's, Tyson turned professional in December 2008 with the quest he had all his life, to be the heavyweight champion of the world.
A Quick review of Tyson fury's championship success
In his 8th fight he went in with Big John McDermott for the English heavyweight belt and won a close points decision to claim his first silver wear as a pro. A year later the pair met again for the belt and to settle the scoring controversy of the first fight. Tyson went on to stop John in the 9th round to put himself in line to challenge for a British title shot, but he would have to wait another year to get his chance.
After another three wins, Tyson got his shot at the British Lonsdale belt when he took on the unbeaten Dereck Chisora in July 2011. It was a good competitive fight that went the distance, with Tyson prevailing comfortably on points.
Two more wins and just four months after winning the British, Tyson took on Neven Pajkic for the Commonwealth strap to end a successful 2011.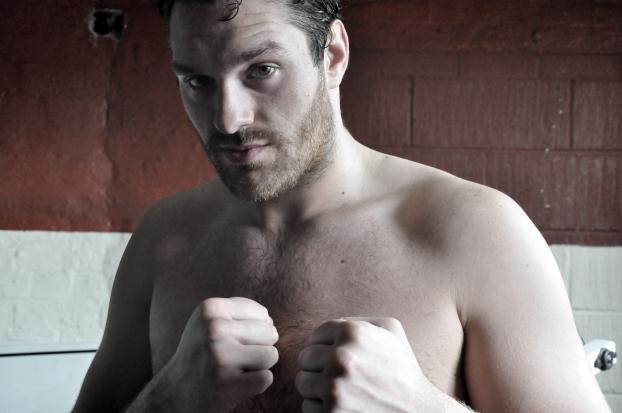 2017 would start well and end well for the Gypsy king. In April, Tyson who is of Irish heritage, took the opportunity to fight for the Irish heavyweight title when he faced the tough former Commonwealth champion Martin Rogan in the Irishman's back yard in Belfast. Tyson stopped Rogie in the 8th round showing his class and potential once again, even boxing the whole fight in the southpaw stance to display his superiority.
Later that year he picked up the vacant World Boxing Organisation Inter-Continental Heavyweight title. He finished 2012 with a points victory over the veteran Kevin Johnson and was slowly but surely getting closer to the big one and a shot at the world heavyweight title, but there were a few more obstacles in the way before then and three more years to wait.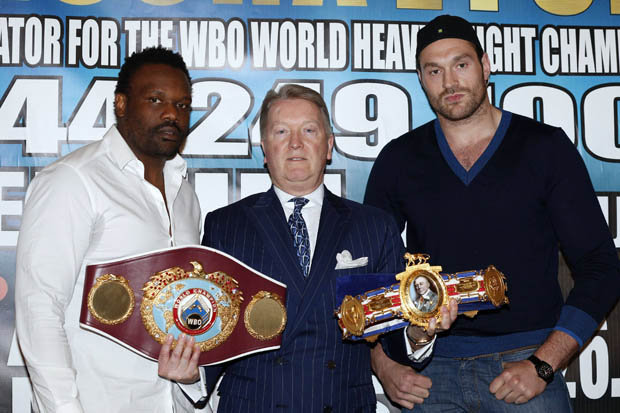 In that three years Tyson picked up the European title in a rematch with old foe Dereck Chisora in another conclusive points win. He also beat Joey Ambell then had that scare against former world champion Steve Cunningham who dropped Tyson, before he got up and ended the fight with a KO in round 7.
Tyson started 2015 with a win over Christian Hammer and ended it with a monumental win over long standing world champion Wladimir Klitschko in Germany, outpointing the Ukrainian to realise a childhood dream, a dream that started at Jimmy Egan's Boxing academy and ended in triumph. Tyson Fury was the undisputed heavyweight champion of the world.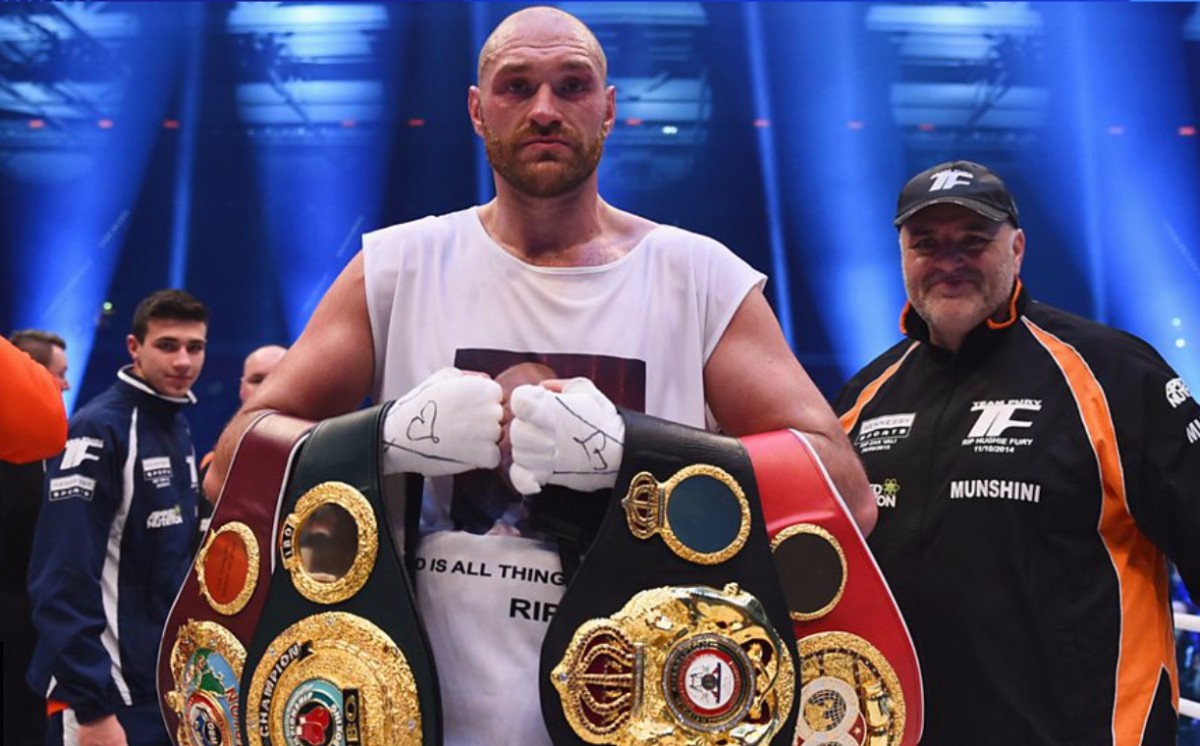 After becoming champion, that's when the documented issues for Tyson began. Winning the world title hadn't been the glamour dream he thought it would be. He suffered from depression and turned to drink and drugs to cope with life and being Tyson Fury. But after three years away from boxing and in that time having to give up his world title belts in order for a tougher fight out of the ring, Tyson Fury has now overcome his demons and is back!
A year ago Tyson Fury's weight had ballooned to nearly 29 stone, his boxing licence was revoked by the BBBofC and he was no longer heavyweight champ, no longer a registered boxer. Fast forward 12 months, he has had two comeback fights, lost the weight, is in great shape both physically and mentally and here he is poised to complete a return to the top and become a two time heavyweight champion of the world, joining some of the great of the sport and a very few men to do so.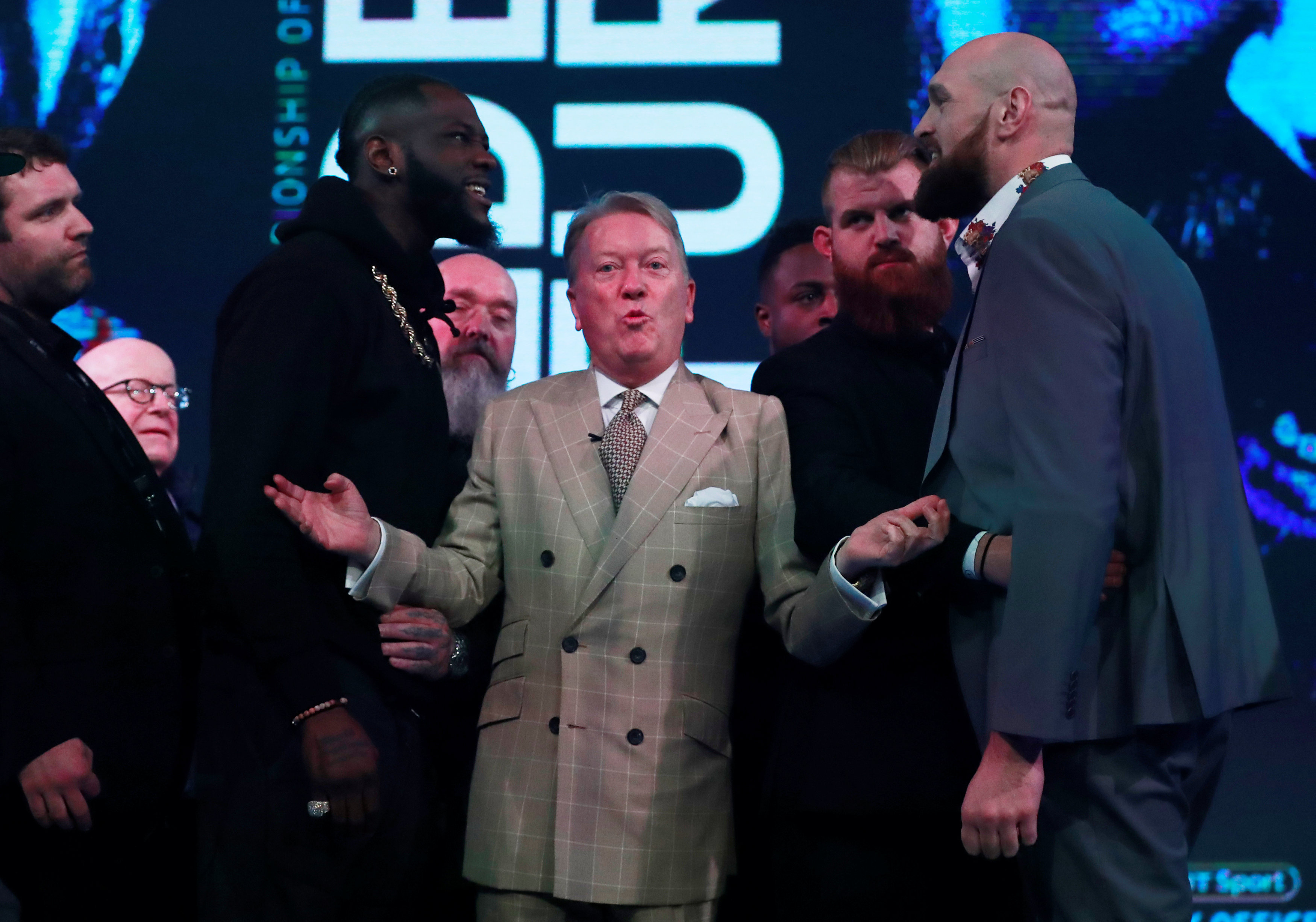 The fight between Wilder and Fury is just days away and on Saturday in LA all the talking will be over and both will clash in one of the most anticipated fights of the year. Today both fighters met for the final press conference and here's what both had to say.
Tyson Fury
It is my anniversary today. It's been three years since I went to Germany and beat Wladimir Klitschko all over Dusseldorf to becoming heavyweight champion. I'm only three days away from doing the same to the 'Bronze Bomber'. We've had a fantastic training camp. We've put nine weeks in. I can't remember a better training camp. We've had no injuries and fantastic sparring. I'm here to do a job and enjoy myself.
I hope the boxing fans around the world are going to enjoy this as much as I will. I've looked forward to this fight since 2011. On Saturday night, I'm going to finally get my chance to punch him in the face. Deontay Wilder is getting knocked out. It's been a long, hard road. I had many obstacles in the way. My absence from the ring has been well documented, but it's made me stronger and more determined. I've never been as happy during a training camp as I was in this one.
Having Freddie Roach on the team is fantastic. He's helped us out a lot in the gym and I'm glad we have him on our side. I'm thrilled to have him. "The fire in me has been lit again. Nothing in life was given to me. I've worked for everything I earned. I am the people's champion and I am the man who gives the people hope. I'm not just fighting for myself. I'm fighting for the millions of people around the world who look to me for inspiration.
I don't need to beat Deontay Wilder to prove I'm the best. I'm the lineal champion. If Deontay wins, he will be the best, but he's not going to beat me. I'm the best heavyweight alive, and there's only one way to get that title. You have to come take it from me. There's never been a man who could better me in a fight. Once I knew that I was going to box again, I knew that I would be heavyweight champion of the world again. I know that it's destiny. I'm showing up on Saturday night, beating Wilder up and becoming WBC champion.
Deontay Wilder
This is going to be an amazing event. I've been so happy in my camp and in my life. Everything has come together. I'm just so happy to be here fighting at STAPLES Center and ready to bring the stars out for this special fight.
I cannot wait for this fight. The time is coming. Can you feel the energy? The two best heavyweights in the world are right here. This is a moment that I've waited for my entire career. This is my time. Tyson Fury had his time. What I care about is showing people what I'm all about it. I'm showing you each and every time and I'm giving you a knockout. America has a mighty man in me. America has the baddest man on the planet.
I put in the hard work to make it here. I've grinded and worked. There's no way I'm going to let a man come from another country and take what I've been building. I don't believe Fury has the confidence to come and beat me. His last opponent hit Fury with any shot he wanted. If he's going to knock me out, why didn't he knock out his last opponent? He doesn't believe he can knock me out. When I say it, I believe it. My numbers don't lie. I'm going to prove it again.
It's so beautiful to have two great giants in the ring. Two great guys with great stories. We will determine who is the best. You will get to see who is the best heavyweight in the world. One champion, one face and one name. That is what I'm seeking.
I'm grateful for all the opponents I've faced. Every fighter has brought something to the table and made me bigger and bigger. I had to prove myself over and over again. I have to show everyone with my actions. This means everything to me. There are so many emotions running through my body. I've been ready for two weeks. We went through the process of camp so that we stayed sharp, but I've been ready. I'm a different breed in this sport.
I will to show you domination and I'm going to show you my boxing skill. I'm going to beat him, then knock him out. He's going to have to back up everything he's said to promote this fight.
LATEST BBTV VIDEOS