Duffield takes on Dan Azeez this Saturday night on the Whyte-Rivas undercard at the o2
"I only ever gambled really on roulette machines," Charlie Duffield tells British Boxers. "It started off with the odd 15 or 20 quid here and there with my mates. One day I won 900 quid and thought; 'lovely'. I did the same again the next day and won another 300."
He pauses for a second, and then confides, "That's how it started gradually eating and eating away at me."
It almost sounds like an extract from Snooker legend Jimmy White's autobiography, with the exception that the bookie's machines weren't around in the 'Whirlwind's heyday. He had to settle for doing his money on the 3:55 at Wincanton or the dregs of an A9 race at Perry Barr.
But it calls to mind the quote that White once allegedly supplied to Jonathan Rendall, when asked to comment on a ten grand loss on Poker's alternative green baize: "Ten grand? That's a bloody liberty. I never done ten grand on cards in my life. Horses, now that's my downfall."
You can't help but chuckle at White's lack of self-awareness and Rendall undoubtedly understood the many layers of tragicomic nuance. There is a temptation to romanticise gambling or to at least comedify it in popular mythology in a similar way to alcoholism. Perhaps it's little more than fingers across the eyes voyeurism aimed at those who reject staid certainty in a way that would leave the rest of us terrified of the grim reaper or our bank manager.
But there is nothing heroic, glamorous or amusing about being flat broke and on the brink.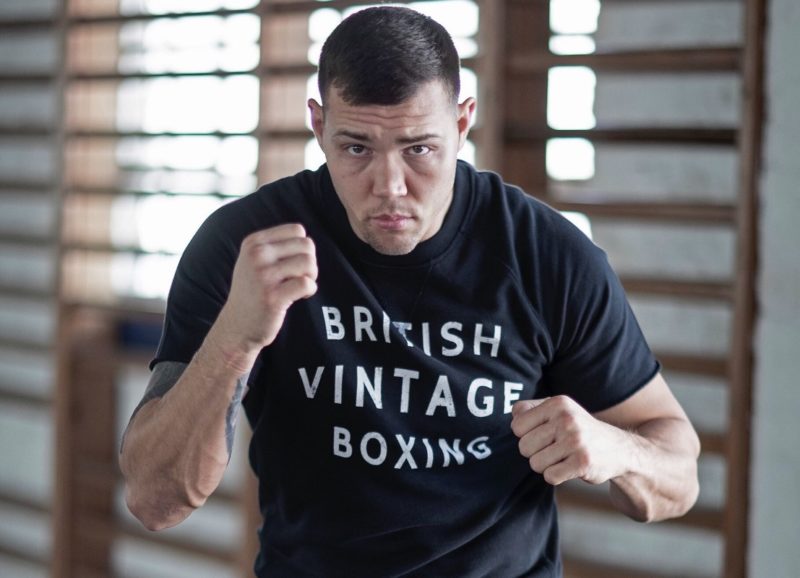 "I got myself into so much debt," Duffield continues. "I was going to work and earning good money. But I would just do the lot in the bookies. I got myself into such a bad situation, a hole of debt, and it just made me depressed.
"I'd saved up loads of money for my wedding and I lost 14 grand of it in the bookies. I was in such a bad place that I felt like I wanted to gamble more to win it back. When I couldn't, it was then that I started playing Poker."
A skill-based pursuit that offers some advantage to the proficient player in a way that the unbreakable code of a betting shop machine never can. Duffield explains that he was initially successful: "The frustrating thing is that I was getting really good at it and was going to the casino and winning a couple of grand regularly.
"I remember sitting in a competition for 13 hours and winning 20 grand. But I lost the lot and more playing roulette in four or five days. If only I could have lost the gambler in me and just stuck with poker I could have been a successful player. If I average it out I was making thousands a month, but I would just lose it all and more on roulette. I had to give it all up because I just couldn't control myself.
"I just hid my problems from everyone. It was horrible that I was in such a bad place. I ain't gonna lie. I thought about committing suicide a couple of times."
That last sentence hangs in the air for a moment. For anyone familiar with Duffield's story – one he has told frequently in a growing role as a mental health ambassador- it is clear that his desperation must have been palpable, having already lost his brother to suicide and witnessing the effect that it had on himself and his family.
"My brother tried to commit suicide numerous times," he recalls.
"I can't remember how many, but he was taking all these tablets and stuff. I felt like I was banging my head against a wall because I was trying to help him. We used to have heart-to-hearts for hours and I'd get myself so upset. My wife was pregnant back then as well. I'd tell him 'You're going to be an uncle. You can turn your life around.'
"I believe he wanted to change, he would commit to it, but next day something would get into his head and make him drink heavily again. It just got the better of him in the end and took him down the wrong path."
Turning pro in October 2015, the powerfully built light-heavyweight should have been on the fringes of world level by now. Initially signed-up by Frank Warren's Queensbury promotions after a respected amateur career he suffered his professional nadir in front of a live Box Nation television audience.
In what was intended to be a showcase for the young 3-0 fighter, he was stopped in six rounds by unheralded journeyman Vladimir Idranyi. A defeat so one-sided that the commentary team described it thus: "You look at Charlie Duffield's face and it looks like he's been run over."
But that disappointment on a June evening at York Hall, thought by many to be a disaster for his professional prospects, was little more than a footnote to his wider personal challenges.
"I look back now and think; how was I even in the ring what with the things I was suffering? Where did that bravery come from? Because I knew in my head I wasn't right. I didn't train properly. I didn't spar once throughout the whole camp. It was just mad that I even got in the ring at all," he reveals.
"A couple of weeks before the fight I was backwards and forwards to the hospital with my brother, regularly until after three in the morning. There was loads going on and then I had to have that fight. I didn't actually lose my brother until a few months after. But it was the lead up to it and him trying to commit suicide that made it all impossible."
Since then there have been just four appearances in three years as Duffield has battled personal tragedy, injury and the frustration of cancelled fights. But now for the first time in a long time the 31 year-olds head is uncluttered with outside considerations and he is fully able to focus everything on propelling his ring career towards the heights that many have long expected for him.
"I have been clean for nearly 19 months now," he says. "I don't miss any of that other stuff. I don't think about it at all. I could walk into a bookies now and it wouldn't mean anything to me, it just doesn't bother or interest me anymore."
With his wife, family and much admired trainer and manager, Mark Tibbs backing him he has only one goal: "To succeed."
When he allows his mind to circle back into the past nowadays, it is always through a happier sheen, borne of experience and contemplation. "My brother always said to me as a kid; 'You will be a champion.' He's there with me [when I fight]. All I do is think about him and how in every fight I'll make him proud. That and my beautiful family give me the drive to succeed.
"I'm 31 now and ready to knuckle down," he adds.
Duffield has the opportunity to do just that when he appears on this weekend's Matchroom show headlined by Dillian Whyte vs Oscar Rivas, and containing the intriguing matchup between David Price and Dave Allen; as well as a clash for the WBA intercontinental strap featuring unbeaten cruiserweights, Richard Riakporhe and Chris Billam-Smith.
For Duffield there is the chance of securing his first professional honours in the form of the vacant Southern Area light-heavyweight belt. However, he must first overcome the clear and present threat of Dan Azeez. The Lewisham man that has won great plaudits on the small hall scene for his explosive knockout power.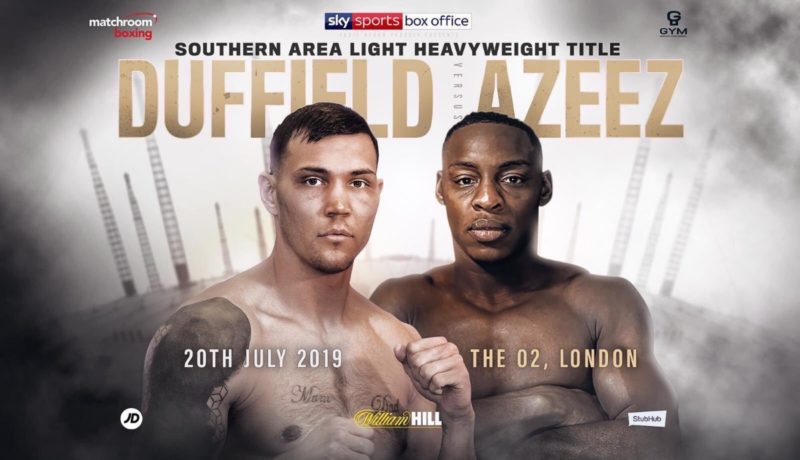 It could be suggested that there are easier ways to win an area title, but Duffield bristles at the suggestion of taking a more furtive route: "It frustrates me when you see someone fighting for the Southern Area belt and it's against no one really. Almost some bloke that they've just pulled out of the pub. I want a proper challenge. I just want to fight the best opponents and then no one can say I am dodging anyone."
With the two combatants sharing a collective 11 stoppages from 15 contests it promises to be an explosive matchup, but one that Duffield is fully ready for. "Dan [Azeez] is a great fighter. I know him really well and I've got a lot of love and respect for him," he says.
"It's a strange one, because I'm fighting him and we have got to get in the ring at the end of the day, but he's a lovely, lovely geezer. Full respect to Dan, he's unbeaten and willing to risk that against a tough opponent. It's good for the boxing community. These are the type of fights that people want to see."
The 31 year-old credits his appearance on such a high profile bill to manager and trainer Mark Tibbs, as well as Peacock colleague Dillian Whyte. The close bonds of Canning Town's Peacock gym are spoken about almost as a secondary family. More than once Duffield mentions elder statesman Jimmy Tibbs, before always adding reverentially "The legend."
"Mark and Dillian were both pushing to get me on the bill," he recollects. "Dillian played a massive part. If I had a hat I'd take it off to him. He's genuinely helped me out along the way. He's a lovely bloke and I have so much respect for him. The amount of work he puts in to push himself and other people to the top is unbelievable.
"He's pushing for the likes of Richard Riakporhe, John Harding jr and myself. Dill never stops pushing for all of us boys. We all give him a lot of respect because he does so much for us. We have big love for Dill!"
Duffield aims to repay their effort and faith on 20 July at The O2: "I'm ready to push on as far as I can go. I still feel like I'm 25. I feel good in myself and I'm ready to go out there and put on a show."
There can be few people in boxing or elsewhere that would begrudge Duffield such hard-won success.
Follow Charlie Duffield on Twitter @CharlDuffield1
Thanks for reading, Please Follow us on Social Media…
Instagram: https://www.instagram.com/britishboxers_bbtv
Twitter: https://twitter.com/britishboxers
Facebook: https://www.facebook.com/britishboxers
YouTube: https://www.youtube.com/britishboxersuk

boxing #britishboxing
LATEST BBTV VIDEOS