Already a three- time world champion in the Junior lightweight, Lightweight and Welterweight divisions – Julio Cesar Chavez brought an astounding undefeated record of 68-0 into this fight with 55 wins by knockout. This was the longest undefeated streak in almost 80 years! He was an incredibly methodical fighter seeking to create space and punish fighters with expertly timed counter punches.

Meldrick Taylor, a 1984 Olympic gold medallist, was the opposite to this in many respects. Taylor relied on his incredible hand speed to assault out-fighters/ counter punchers and use his fast reflexes to get out of danger. He had an undefeated record going into this fight.
Spoiler! If you don't want to know how the fight played out don't read past here. WATCH the full fight video above.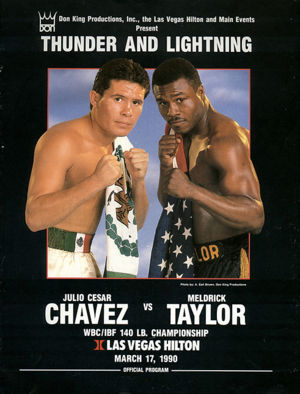 Taylor's otherworldly natural speed gave him an early advantage. This allowed him to build a noticeable lead on points. He frequently hit Chavez with dazzling combinations which made no room for Chavez to assess the situation he found himself in.
Chavez, the natural counter puncher, was mainly landing one shot at a time early and through the middle rounds. He seemingly could not beat Taylors speed and would be blasted by flashes of hooks and half uppercuts.
After round 6 you can see Chavez make an alteration to his strategy and decided to try and beat speed with power. This became apparent as Taylor began to mark up with Chavez's power punches. Although Taylor was still landing more, he began to swell heavily around the eyes as Chavez marched forward.
As the heavier shots from Chavez found their home, Taylor began to look unsteady in the championship rounds. However it was clear to most that a knockout was necessary if Chavez wanted to win the bout.

What happened in round 12 was a real life Rocky moment in boxing and is viewed by some as heroic and by others extremely controversial.
Check it out and let us know what you think!