Talks Ted Cheeseman clash on Aug 1st. "This fight will end up in a war!"
Birmingham's Sam Eggington embodies what it is to be a throwback fighter – oozing intensity and thriving in a toe-to-toe battle.
Therefore, it was perhaps inevitable that he was one of the first fighters to show willing when boxing re-commenced after the hiatus.

"It just sounds like something crazy to do, fighting in someone's back garden," Eggington told BBTV. "Don't get me wrong, I know it's a big posh back garden, but to have a scrap in someone's back garden, with no one there just a few cameras – it just sounds like a good thing to do.
"As soon as I heard that Eddie was doing these back garden shows I rang my Manager up and said 'Jon [Pegg] look, I wanna be on one of these shows', he told me to put something out there and let them know I'm ready. Within ten minutes of me tweeting 'when boxing is back, I'm ready', Eddie was on the phone with a list of opponents and we went from there.
"There will be a lot of people watching and it will be aired all over the world, it'll be good to get the job done with new fans watching. I'm just buzzing, I wanted to be on one of the garden shows and to be headlining the first one is real bonus."
The 'no easy fights' mantra of Matchroom Fight Camp isn't one that Eggington has struggled to adjust to. He admitted: "I've never took the easy fights, I have always took the hard fights – if I have won a title, I have always gone for the mandatory, so 'no easy fights' is normal to me."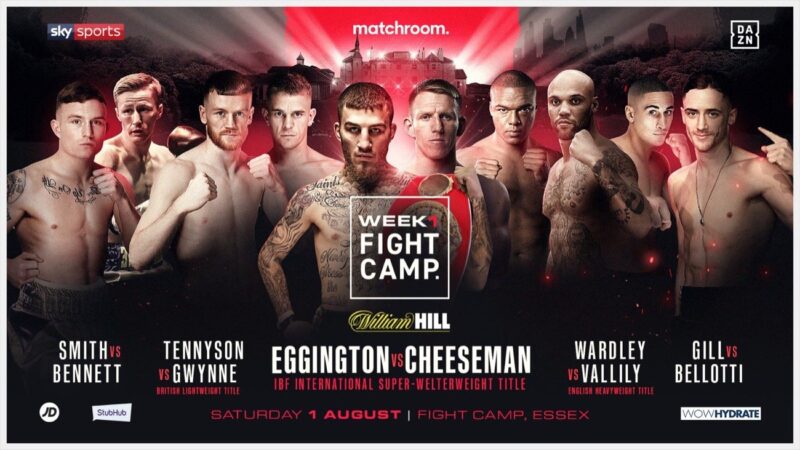 Eggington's August 1st clash with Ted Cheeseman is one that would have been unlikely to happen without the lockdown, however, it presents him with a significant opportunity to continue the momentum he built at end of the 2019.
On the importance of the bout, he emphasised: "We both need the win, I suppose you could say we are both at the same stage, I know I had the big win in Italy but I'm still on tenterhooks and I need to pick up the pace. If I get this win, it'll be great for me and Ted definitely needs the win. It really stands for a good fight."
Nonetheless, Eggington is taking Cheeseman's promises of coming forward and exchanging with a pinch of salt: "He is going to go on the back foot and he is going to try and box for as long as he can possibly hold it, he has been saying that he is going to come out and try and bully me and I hope he tries it because that's meat and drink for me, I'll be all over that.
"But, he's not going to do that, he is going to try and box for as long as he can, as he did against Fitzgerald until he fades and that's what he did. I feel like I'll put more of a pace on then Fitz did."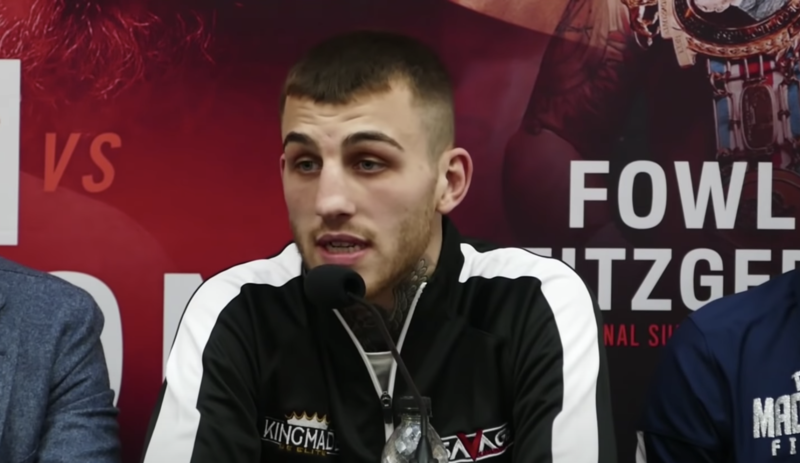 Furthermore, Eggington has left no stone unturned in his preparation for the bout, revealing he has been benefiting from tough sparring and extra input at Joe Gallagher's Gym in Manchester.
"It's been really good, just their gym is great and they're just good people. After my fight with Liam Smith, he had me back up sparring for his next fight. What I like about the gym is they understand that it's boxing, unless you take the piss at press conferences and that, they understand it's a job, someone has won and someone has lost and you keep going.
"They're happy to help you – Joe has had his input, Liam had his input, it has been really good and it's nice to have new eyes, even my coach Jon Pegg will tell you that, it's always nice to have new eyes to spot something that you won't or concrete what you have been saying.
"Joe is a quality, world-class trainer, but it's not only that, there are three or four world champions popping round the gym hitting the bag and watching you spar and they all have their own little input and it's good it brings out the best in you."
Eggington was also keen to heap praise on his own coach Jon Pegg, someone who he emphasised is 'more than just a coach to him'.
"Jon is a good bloke and I know that everyone will say it about their coach, but Jon will do what he believes his best for his fighter and I firmly believe that. He is a good bloke and definitely someone to have on your side, he will tell you the truth when you need it and do what's best for you, even if means he misses out on a payday."
The Birmingham fighter's vicious stoppage of Orlando Fiordigiglio saw him once again cement his status at world level, picking an international title and perhaps more significantly moving to fifth in the IBF rankings.
Following the Cheeseman fight, 'The Savage' is adamant he's looking to elevate that status and pursue world honours.
"I'm ranked fifth with the IBF and I have just had a big win internationally, really I want to be going the international route and trying to pick up the pace there, trying to fight in an eliminator. I think after this fight, beat Ted and that'll be the route I'm going for, an eliminator for the IBF."
Eggington was keen to emphasise just how stronger he feels fighting at 154 pounds, a division where he believes he can excel and pursue world honours. He will be looking to boost those ambitions on August 1st against Ted Cheeseman, in a fight that he said will inevitably descend into a war.
"This fight will end up in a war, I know Ted might try a bit of boxing but when you're wired like me and Ted, when it gets hard you go back to what you know and that is a slugfest, which is it what it will come down to."
SUBSCRIBE TO BBTV
BUATSI-YARDE? CORDINA'S WORLD TITLE SHOT AND MORE ON THE BOXING TRADE SHOW PODCAST
GENADY GOLOVKIN SAVAGE ONE PUNCH STOPPAGE OF LUCIAN BUTE AS AN AMATEUR
"YOU HAVE TO SACRIFICE TO BE A CHAMPION" PAT BARRETT OPENS UP ON NEPHEW ZELFA'S EUROPEAN TITLE SHOT
UNREAL! RICKY HATTON HALF THE MAN HE USED TO BE! PREPARING FOR EXHIBITION COMEBACK JULY 2ND
OLYMPIAN MUHAMMAD ALI - NEXT OUT ON FRANK WARREN SHOW 11th JUNE IN TELFORD
RARE VIDEO:TYSON FURY ON BEING CHALLENGED TO A SPAR BY A KICK-BOXER (WITH FORMER AMATEUR CLUB-MATES)
JIMMY KELLY IN CAMP PREPARING FOR CLASH WITH UNBEATEN MEXICAN BANGER JAMIE MUNGUIA
'ITS ON THE ANNIVERSARY OF MUM'S PASSING, I'LL BE UNBEATABLE" ZELFA BARRETT ON EUROPEAN TITLE FIGHT
"SECOND SESSION OF THE DAY!" TYSON FURY STAYING IN SHAPE IN RETIREMENT #shorts
PROSPECT WATCH: EX FOOTBALLER JACKSON HUME 2-0 JOINS ARNIE'S GYM MANCHESTER
THE RISE AND RISE OF EVERTON RED TRIANGLE - WITH COACH PAUL STEVENSON
"IV'E BEATEN THE CURRENT WORLD CHAMPION TWICE!" JAZZA DICKENS ON HIT LIST FOR COMEBACK FIGHT!
AT HOME WITH THE GORMANS - PART 6 - RIP TOMMY DIX - RICKY GETS A NEW FIGHT DATE!
JOSHUA BUATSI, EDDIE HEARN & VIRGIL HUNTER REACT TO VICTORY OVER CRAIG RICHARDS | POST FIGHT PRESSER
"NO F*CKING ABOUT" MICHAEL CONLAN & ADAM BOOTH REACT TO BUATSI - RICHARDS & TALK NEXT OPPONENT
"FURY V JOSHUA IS BIGGEST FIGHT OF ALL TIME!" EDDIE HEARN HINTS ON AJ USYK & TALKS WEEKEND SHOWS
JOSHUA BUATSI - CRAIG RICHARDS HIGH STAKES! WEIGH IN AND FINAL FACE OFF BEFORE SATURDAYS BIG FIGHT!
CHANTELLE CAMERON - VICTORIA NOELIA BUSTOS WEIGH IN AND FACE OFF
"THE SAVAGE" ALEN BABIC IS BACK! - ADAM BALSKI WEIGH IN AND FACE OFF!
JOHN FURY WATCHES TYSON SHADOW BOXING IN FRANCE "HE'S NOT GETTING BEATEN FOR A LONG TIME THIS MAN"
"NO TIME FOR FALSE PEOPLE" PETER FURY & TOMMY DIX - SECRET TO HAPPY LIFE & OTHER WISDOM
BORN IN 1939 TOMMY DIX TALKS ABOUT GROWING UP A WAR BABY AND BEING A GUINEA PIG FOR PENICILLIN
BUATSI V RICHARDS PREVIEW AND A LOOK AT THE LIGHT HEAVY DIVISION
RICKY HATTON'S CAR COLLECTION - A ROLLS ROYCE AND THE "PASSION WAGGON' ONLY FOOLS & HORSES VAN!
WOW! RICKY HATTON'S DRAMATIC WEIGHT LOSS JOURNEY CONTINUES (NEW FOOTAGE)
DENNIS HOBSON: COMMENTS ON UNIFICATION BETWEEN JONAS & RANKIN & REVIEWS WORLD TITLE SHOW IN GLASGOW
THEY PROVED THE DOUBTERS WRONG! BILLY NELSON & MARTIN BAKOLE CELEBRATE WIN OVER TONY YOKA IN FRANCE!
THE GYSPY KING AND QUEEN TYSON AND PARIS FURY BRING THE PARTY TO COTE D'AZUR IN FRANZE
WHAT NEXT FOR TYSON FURY? LATEST FIGHT NEWS ON THE TRADE SHOW BOXING PODCAST
"AMIR GOOD WORK MATE" DAVID HAYE BIGS UP AMIR KHAN AFTER RETIREMENT ANNOUNCEMENT