Courtesy of Hennessy Sports
Shakan Pitters showed his class to capture the British Light-Heavyweight Championship by defeating Chad Sugden in a unanimous points decision victory last night.
Pitters used his long reach and spearing jab to keep the aggressive Sugden at bay and in the second round he split Sugden's lip with a big uppercut that required a check from the ringside doctor but was allowed to carry on.

'Big Shak' chose his punches well with scything left hooks and slicing right hands as he picked up the points lead.
He was also impressive in controlling the ring space and the centre of the ring.
Newark warrior Sugden had some success landing on Shak with right hands and left hooks, but rarely troubled the 6ft 6in Birmingham fighter.
All three judges' had it for Pitters with wide scores of 118-111 (twice) and 119-110 which reflected his dominance.
British boxing legend John Conteh earlier backed Pitters to win his old British title and believes he could become a great champion,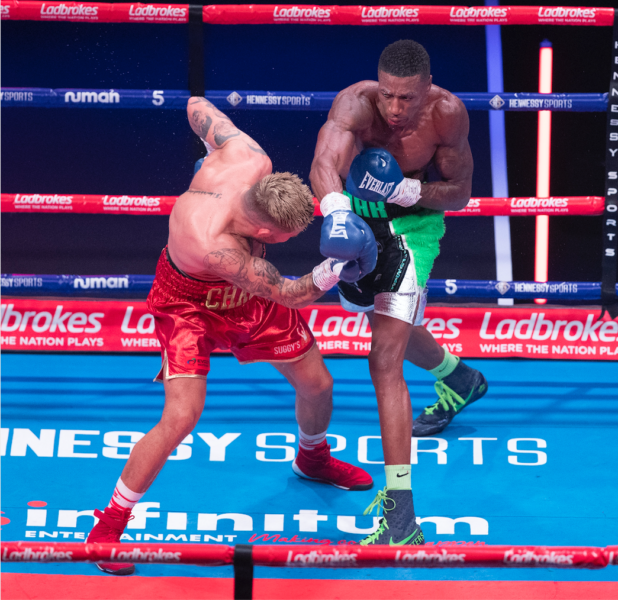 Pitters said: "Chad was very game and I take my hat off to him. I kept it long and punished him as he came in. He was a very tough opponent but he didn't trouble me. I wanted to keep things basic and it worked. I'm always learning and this was my first twelve-rounder. I'd give that performance a six or seven out of ten. It was a decent performance but I'm always improving."
Brixton cruiserweight Isaac Chamberlain sizzled in his return to the ring after a two year lay off to blow away Antony Woolery inside three rounds.
IC got to work with his sharp jabs in the early round and showed composure as he moved around the ring.
In the second round towards the latter stages Chamberlain landed a good right that made Woolery come out swinging.
Chamberlain upped the tempo in the third round as he started landing left hooks and unsettling Woolery. He started working to the body more and got Woolery to the ropes and then landed a hard left hand to the body that folded the Wolverhampton former soldier.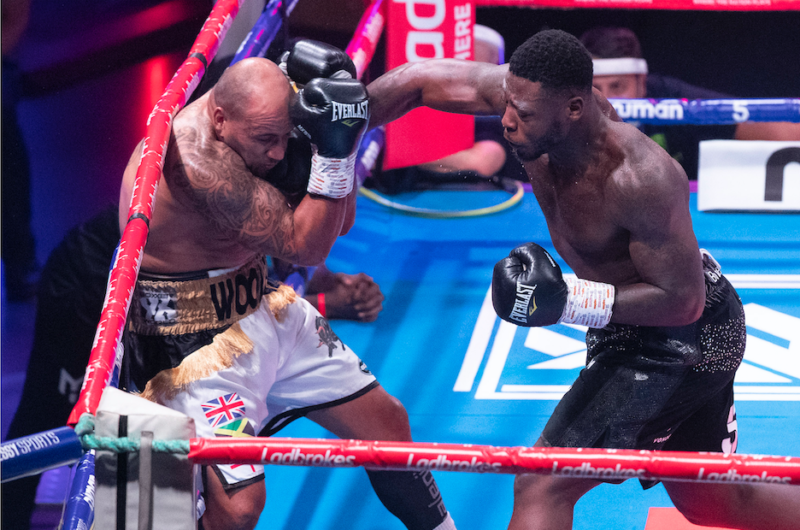 Commenting on his return, he emphasised: "It's been a tough two years, but I'm happy to be finally over that and get out tonight and showcase my skills. The left hook is my money punch and mixed with my strength and conditioning it was a real potent weapon. I just took my time, I knew he'd rush me. My corner told me to relax and get into my flow and boom I took him out."
Chamberlain will get little rest, he will now return to action in two weeks' time in another eight-round contest.
Conah Walker should have been up against Kaisee Benjamin for the Midlands Area Welterweight title, but Benjamin withdrew earlier in the week from a stomach viral infection.
Sutton Coldfield's Nathan Bendon stepped in at the last minute and it was a rematch of their encounter in May last year that Walker won on points over six-rounds.
Walker was on top from the start, moving into range using a stiff jab and strong right hand before landing a hard body shot, then moving or swaying out of the way.
Walker kept working well to head and body and Bendon had some success with his right hand at points.
It was Walkers better work rate and cleaner punches that got him the decision again.
Undefeated middleweight Michael Hennessy Jr saw off the spirited challenge of Tom Brennan with a six-round points victory.
Burford's Brennan called out for the fight during the lockdown and Hennessy accepted the challenge coming in fit and ready.
Hennessy was working with a new corner team of Junior Saba and John Pegg and he looked more composed and balanced as he pumped out a stiff left jab.
The Sevenoaks talent landed with some good clean body shots in the opening rounds and connected with a good right hand in the second.
In the fourth he showed some good combinations punching and landing with more clean body shots.
Although the score should have been wider than scored by the referee, Hennessy Jr. was happy to get a win after nine months out of the ring.
He said: "He was tough customer and I felt in control in there. It was good to get the ring rust off and I can't wait to fight in two weeks' time again. I think I showed new things in there tonight that I'd been working on and there is still plenty of improvements to come."
The Sevenoaks talent takes his record to 4-0-1 and will be out in action again on September 5th in Wakefield.
In a Birmingham derby Idris Virgo didn't even break into a sweat as he dispatched of Josh Hodgins inside one round with a sickening left hook to the body that had Hodgins scream out in pain.
The encounter was expected to be a fiery one after Friday's 'water fight' during a video interview when Virgo squeezed a bottle of water into Hodgins' face and the pair ended up squirting each other.
Virgo, the former Love Island contest, said, "They call me the Body Breaker, as soon as I hit the body they go. I'll destroy any opponent put in front of me. Step in my way and you're gone. I might have been in Love Island but I ain't showing no love in the ring. I'm serious and I mean business, I'm here to show people I can fight."
SUBSCRIBE TO BBTV
THE HATTONS PREDICT: USYK V JOSHUA II (BBTV CLIPS)
EXPERT BOXING ADVICE! BUDDY MCGIRT GIVING POWER PUNCHING TIPS TO HEAVYWEIGHT PROSPECT RICKY GORMAN
ANDY RUIZ JR POSTS VIDEO LOOKING LEAN AND RAPID ON THE PADS
MEET THE FUTURE STARS FROM TYSON FURY'S AMATEUR GYM (JIMMY EGANS BOXING ACADEMY)
TYSON FURY'S FIRST TRAINER STEVE EGAN -USYK JOSHUA II- EUBANK JR V BENN- TYSON'S LATEST TRAINER POST
ROMFORD BULL JONNY FISHER - "JOE JOYCE HAS BEEN UNDERRATED" (BBTV CLIPS)
BOXERS DISCUSS - EUBANK JR V CONNOR BENN! NOW IT HAS BEEN OFFICIALLY CONFIRMED
KAISEE BENJAMIN MANDATORY FOR DALTON SMITH'S BRITISH TITLE "LETS DO THIS, END OF THE YEAR"
BORN RIVALS! EUBANK JR V BENN IS ON! - BREAKDOWN WITH KERRY KAYES
TYSON FURY ANNOUNCES NEW TRAINER? MESSAGE TO HIS FANS
SHAKAN PITTERS WARNS DAN AZEEZ "IM NOT AFRAID TO MIX IT UP!" AHEAD OF BRITISH TITLE CLASH
PROSPECT WATCH: ETHAN BROWN (1-0) LIVERPOOL "BOXING IN THE BLOOD!"
LEON WILLINGS REFLECTS ON SHOCK FIRST DEFEAT AFTER LATE DRASTIC WEIGHT CUT ON SAME DAY WEIGH IN
PROSPECT WATCH: SEAN ARKWRIGHT (3-0) LIVERPOOL. "I'M LOOKING FORWARD TO BEING IN BIG 50/50 FIGHTS!"
28 ROUNDS WITH JAZZA AND 2 BLACK EYES! JOHN EDO (3-0) ON HIS OWN JOURNEY INTO THE PRO RANKS
NATHAN BENNETT: "I DON'T WANT EASY FIGHTS!" NEXT BIG TITLE CHANCE FOR LIVERPOOL BOXER IN THE WORKS!
EDDIE HEARN: "LETS HOPE EUBANK JR TAKES THE CHALLENGE" SMITH V O'MAISON FIGHT WEEK IN SHEFFIELD
'ROMFORD BULL' JOHNNY FISHER "IT'S A STEP UP HE'LL BRING THE HEAT!" *RUGBY INITIATIONS! *JOE JOYCE!
SAM O'MAISON: "YOU CAN'T RUN AWAY FROM TRUTH AND TRUTH WILL SHOW ON SATURDAY NIGHT!" VS DALTON SMITH
KIERON CONWAY: "I'M HERE TO DO A JOB!" FIGHTS IN SHEFFIELD ON SATURDAY BEFORE LAS VEGAS TITLE CHANCE
POPULAR MANSFIELD PROSPECT NICO LEIVARS ON HIS 3RD PRO FIGHT IN SHEFFIELD ON SATURDAY NIGHT
BREE WRIGHT "FOLLOW THE JOURNEY, YOU'LL BE SURPRISED HOW FAR WE CAN GO!" CONFIRMS NEXT FIGHT
SUNNY EDWARDS "MARTINEZ FIGHT IMMINENT!" GYM MATE DALTON SMITH'S BIG NIGHT, REFLECTS ON THAT SPAR!
UNBEATEN JORDAN THOMPSON PROMISES AN "ARTISTICALLY VIOLENT PERFORMANCE" IN SHEFFIELD ON SATURDAY
DALTON SMITH LIVING THE DREAM! TALKS SHEFFIELD DERBY FIGHT FOR BRITISH TITLE AGAINST SAM O'MAISON
PROSPECT WATCH: BIG HITTER SCOTT FORREST (2 WINS, 2KOS) "I WILL BE WORLD CHAMPION!"
TOLD HE'D NEVER BOX AGAIN AND COULD LOSE A LUNG! BUT UNBEATEN (7-0) THOMAS WHITTAKER HART IS BACK!
"COME ON FIGHT ME, ANYONE OUT THERE FIGHT ME!" CHAMP IN 5 FIGHTS MATT MCCALLUM AND COACH MATTY JOBES
EUBANK JR VS BENN A GOOD MATCHUP? | THE WELTERWEIGHTS | USYK-JOSHUA 2 | BOXING TRADE SHOW PODCAST
JAMES 'BUDDY' MCGIRT: 2 TIME WORLD CHAMP ON BEING A TRAINER & WORKING WITH CALLUM SMITH IN LIVERPOOL