Born into humble beginnings in the east end of London, abandoned by his father and raised by a single mother, Lennox Lewis's rise to the pinnacle of boxing, and his place as one of the greatest heavyweight fighters of the modern era, defied all odds.  Though an Olympic gold medallist and a three-time heavyweight champion of the world, many boxing fans are unaware of the challenges that Lewis faced in his pursuit of greatness.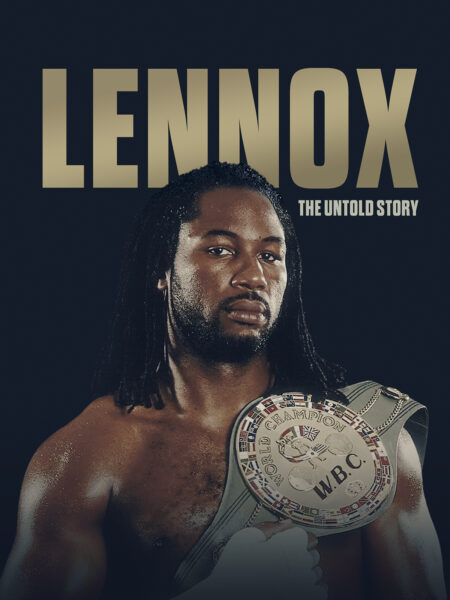 LENNOX: THE UNTOLD STORY is the official Lennox Lewis documentary chronicling an incredible life and sporting career.  The film gives unprecedented insight into Lewis' journey from a troubled youth in West Ham, to uprooting to  Canada and discovering a natural ability in the boxing ring before going on to fulfil his destiny by reaching the top of heavyweight boxing.

Narrated by Lewis' friend, and legendary hip-hop artist and producer, Dr. Dre, the film features unseen archive footage and interviews with Lewis, his family, closest friends, colleagues and boxing adversaries including Mike Tyson, Kellie Maloney, Emanuel Steward, Jim Lampley, Evander Holyfield and George Foreman.  LENNOX: THE UNTOLD STORY is directed by Rick Lazes and Seth Koch.
LENNOX: THE UNTOLD STORY is released in the UK and Ireland on digital from 13 November and DVD on 16th November
SUBSCRIBE TO BBTV
ROMFORD BULL JONNY FISHER - "JOE JOYCE HAS BEEN UNDERRATED" (BBTV CLIPS)
BOXERS DISCUSS - EUBANK JR V CONNOR BENN! NOW IT HAS BEEN OFFICIALLY CONFIRMED
KAISEE BENJAMIN MANDATORY FOR DALTON SMITH'S BRITISH TITLE "LETS DO THIS, END OF THE YEAR"
BORN RIVALS! EUBANK JR V BENN IS ON! - BREAKDOWN WITH KERRY KAYES
TYSON FURY ANNOUNCES NEW TRAINER? MESSAGE TO HIS FANS
SHAKAN PITTERS WARNS DAN AZEEZ "IM NOT AFRAID TO MIX IT UP!" AHEAD OF BRITISH TITLE CLASH
PROSPECT WATCH: ETHAN BROWN (1-0) LIVERPOOL "BOXING IN THE BLOOD!"
LEON WILLINGS REFLECTS ON SHOCK FIRST DEFEAT AFTER LATE DRASTIC WEIGHT CUT ON SAME DAY WEIGH IN
PROSPECT WATCH: SEAN ARKWRIGHT (3-0) LIVERPOOL. "I'M LOOKING FORWARD TO BEING IN BIG 50/50 FIGHTS!"
28 ROUNDS WITH JAZZA AND 2 BLACK EYES! JOHN EDO (3-0) ON HIS OWN JOURNEY INTO THE PRO RANKS
NATHAN BENNETT: "I DON'T WANT EASY FIGHTS!" NEXT BIG TITLE CHANCE FOR LIVERPOOL BOXER IN THE WORKS!
EDDIE HEARN: "LETS HOPE EUBANK JR TAKES THE CHALLENGE" SMITH V O'MAISON FIGHT WEEK IN SHEFFIELD
'ROMFORD BULL' JOHNNY FISHER "IT'S A STEP UP HE'LL BRING THE HEAT!" *RUGBY INITIATIONS! *JOE JOYCE!
SAM O'MAISON: "YOU CAN'T RUN AWAY FROM TRUTH AND TRUTH WILL SHOW ON SATURDAY NIGHT!" VS DALTON SMITH
KIERON CONWAY: "I'M HERE TO DO A JOB!" FIGHTS IN SHEFFIELD ON SATURDAY BEFORE LAS VEGAS TITLE CHANCE
POPULAR MANSFIELD PROSPECT NICO LEIVARS ON HIS 3RD PRO FIGHT IN SHEFFIELD ON SATURDAY NIGHT
BREE WRIGHT "FOLLOW THE JOURNEY, YOU'LL BE SURPRISED HOW FAR WE CAN GO!" CONFIRMS NEXT FIGHT
SUNNY EDWARDS "MARTINEZ FIGHT IMMINENT!" GYM MATE DALTON SMITH'S BIG NIGHT, REFLECTS ON THAT SPAR!
UNBEATEN JORDAN THOMPSON PROMISES AN "ARTISTICALLY VIOLENT PERFORMANCE" IN SHEFFIELD ON SATURDAY
DALTON SMITH LIVING THE DREAM! TALKS SHEFFIELD DERBY FIGHT FOR BRITISH TITLE AGAINST SAM O'MAISON
PROSPECT WATCH: BIG HITTER SCOTT FORREST (2 WINS, 2KOS) "I WILL BE WORLD CHAMPION!"
TOLD HE'D NEVER BOX AGAIN AND COULD LOSE A LUNG! BUT UNBEATEN (7-0) THOMAS WHITTAKER HART IS BACK!
"COME ON FIGHT ME, ANYONE OUT THERE FIGHT ME!" CHAMP IN 5 FIGHTS MATT MCCALLUM AND COACH MATTY JOBES
EUBANK JR VS BENN A GOOD MATCHUP? | THE WELTERWEIGHTS | USYK-JOSHUA 2 | BOXING TRADE SHOW PODCAST
JAMES 'BUDDY' MCGIRT: 2 TIME WORLD CHAMP ON BEING A TRAINER & WORKING WITH CALLUM SMITH IN LIVERPOOL
PAUL SMITH SIGNS NEW HEAVYWEIGHT PROSPECT RICKY GORMAN, PREVIEWS BROS CALLUM AND LIAM'S NEXT FIGHTS
CALLUM SMITH ON THE QUEST TO BE A 2 WEIGHT WORLD CHAMPION, NEXT FIGHT IN SAUDI AND 10YRS AS A PRO
ROMAN FURY REVEALS PRO-DEBUT DATE, 6ST WEIGHT LOSS AND JOINING HIS FIGHTING FAMILY IN BOXING
"LEARNING EVERYDAY!" RICKY GORMAN AT THE ROTUNDA BOXING CLUB LIVERPOOL WITH MANAGER PAUL SMITH JR
PRO DEBUT ON USYK-JOSHUA 2 UNDERCARD FOR BUDDY MCGIRT TRAINED SAUDI BORN BOXER 'ZIZO' ALMAAYOUF