SKY SPORTS/BOXXER NEWCASTLE FIGHT NIGHT REVIEW:
Newcastle's Utilita Arena witnessed the second domestic card put on by Boxxer and Sky Sports following the forging of their relationship back in August. Household names Savannah Marshall, Chris Eubank Jr. and Hughie Fury featured in what turned out to be relatively straight-forward victories for all. Though some entertaining moments, the card did suffer from an imbalance of matchmaking in the favour of the home fighters, a standard which must surely improve if Sky are to keep pace with rival promoters and broadcasters.
SKY SPORTS YOUTUBE COVERAGE: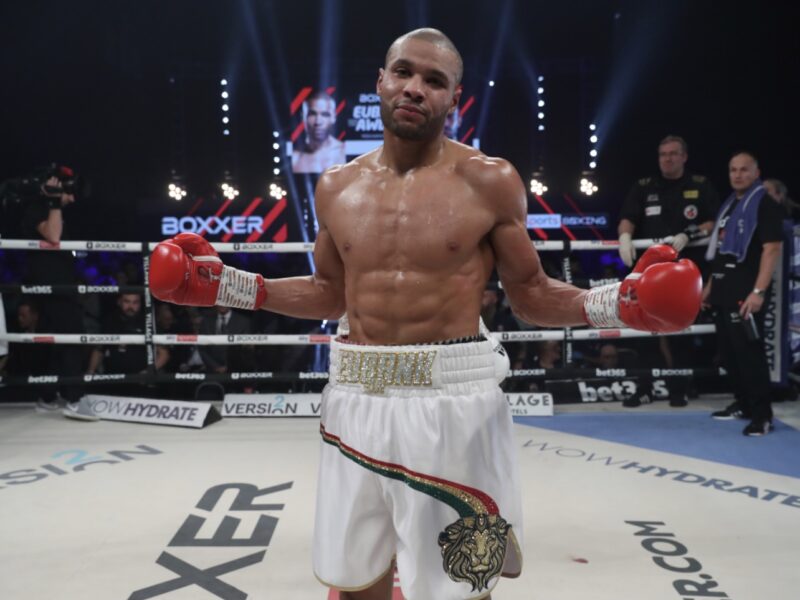 Middlesbrough cruiserweight Michael Webster moved to 6-0 with the fourth stoppage of his career so far after retiring Estonian Gennadi Stserbin between the second and third rounds. Stserbin found himself in survival mode early into the second round with constant clinching, wanting none of what was on offer by Webster's clubbing right hand.
Georgia O'Connor made his professional debut with an impressive points victory over Ester Konecna at super-welterweight. The County Durham fighter looked relaxed from the off, controlling the centre of the ring against an opponent who showed no real interest in engaging. O'Connor did well under the circumstances against a style which will always be difficult to look good against.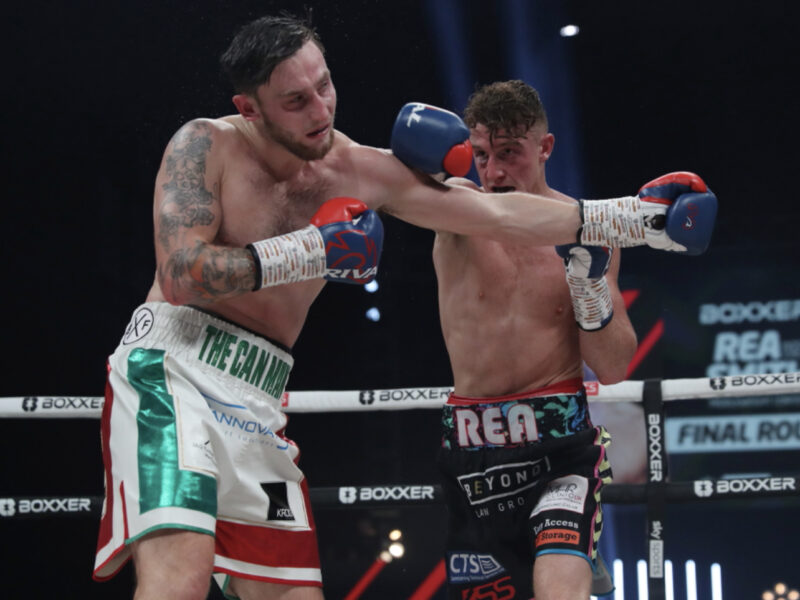 Stretford middleweight Bradley Rea edged an unbelievable eight round fight against Harrow's Jez Smith to maintain his undefeated record in his eleventh professional outing. A high tempo was set from the start by both men, with Rea sending Smith to the canvas with a hellacious left hook to Smith's midriff, who did well to recover so quickly. The toughness and resilience of Smith was a constant theme throughout the eight rounds, each of which were competitive with both men landing heavy shots. Rea rightfully got the nod on the cards (77-75 in his favour), fighting primarily off the back foot and switching stances, arguably causing greater damage to his opponent than what was coming back his way.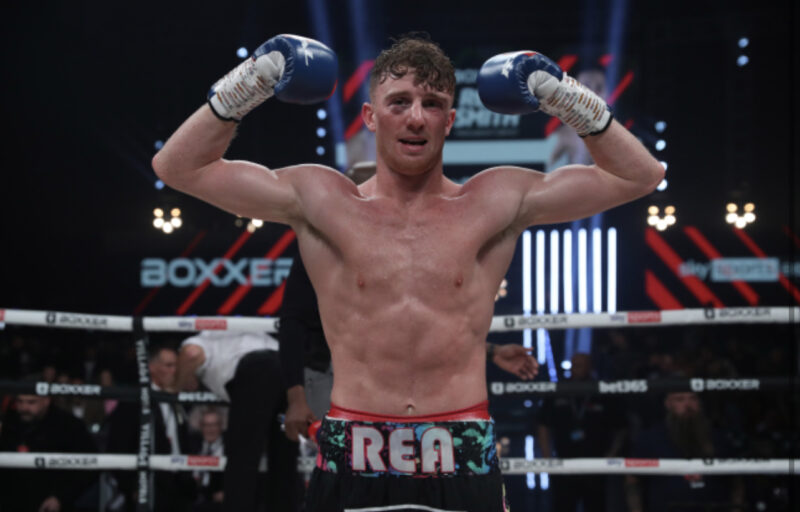 Smith more than played his part however, coming on particularly strong in the seventh where he landed several big right hands which looked to rock the head of 'Sting Rea'. Rea came back even stronger in the twelfth though, landing multiple hard right-hands and uppercuts to the chin of Jez Smith, who did well to keep his balance and prevent himself being hurled to the canvas again. Referee Ron Kearney should also be afforded some credit in a fight that was very difficult to score given how well the styles of the two men clashes, providing a scorecard which reflects the nature of the bout well. In the post-fight interviews, both fighters expressed their will for a rematch at some point down the line, though Smith did explore the possibility of moving down in weight.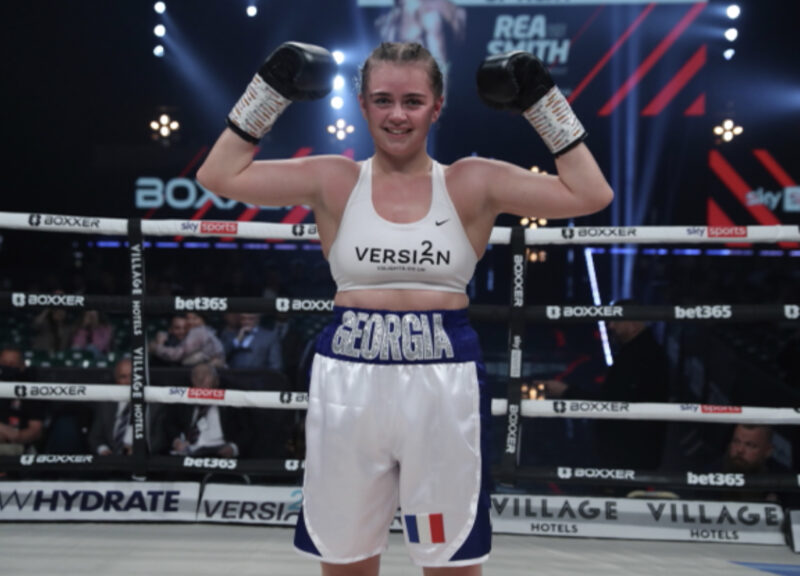 Home fighter April Hunter looked shellshocked in her fifth professional fight against Wolverhampton's Kirstie Bavington, with the Midlander flying out the blocks and physically exerting herself on the previously undefeated Hunter. Bavington dominated the first three rounds, enjoying success with right hooks on the inside. Ron Kearney ultimately found Bavington the winner by a score of 56-59, with Hunter struggling to establish a jab and make use of her physical advantages from a distance.
TELEVISED CARD:
Hughie Fury entered the ring on Saturday night with a professional record of 25-3 as he looks to re-climb the rankings towards another shot at world level. In the opposing corner he found Bulgaria's Christian Hammer, who once operated at the pinnacle of the heavyweight division himself but is now a mere gatekeeper for those harvesting aspirations at attaining world honours. The first round was a cagey one, with Hughie easing his way into the fight behind a jab and looking to throw right hands off the back of it, although Hammer did catch Hughie with a left hand of his own towards the end.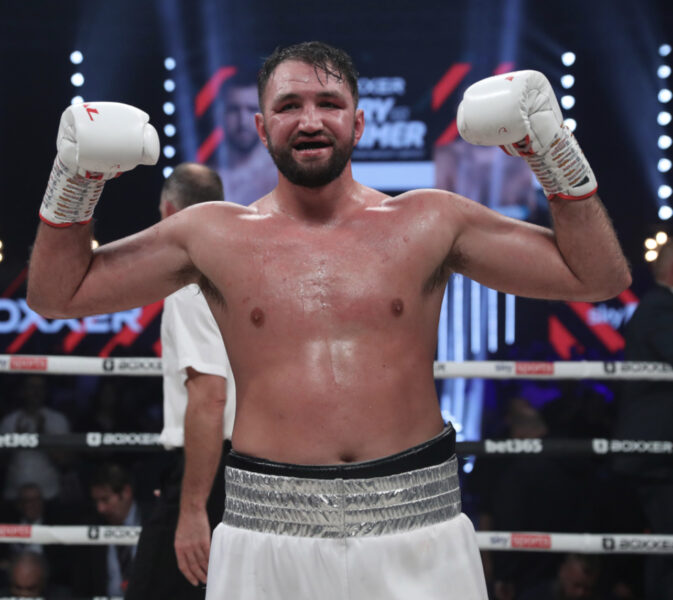 Hughie showed more intent in the second though, walking Hammer onto a big right uppercut from the southpaw stance, experimenting with a variety of shots as he sought a way to break the experienced heavyweight down. The third round signalled yet more ambition to cause damage from Hughie, landing several solid right hands to the chin of Hammer. It was in the fourth that both fighters really let their hands go, throwing heavy shots, with Hughie landing more frequently as he continued to switch from orthodox to southpaw. Both again enjoyed success at the start of the fifth, Hammer arguably enjoying his best start to a round so far. That was until referee Steve Gray deducted a point from the Bulgarian for frequent hitting on the break. You must wonder what was going through the Bulgarian's mind given that he appeared to be doing well up until that point, and from then on Fury took over. He hurt Hammer with both straight right hands and heavy uppercuts, rocking the head of Hammer back who was eventually saved by the bell. It was at that point Hammer was pulled out by his corner due to an injury to his left bicep.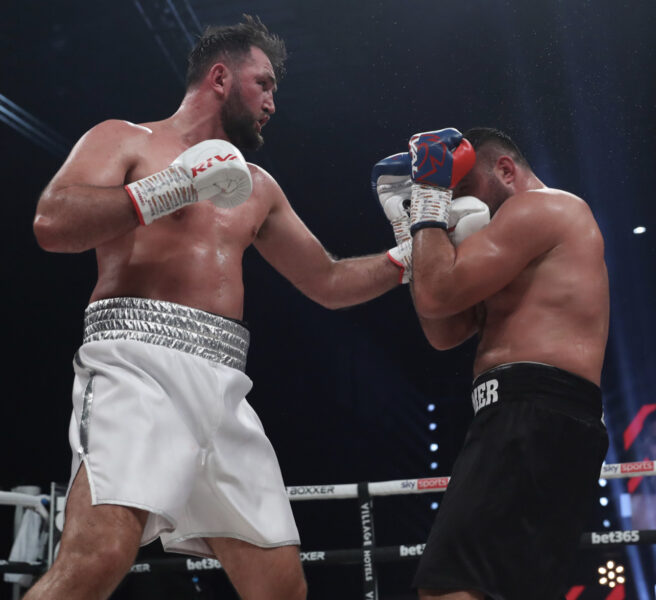 The decision was treated with scepticism initially on social media, with some suggesting the corner fancied no more after how the fifth round had ended. However, subsequent reports and descriptions of the state Hammer's arm was in at the hotel later that evening will put any scepticism surrounding the matter to bed. Nevertheless, it was a solid win for Fury as he continues his education, with plenty of time still on his side while the cards continue to shuffle at the top of the heavyweight division. 
Chris Eubank Jr. continued momentum gained in his previous outing against Marcus Morrison after his opponent Wanik Awdijan was also retired in his corner between the fifth and sixth rounds. Awdijan enjoyed early success in the opening two rounds which were albeit quiet. Eubank came out behind a solid jab at the start of the third however, displaying more intent to really let his hands go and do some damage to the German who had made a few comments towards Eubank in the build-up.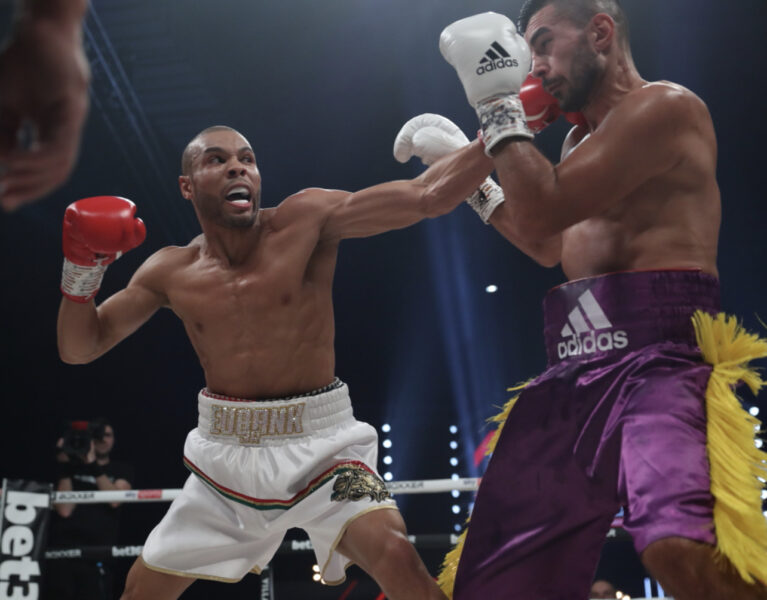 One could sense Eubank was just starting to go through the gears in the fourth, landing a hard right uppercut with twenty seconds remaining, though Awdijan to his credit did display a solid chin as the bell rang to signal the end of the round. Solid shots to the body were in store for Awdijan in the fifth as Eubank sought to slow his man down and exert his physicality onto his opponent when the two entered in the clinch. Eubank was slowly getting warmed up but that was to be the final round of the fight, with Awdijan's corner signalling the end of the bout before the sixth round. Just by watching Awdijan in the last few rounds it was clear he was not enjoying what he was experiencing and that a knockout for the Brighton man was in the air. Nonetheless, it's another win chalked off for Eubank as he looks towards a big fight next year. Promoter Nisse Sauerland mentioned the likes of Liam Williams and a rematch with long-time rival Billy-Joe Saunders as potential suitors.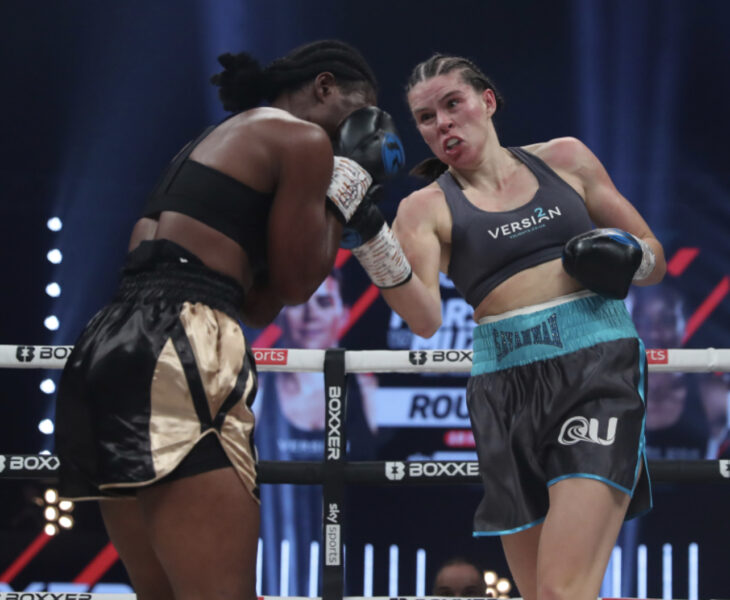 We are now one step closer to a huge showdown between Savannah Marshall and Claressa Shields as Marshall disposed of Zambia's Lolita Mozeya within two rounds at the Utilita Arena on Saturday night. Muzeya set a rip-roaring pace from the offset, aggressively walking Marshall down and swinging sometimes wildly at the WBO 160lb champion. The more measured Marshall however returned with a spiteful jab followed by several hard straight right hands of her own, also finding the chin of the Zambian with solid right uppercuts midway through the first session. Muzeya dawdled back to her corner, already feeling the consequences of the hellacious pace she set in the opening three minutes.
More punishment was in store for her in the second, with the stiff, nasty jab of Marshall constantly rocking back the head of Muzeya, followed up by clubbing left and right hooks to both head and body. Muzeya staggered around the ring, seeking any form of respite from the beat down she was suffering from the champion who was hungry for more, cheered on by her hometown crowd. Michael Alexander had finally seen enough just before the bell, stepping between the pair before Muzeya inevitably found herself on her back. Shields was watching live on camera, giving her seed of approval for her long-time rival before declaring she cannot contain her excitement to finally shut her doubters up with a monster clash with Marshall at some point next year.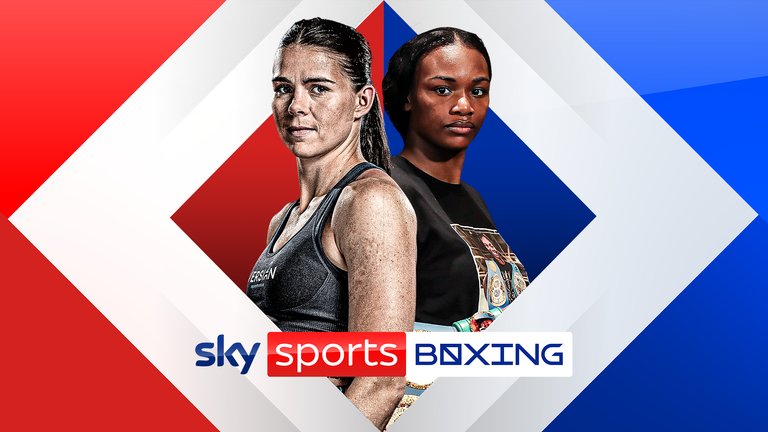 Promoter Benjamin Shalom of Ultimate Boxxer confirmed the pair will share a bill in Birmingham on December 11th, with Shields making her professional debut in the UK in what will be her first time fighting here since winning the first of her two Olympic Gold Medals back at London 2012. Providing both emerge successful, all the back-and-forth on social media will finally be resolved one way or another with a fight which will prove not only the biggest female fight in the sport, but one of the biggest and most in-demand fights in the sport full-stop. In a sport where we are often deprived of the best fighting the best, Marshall v Shields will be a welcome change. Fingers-crossed we will see it.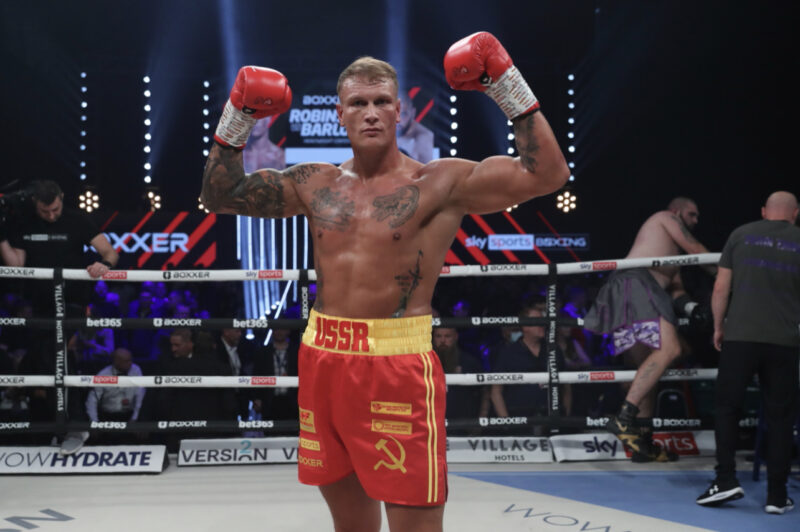 Geordie heavyweight Steve Robinson closed the show with an impressive first round victory over Manchester's Reece Barlow as he moved to 4-0 in the professional ranks. A punishing right hook staggered Barlow before his legs came from under him and he was left hunched over on his knees next to the ropes. It was clear almost immediately that there would be no way back and that the fans in the North-East would get their wish as Robinson adds another knockout to his resume early on in his professional career.
Ultimately, the second show of Sky's new deal with Boxxer saw several of their bigger names declared victors as they seek to climb further rungs on the boxing ladder. Eubank Jr. has since been mooted for a big domestic clash with Liam Williams, with Marshall seemingly now one fight away from a mega clash with Shields in what will surely be the biggest female fight in the history of the sport so far. We are yet to hear what might be next for Hughie but there's no arguing that sharing a ring with someone who has operated at the level Christian Hammer has will be beneficial for him.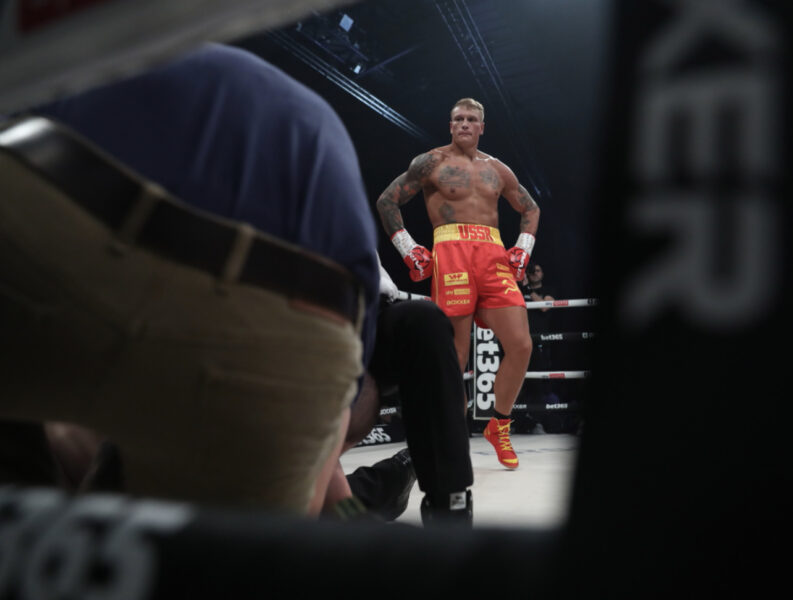 What also cannot be in doubt is that Bradley Rea and Jez Smith stole the show in terms of the best fight on the card, both of whom are deserving of credit for the tremendous heart and ability they displayed on Saturday night. Few will turn down the opportunity to watch them go at it again at some point in the future, hopefully this time with a domestic title on the line.
Both Sky and Boxxer should also be afforded some sympathy in that, for the second show running, they lost their main event at very late notice. First Eubank Jr. two weeks back due to issues with his opponent's medical, and now Lewis Ritson this week after he fell ill. 
---