The biggest fight in female boxing history has been announced; Katie Taylor Vs Amanda Serrano.

Forget Female. Forget Male. This fight is exceptional. The best vs the best which we never normally get to see. And we are able to see this in Katie Taylor Vs Amanda Serrano. This fight is monumental.

Katie Taylor has been a revelation for boxing. She has appealed to an audience who would never entertain boxing originally, heading back to the days of our very own Jane Couch. What Jane Couch went through were the toughest of times to ensure Women's boxing was taken seriously, and now here we are. Taylor Vs Serrano, live and exclusive on DAZN 30th April from Madison Square Garden.

Why is this fight so huge?

Katie Taylor has elevated boxing to new heights with her displays of excellence inside the squared circle. She has faced all comers in the amateur set up, achieving everything possible throughout the amateur world (winning Olympic Gold at London 2012 being the highlight) and has been on a collision course to become Undisputed World Champion at Lightweight and WBO World Champion at Super-Lightweight as a professional. She has achieved everything there is to achieve in the sport, with this setting up the biggest test in her professional career against Amanda Serrano.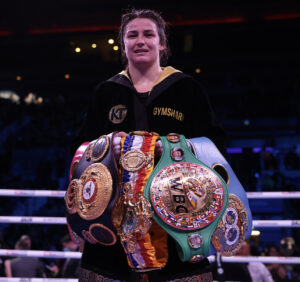 Amanda Serrano has won World Titles in Seven different weight classes as a professional boxer – this has only been by beaten by the great Manny Pacquiao who won World Titles in eight weight classes. She really is a pound for pound great with an outstanding boxing record of 44 Fights, 42 Victories (30 KO's) with 1 Loss and 1 Draw.
Not only has Amanda Serrano fought as a professional boxer but she has also fought in Jiu-Jitsu and MMA respectively. This experience will definitely come into practice come fight night against Katie Taylor.

This fight is everything we love about the sport of boxing – the best fighting the best. This fight will go down in history, so make sure you tune in!

Who wins?

Who knows? It's that good of a fight.

Catch Taylor Vs Serrano on DAZN on your Smart TV, Console, Smart Phone or Tablet by downloading the DAZN App for £7.99.

History awaits… ?