Five weeks later than originally planned, Claressa Shields (12-0-0, 2KOs) and Savannah Marshall (12-0-0, 10KOs) will finally settle their differences on Saturday night at London's O2 Arena atop of an all-female fight card.
The fight, at the end of which will crown an undisputed champion at middleweight, is poised as one of the most highly-anticipated female fights of all-time and one of the standout contests on paper in 2022.
The rivalry between the pair dates back to an amateur contest in 2012 which saw Marshall emerge victorious by a score of 14-8 under the old amateur computer-scoring system. To this day it remains Shields' only defeat in both the amateur and professional ranks, with tensions bubbling ever since as the clamour for a rematch increased.
The apprehension for a second fight reached fever pitch in February when the pair clashed in the aftermath of Shields' ten-round points decision over Ema Kozin in Cardiff. Marshall, who pretended to fall asleep during the contest as she poked fun at the 'boring' style of her American adversary, put it on her old rival during Shields' post-fight interview.
"I think if you perform like that against me, I'll absolutely wipe the floor with ya" was the exact phrase used by the Brit. "You couldn't wipe my drawers", was the response.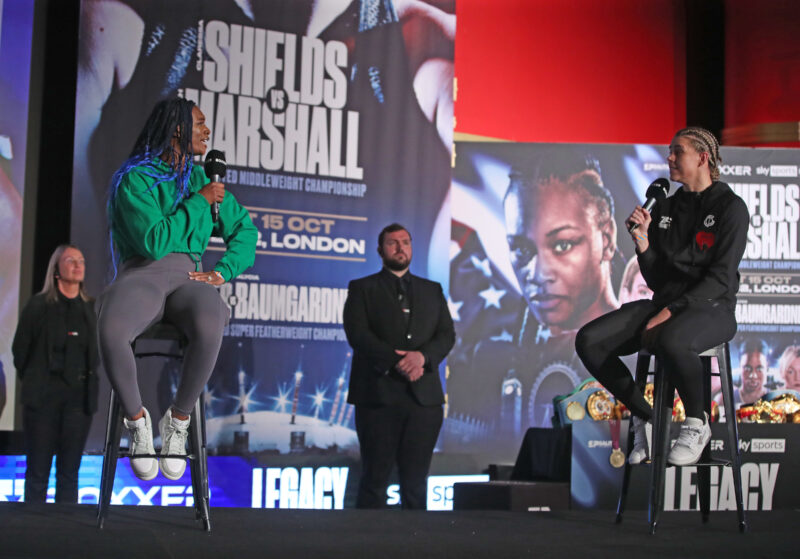 In what has been an enthralling buildup to the eventual fight on Saturday night, the personality of both fighters have shone through as we gear towards a historic night of boxing at the O2.
Shields has proved that she's not only one of the best pound-for-pound fighters on the planet right now but also stands tall as one of the standout self-promoters, while the confidence and exuberance of Marshall is clear for all to see. For someone who was often described as lacking in self-belief and, as quoted by an Instagram post she uploaded this week, once suffering with 'crippling shyness', the old Savannah Marshall is night and day to the one who will stand tall as a role model for millions of girls across the globe this weekend.
The chief support on Saturday presents another eagerly anticipated grudge match in a world title super-featherweight unification between Mikaela Mayer (17-0-0, 5KOs) and Alycia Baumgardner (12-1-0, 7KOs).
The pair have engaged in multiple verbal spats via social media since Baumgardner tore the WBC title from Terri Harper at the end of last year, setting up a mega 130lb showdown between the two Americans. Friday's weigh-in saw a heated face-to-face which culminated in Rio 2016 Olympian Mayer kicking out at her fellow countrywoman, building the stage for an edge-of-your-seat clash in the capital on Saturday evening.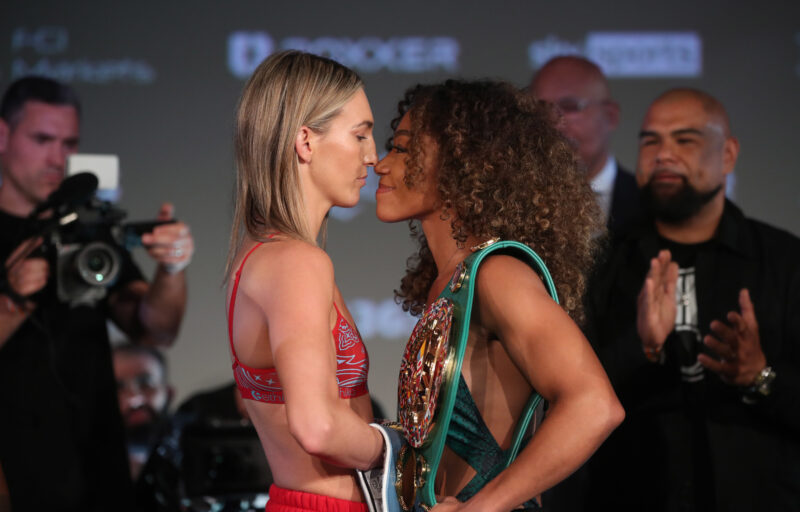 Further down the card, Tokyo 2020 gold medalist Lauren Price (1-0-0) makes her second professional appearance in a six-round welterweight clash versus Timea Belik (6-6-0, 2KOs). Kariss Artingstall (1-0-0), who won bronze at the same tournament in the featherweight division, also fights for a second time against Marina Sakharov (5-16-2, 3KOs). Fellow Team GB teammate Caroline Dubois (3-0-0, 2KOs) also continues her development in the paid ranks in a six-round lightweight contest against Milena Koleva (10-14-1, 4KOs).
USA Tokyo 2020 Olympic captain Ginny Fuchs (1-0-0, 1KO) competes against Gemma Ruegg (5-4-0, 1KO) at super-flyweight, and Sarah Liegmann (5-0-0, 1KO) takes on Bec Connolly (3-15-0) at super-bantamweight.
Marshall's stablemate April Hunter (5-1-0) faces Erica Alvarez (3-6-0) at super-welterweight over six rounds, while Ebonie Jones (2-0-1) takes on Jasmina Nad (11-25-5, 4KOs) at featherweight. Super-flyweight Shannon Ryan (2-0-0) appears for the third time as a pro in a six-round bout against Buchra El Quaissi (3-2-3, 1KO), while 154-pounder Georgia O'Connor (2-0-0) clashes with Joyce Van Ee (2-0-1, 1KO) over six.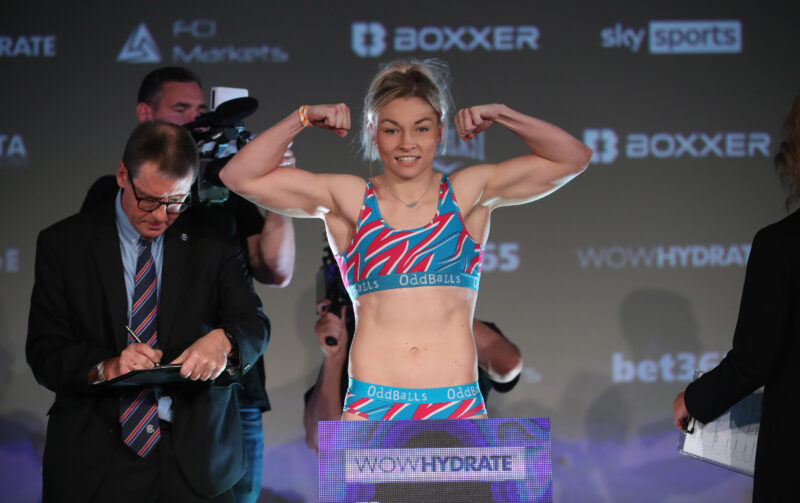 Ben Shalom's BOXXER promote the event, while Sky Sports televise with coverage beginning at 7pm UK time. Credit to all involved for rearranging the show so promptly after it was originally postponed following the passing of Queen Elizabeth II.