Featured image: Mark Robinson/Matchroom Boxing.
Doncaster heavyweight Dave Allen has confirmed that he has received and accepted an offer for a 'big fight' which is to be revealed soon.
The 31 year old teased an announcement via his Instagram on Sunday evening.
"Big fight offer given and big fight offer accepted, can't say nothing at the minute but we're back", wrote Allen.
'The White Rhino' returned with a first-round stoppage victory over Michael Bassett in March after eleven months out of the ring.
The win was his third fight since August 2021.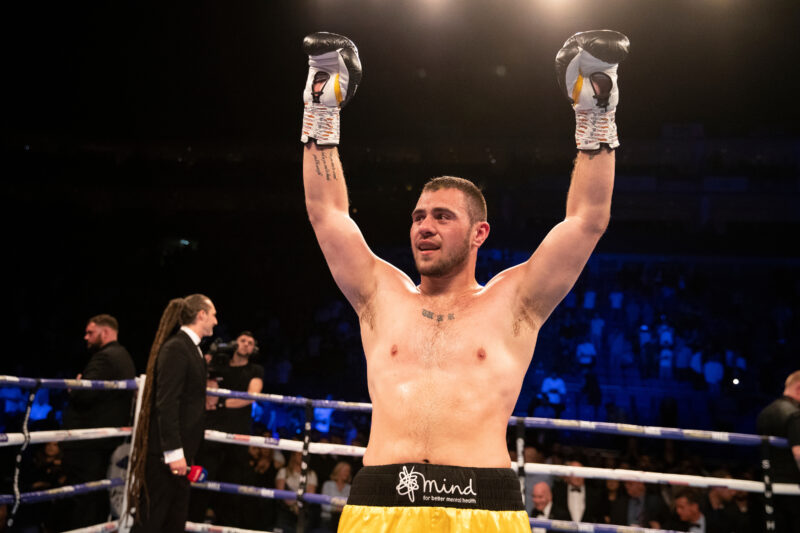 Allen, who has shared the ring with the likes of Dillian Whyte and Luis Ortiz, told BBTV he was offered a fight with British heavyweight champion Fabio Wardley at short notice earlier this year.
"I could've boxed on five weeks or nine weeks [notice against Wardley], plus the week before you can't really train", Allen said.
"That's a lot longer than I've took for some fights before but I don't wanna box unless I'm 100% anymore. People can say I'm fickle now but if I took that and lost, no one's interested anymore."
Allen also recently teamed back up with trainer Jamie Moore after a brief spell working with him in the past.
"I needed a boxing coach and I wasn't going to go anywhere else but Jamie, so I texted him on the off chance", revealed Allen.
"I wasn't really expecting him to say yeah to be honest but he just said 'mate, when are you coming?' and I were f***ing over the moon. He's just a good bloke."