Venezuelan believes fellow countryman played into Crolla's hands in July
Jorge Linares says he won't make the same mistakes the Ismael Barroso did against Anthony Crolla when they clash for the WBA, WBC Diamond and vacant Ring magazine Lightweight titles at the Manchester Arena on Saturday, live on Sky Sports.
Crolla destroyed Barroso with a now-trademark body shot in the seventh round of the first defence of his WBA crown at the arena in July, soaking up the early pressure from the hard-hitting challenger before imposing himself and knocking out the dangerous Venezuelan in style.
[sam id="1″ codes="true"]
Linares believes that his fellow countryman was too aggressive too early in the fight, and that he is ready to tough it out for 12 rounds to take the titles back home.
"Ismael is a very good fighter but he made a big mistake in the fight," said Linares. "He came out too strong and too fast and too aggressive, trying to KO Anthony, and when you are at this level, you cannot go looking for the KO because when you do that, you end up receiving the KO, and that's what happened. 
"Anthony worked to fight for 12 rounds but Ismael didn't. He came rushing out and Anthony absorbed the early attack and imposed himself on Ismael and won the fight in style. The difference is that I prepare to go the distance and that's what you need to do at this level."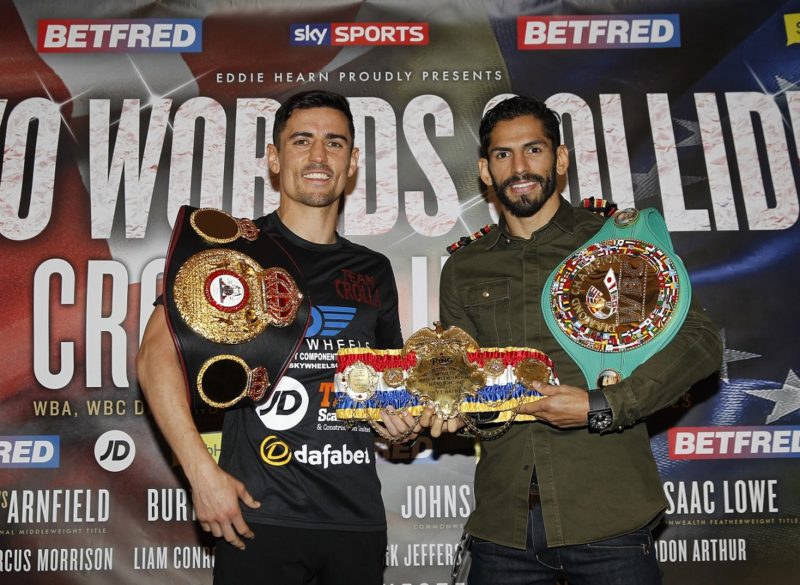 Saturday's fight is special to Linares for more than the titles on offer as he looks to fulfil a promise to the late president of the WBA, Gilberto Mendoza.
"It's not who is the more difficult or complicated fighter in the division, all the champions are great fighters," said Linares. "We can all box and punch hard, so no one fight is any harder or easier than the other, the only fight that counts is the one in front of you, and for me that's Anthony. Fights with Terry Flanagan and Dejan Zlaticanin can come next year but this fight is personal to me, not because of Anthony, but because of the WBA.
"Prior to Mr Mendoza passing away, I told him I would win the WBA title back for him to Venezuela, so this really means a lot to me because of that. All the belts are on the line, the WBC Diamond belt is beautiful and not many people have won it, so to be added to that list would mean so much. 
"The Ring magazine belt is very prestigious and not many win that either because number one and two in the world need to fight to have it on the line, like it is here, that adds so much and the personal promise from the heart to Mr Mendoza for the WBA makes this fight so special."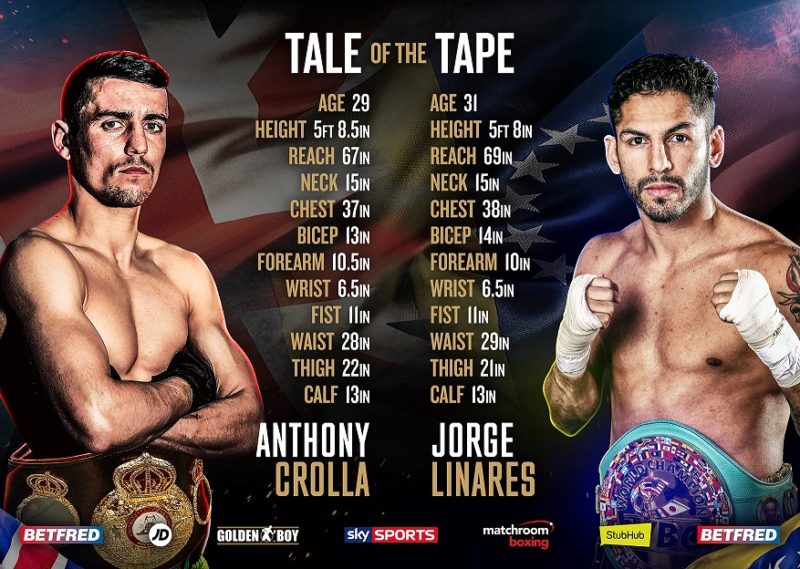 Linares' clash with Crolla is part of a huge night of action in Manchester as John Ryder defends his WBA International Middleweight title against Jack Arnfield.
Callum Johnson lands his first title action against Willbeforce Shihepo for the Commonwealth Light-Heavyweight title, unbeaten Light-Heavyweight Hosea Burton will be in title action Conor Benn tastes his fifth night of action in the paid ranks.
Tickets are on sale now priced at £40, £60, £80, £100 and £150 and available from the Manchester Arena at www.manchester-arena.com or by calling 0844 847 8000. VIPs tickets are exclusively available through www.matchroomboxing.com priced at £250.
[sam id="1″ codes="true"]