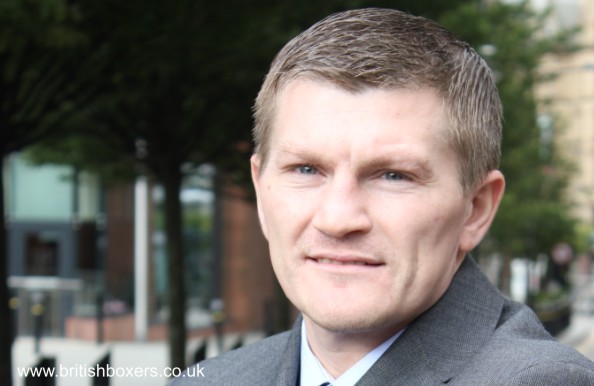 Former two weight world champion turned promoter Ricky Hatton has seen a few doors open and close in his life and boxing career. His rookie promotional outfit Hatton Promotions, had a big door slammed in it's face when Sky TV decided to no longer give him a contract to showcase his stable of talented fighters. Hatton saw his new venture quickly begin to hemorrhage money, his own personal money from his fighting days and the 'Hitman' was very close to calling time on his short promotional stint.
But as in his fighting days, it takes a lot to put him down and this week Hatton revealed that another door as opened for him, after he and his former promoter Frank Warren ended one of the biggest rifts in boxing after joining forces, the pair revealed they will now be working together as fellow promoters, allowing Hatton to deliver better fights and healthier deals for his stable of boxers, while having them showcased on the specialist boxing channel Boxnation.
After giving Sky it's best ever pay-per-view sales when he was a boxer taking on the best fighters in the world, including Floyd Mayweather and Manny Pacquiao, Hatton you could say was treated a little unkindly by them, but in business there is no sentiment and the machine that is Sky had major cut backs, boxing got slapped and Ricky and his team felt the backlash, has did other promoters including Frank Maloney.
Hatton had been given a six fight deal with Sky and put all his eggs in one basket to try and impress them, get the viewing figures and seal a better deal for his company the following year, but they never offered him any more dates after that. Hatton apparently pumped hundreds of thousands of pounds of his own money into his promotional business and took a massive loss while speculating to accumulate.
Sky dumping him was the biggest blow and Hatton has admitted to nearly 'jacking' in being a promoter. But after streamlining his operation and continuing through the dark times, he has now seen some light at the end of the tunnel and his unlikely new alliance with the promoter he split from in 2005, at the hight of his fighting career, looks to be a great move for all involved.
"I was contemplating chucking it in." revealed Hatton when speaking about his promotional company and the difficulties he's had while cutting his teeth in a traditionally cut throat business.
"Last year was a shocker and I lost a fortune. If anything wasn't coming up fast I would have had to chuck it in. It's been very hard for me as a promoter because I have had to invest my own money from my days as a fighter.
"I built boxers up to championship level but then had no TV deal to showcase them, that's why I am grateful to Boxnation.
"It would have been very very easy for me throw in the towel as a promoter, it would have been dead easy to walk away. I did not want people to say I was a one minute wonder as a promoter. I have persevered and now it's come good for me with Boxnation.
"I have stuck at it. You get knocked down and get back up again. Thats what I have done. Its paid off."
Hatton was told by an email via his match-maker that Sky TV would not renew his TV deal and has finally got his business back on track after a ruthless cost cutting mission.
"To say it's been difficult without a TV deal is an understatement but now my fighters will get the proper TV exposure." added Hatton.
[sam_ad id="1″ codes="true"]
The one stable of British boxers that Sky did retain was that of Matchroom Boxing, the company headed by the Eddie Hearn. They have a splendid group of fighters, do Matchroom, including Carl Froch, Kell Brook, Darren Barker and recently added acquisitions Ricky Burns and Scott Quigg, not to mention Tony Bellew, George Groves, Lee Selby, Brian Rose, the list goes on and they have been rewarded for their strength in depth and fair play.
Sky do a marvelous job with their boxing coverage, no one can deny that watching a big fight Live in HD or the brilliant Ringside program on Thursday nights is a great treat and a must for all serious fight fans. But them now only showing Matchroom fighters makes it difficult for other promoters and a monopoly isn't good at all for the growth of our sport. For Sky it is about putting the best quality boxing on screen for their subscribers and Matchroom submitted the best presentation at the time.
The dedicated boxing channel BoxNation has been doing well and giving fans a new outlet for their boxing fix and after less than two years has gone from strength to strength. Major share holder in BoxNation promoter Frank Warren showcases his talented group of fighters on the channel and we have been treated to some serious stuff, not only from home but abroad as well. Warren's working relationship with Frank Maloney has seen heavyweight David Price appear on BoxNation and recently Barry McGuigan agreed to work with Warren and BoxNation and we will soon have the privileged of seeing his Belfast prodigy Carl Frampton on the Channel.
The story though this week that Ricky Hatton has had a bit back, after what he's put in, is a pleasant one and  the boxers who have stood by him through thick and thin will be now be rewarded too. Ricky is the future of British boxing promotion and will be a catalyst in shaping its history. He has shown commitment, patience and loyalty by sticking with it, but most of all he has shown once again that his love of  the sport is still has strong and real has it was has a fighter.
Read more here on the BoxNation deal
Continue to the Next Page to Watch iFilmLondon's Video Interview with Hatton talking about his deal with Frank Warren and BoxNation