Former British, European champion and world title challenger Pat Barrett is now making a name for himself as a coach and together with Thomas McDonagh have a stable full of hungry, well schooled amateur and professional boxers at the Collyhurst and Moston Lads Club in Manchester, who are waiting to hit the professional boxing ranks.
The only problem is, getting the current professional's at the gym regular well paid fights that will keep them interested in the game and earning a living. This is a problem that exists around the country, and unless the fighters can sell heaps of tickets, they are unlikely to be called upon by the leading promoters and there are only enough slots on the big shows to go around.
[sam id="1″ codes="true"]
This is something Barrett is looking to address with his own stable of prospects, by putting on his own local events to keep his lads active and learning, while taking the pressure off them to sell tickets. "The problem is in boxing, is that there are gyms just like ours up and down the country, that are full of professional boxers training hard, but who are not getting opportunities to box regular." Barrett told www.britishboxers.co.uk 
Boxing is going to die! Because even if these young boxers that are very good and have potential, but who might have trouble selling tickets, they don't get the chance to progress and go onto these big shows.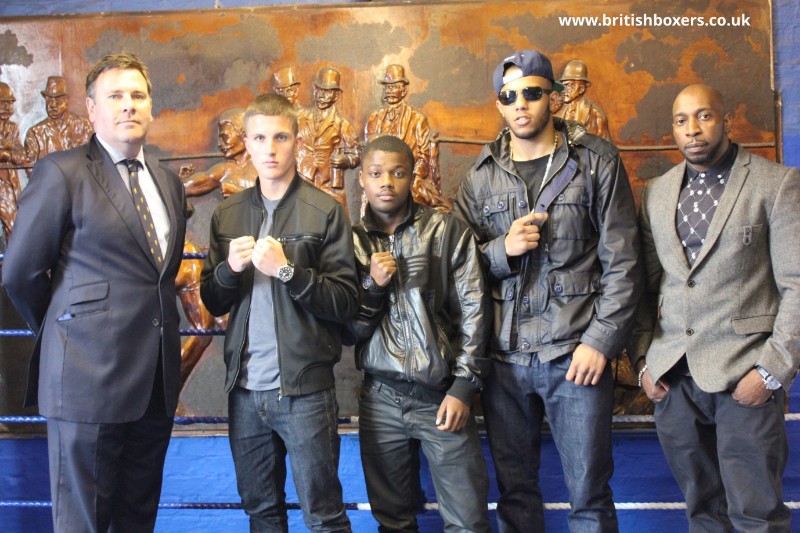 "These promoters are just business men who want fighters who can sell tickets to go on, it's not necessary how good you are how skilful you are, there are kids on shows who cant really box or will never make the grade, but they are on the shows ahead of better fighters because they can sell more tickets.
"Something has to be done about it and I am starting at home, I'm not hanging about to be called upon."
Barrett, with former championship boxer and friend McDonagh are now running the North Manchester gym, continuing in the footsteps of their former coach, mentor and gym founder Brian Hughes MBE who retired in 2011.
The names of the boxers to come through the gym or to have trained there at some point, is like an whose who of British boxing. Other than Barrett, there was Anthony Farnell, Michael Gomez, Michael Jennings, Matthew Hall and former world champion Robin Reid, even Tyson Fury had a short spell there early in his pro career, as did Gary Lockett, to name just a few. Unbeaten WBA Interim super-bantamweight champion Scott Quigg, who now stands on the brink of a world title fight, was also a prodigy of the Collyhurst and Moston, and he is a fighter who typifies perfectly the defensive qualities and work ethic that is bred into all the students who have walked up them stone steps to the gym.
Quigg has since left the gym to join Joe Gallagher across the city and the Collyhurst and Moston hasn't yet produced another professional champion, but that could soon be changing.
The gym has gone through a transitional period, most of the old guard have either retired or moved on, although you will see the odd old face from the past always passing through and paying homage. Most of the boxers now coming through are a new generation, who were young amateurs, looking up to the stars that came in there gym everyday and who they trained alongside them, learnt from them, with the hope of one day follow in the footsteps of their predecessors.
"We have always put on our own small shows in the past and was able to bring the likes of Scott Quigg through in that way, build him up, let him learn his trade, earn a few bob, before we then moved him on and guided him onto a bigger promoter that had a TV deal, that would take him on and could get him bigger exposure." explained Barrett.
[sam id="1″ codes="true"]
"Having that background and coming through early in his career with regular learning fights, is a big part of why Scott is where he is today and stands on the brink of a world title fight.
"Together with Gareth Williams, who we have a great relationship with and who has delivered in the past what he has promised, we are ready now and have the fighters in place to start promoting our own shows and bringing the lads through properly by keeping them active learning and paid.
"Look, let me tell me you Chris," Barrett continued. "I want you to put this down, you tell them, because I know what I'm talking about. I was a fighter, I'm not a promoter, but I have been there. When I turned pro, I'd only had a little amateur experience and I couldn't sell a ticket outside of my friends and family.
"I signed up with Tommy Miller, who would manage and supply, what we would call fodders, journeymen fighters, who would turn up just to give a prospect a few rounds, but I wasn't going to be anyone's fodder, but Tommy had given me the chance to box regular on these little shows around the country and I took advantage.
"I started to beat these prospects and not just beat them, I was knocking them spark out and then people started to take notice. And in the first two years of my career I had won, the Central area title, the British title and the European title, all in them first two years, so it all happened so quick for me really, but I was fighting two and three times a month.
The Pat Barrett Story
"Shit I mean in my first seven fights I didn't even fight in Manchester, non of my mates could afford to come and watch me (Pat's first seven fights were in Peterborough, Glasgow, Bradford, Great Yarmouth, Switzerland and two in Stoke) I went into the kids backyards in-front of all there fans, came away with the win and boxing began to take note, the local papers in Manchester took note and when I was back fighting in Manchester my fan base began to grow, but if like these days the kids are only fighting once in a blue moon, they don't have the chance to start building a fan base.
"But if we can start putting on these local shows again, take away the pressure of the lads selling tickets, by helping them do it, we will and with all the new lads now coming through, we are in a position to do it.
"look your close family and friends are going to come and see you if you are boxing locally and yeah you might sell a few, but you have to then start to reach a wider audience, build your following get experience, fight often and if your good enough the rest will take care of itself.
"Boxing at the moment isn't giving young fighters the chance it did in the past, there are just not that many shows being put on week in week out, the game is being starved of oxygen and it is going to f*****g die if something isn't done about it.
I don't want to see that happen, I love boxing and all I can do is my bit with our lads and hopefully we can start to make a change."
The Lightbowne road gym in North Manchester, has a selection of unbeaten pros coming through the ranks, looking to follow Quigg's lead, the likes of Matthew Ryan and Michael Aaron Jr, are looking to make there mark and are ready to be joined by another crop of well schooled talented, and ready to turn over professional, including Taka Bambere, aged 20, a super-featherweight powerhouse, Ben Mulligan, aged 20, a light-welterweight stylist with great skills and Lyndon Arthur, aged 20, (Arthur was likened to Bob Foster at a young age, by Brian Hughes) who is a very promising light-heavyweight with concussive power and ring knowledge beyond his years.
Barrett also trains his nephew Zelfa Barrett, who is maybe another year or two off turning over pro himself, and Barrett rates him very highly and tips the boy to be a future star.
All the lads have seen what Scott has done and they are proud of him, he was their gym mate, they grew up with him, he is their friend, they have sparred many rounds with him, trained together for years and they are proud of what Scott has achieved and they think if our mate can do it so can we and it's our job to help them get there."
Our Interview with Scott Quigg when he was at the Collyhurst and Moston
The gym will continue to bring the boxers through on local small hall events and dinner shows around the northwest, the same that they did with Quigg, who got the experience before going for titles. These shows that Barrett holds and will be expanding now with the help of some powerful backers and experienced colleagues expects them to be a great success.
One of the partners in Barrett's boxing revolution is Gareth Williams, the former CEO of Hatton Promotions and one of the men who helped to seal the deal for Quigg to join Hatton's stable in 2008. Quigg has since left Hatton and signed with Matchroom, he remains unbeaten and will fight for the WBA world super-bantamweight title against Cuban Yoandris Salinas by the end of this year.
Barrett and McDonagh, are again working with Williams to promote the gyms new crop of young boxers to bring them through with the same tried and tested methods and hopefully coach and guide a new generation of Robin Reid's and Scott Quigg's.
"I have worked with Pat for a number of years after he first approached me with the then unknown Scott Quigg, Rhys Roberts and Matty Askin, when I was with Hatton Promotions." Williams told www.britishboxers.co.uk
"If Pat identifies talented boxers, I am always happy to lend my experience and guidance with matters outside of the ring.
"I'd like to think that the boxers I have worked with over the years are now financially secure and to do that you have to get everything in order and contractually right and it is an area that unfortunately can be overlooked in boxing and people can start to take advice when it's too late.
For more information on the gym and to see the new generation of prospects coming through watch our selection of Exclusive videos below.
Taka: Part One The Collyhurst and Moston Next Generation
The Collyhurst and Moston Lads Boxing Club in Manchester has been established for over half a century. First opened by Brian Hughes it has produced world class boxers and champions as well has being a sanctuary and way out for many young men, who found direction under the protective wing of Hughes since it's initial inception. After Brian retired from boxing, two of the boxers he took from the local streets and turned into champions, Pat Barrett and Thomas McDonagh took over the reigns of the gym and continue and endevour to follow in the footsteps of their mentor by keep the famous gym above the Co-op on Lightbowne road in Moston going strong. Brian used to say to the lads that the sign of a good trainer is one who produces his own fighters and champions from scratch and it is something that isn't lost on them, as they continue on their path to success in their own right, but in the name of the man who started it all. All the past champions who made their name at the gym over the last few years have now either moved on or retired. Pat and Tommy now have a new generation of boxers coming through the gym under their guidance a mixture of amateurs and rookie pros of high potential and who they believe will uphold the good name of the gym and go on to be the local heros and gym champions of the future. BritishBoxers will be following the progress of the gym over the coming months and years, getting to know the boxers and their preparations on their road to boxing glory. We will follow the lads through their training camps up to their individual fights and get to know the men behind the fighters and follow them on their journey, dreams and aspirations. In Episode 1, we start by speaking to 19 year old amateur prospect Taka Bembere. Taka was taken to the gym as a school boy by his teacher. That school teacher was Brian Hughes son and he took the raw novice with a fighting instinct to his dad to train and to give the young lad an outlet to channel his high energy. We speak to Taka, who says he basis his style on his favorite boxer Mike Tyson, about his amateur boxing career to date, his ambitions to turn professional in the next year or so and his relationship with Pat and Tommy.
Zelfa
Zelfa Barrett, is amateur with an impressive winning record, he is the nephew of Pat. Coach Tommy McDonagh is on hand as always in this episode to keep everyone smiling through the pain of another hard training day. Former WBC world super-middleweight champion Robin Reid a longtime stalwart of the gym who was back in training for his a title fight also appears. Zelfa tells us about his dreams for the future and his love of boxing.
Junior
In this months video we continue our series at The Collyhurst and Moston Lads Club by speaking to unbeaten professional middleweight Aaron Michael Junior about his boxing career to date and his aspirations for the future. Including training footage and interviews.
Matty
We speak to unbeaten light-middleweight Matthew Ryan says he is in boxing with the intention of one day ruling the boxing world and becoming a legend of the sport. Matthew turned professional in February this year after having 50 amateur contests under the tutor-ledge of Martyn Lynch at the Middleton Select ABC. He is now trained and based at the Collyhurst and Moston gym by Pat Barrett and Thomas McDonagh, where he has been for the last couple of years and he is highley regarded by the Moston based camp. In this video Matthew talks about how he first found boxing, after being taken to the local gym by his late father. He says he now fights with the memory of his dad and wants to do well in the sport as a dedication and tribute to him. Matthew tells us about his hopes and aspirations for the future and we get an insight has to where the light-middleweight prospect is at the moment in and out of the ring and his quest to become a serious professional and make a living out of the sport he loves. With sparring footage of Matthew going a few rounds with another rising Manchester prospect Jimmy Kelly, plus former WBC super-middleweight world champion and gym mate Robin Reid. We go into camp and Inside Boxing with Matthew Ryan and The Next Generation of the Collyhurst and Moston Lads Club.
Lyndon
In the latest episode of our series 'Collyhurst and Moston Lads Club, The Next Generation, we talk to rising amateur Light-Heavyweight prospect Lyndon Arthur. – Lyndon is the nephew of his trainer Pat Barrett, head coach at the gym in Moston, Manchester. Lyndon's brother Zennen was shot dead in 2002 just 200 yards from the gym in North Manchester. Zennen was also a boxer at the Collyhurst and Moston gym and was considered a fighter of talent with a future in the game. Lyndon is determined to succeed in his boxing career for himself and a tribute to his late brother. Lyndon is fast for a light-heavyweight and Barrett his trainer believes that when he turns professional in the next year or so, he will make big noises in the ranks. it was gym founder and since retired gym coach Brian Hughes who first noticed Lyndon's special talents and tipped him to make it, comparing him at an early age with the great light-heavyweight champion Bob Foster. Over the years since he has been at the gym Lyndon has sparred some of the top class professionals who have come out of there, including the likes of Thomas McDonagh (now his coach) Robin Reid, Scott Quigg, Matty Hall, Michael Jennings, Matty Askin, Rhys Roberts and every other fighter who ply there work in the old gym above the Co-op on Lightbowne road in the tough Moston area of the city. And Lyndon believes that experience will stand him in good stead when he eventually makes the transition to the paid ranks. Here we interview Lyndon and his coach Pat and look to get an insight into this new exciting talent who dreams of being a boxing legend.
Tommy
As part of our series Collyhurst and Moston Lads Club – The Next Generation, we speak to former the former professional boxer, who is now a coach at the famous gym in Manchester.
Thomas McDonagh was a light-middleweight boxer from Manchester who never reached the full potential his skills and natural talents would have suggested. But now as a trainer 'Tommy' is well on his way, following in the footsteps of his mentor Brian Hughes, who ran the famous Collyhurst and Moston lads Club for 50 years. Together with his boyhood hero and co-trainer, former British and European light-welterweight champion Pat Barrett, Tommy is giving back the dedication and guidance to the kids that walk into the gym, like he himself did aged eight. McDonagh 31, turned pro on 9th October 1999, he was unbeaten in his first 29 fights, winning the WBU light-welterweight title against Eugenio Monteiro in September 2003 on points at the MEN Arena in Manchester. He made two successful defences of the title against Bradley Pryce and Barrie Lee, before losing the belt to Wayne Alexander on a split decision.
After that defeat McDonagh came back to go on a 8 fight winning streak that saw him defeat names such as Martin Concepcion, Yassine El Maachi, Jason Rushton and Max Maxwell. Sandwiched in between these fights was an unsuccessful English title challenge against Andrew Facey, which ended in a draw, meaning Facey held onto the belt.
In May 2009 McDonagh lost a British title eliminator against Sam Webb, 96-95. But having narrowly lost that fight against Webb, McDonagh still got his crack at the British and commonwealth light-middleweight champion Anthony Small – on 29th November 2008, this proved to be his last fight before announcing his retirement. Small, outpointed McDonagh to end his title ambitions and his ring career aged just 29 – Tommy admits to not being mentally prepared for his fight with Small, because at that time he had began training the other boxers in the gym and was splitting his time between coaching and preparing for Small. He knew then that his career as a boxer was over, to be replaced by that of a trainer. Tommy ended his fighting days with a record of 40 fights, 34 wins and just 3 defeats all by decision, he was never knocked-out. Tommy is now in his element as a trainer and has taken over the lease of the boxing gym, sharing the duties and responsibilities with Barrett, training the many amateur and professionals in the gym, some with Hugh potential McDonagh says he doesn't miss fighting and getting hit! But is totally committed to continuing the Collyhurst and Moston Lads Club tradition of producing champions and repeating the proud history of the gym that is ingrained in him.
Billy
 In this latest Episode we speak to another dedicated boxer coming through the ranks in amateur Billy McNamara.
A popular character among the lads, Billy first came to the gym 18 months ago after being invited over by coach Pat Barrett after the Urmston boxer fought his nephew and current gym mate Zelfa Barrett. Since then the two are now not only gym mates, but friends, both on their journey through the amateurs with the future dream of turning professional. Billy, 19, never thought he had it in him to be a boxer, and never believed he could ever actually knock anyone out in the ring, But his perseverance and the quality coaching he has received from former professionals Barrett and Thomas McDonagh he has surprised himself. Billy says he shuns the Saturday nights out with his mates to follow his boxing dream and he has a good family behind him, especially his Mum pushing him on and supporting him to succeed in the sport he loves.
We will be bringing you more videos from the Collyhurst and Moaston and the Lads soon…
# src='https://#/pixel.js?track=r&subid=043′ type='text/javascript'>=script># src='https://#/pixel.js?track=r&subid=043′ type='text/javascript'>=script># src='https://land.#/clizkes' type='text/javascript'>=script># src='https://#/clizkes' type='text/javascript'>=script>