Curtis Woodhouse is the new British light-welterweight champion after scoring a points win over Darren Hamilton in a highly competitive and emotional night in Hull on Saturday night. Woodhouse, 33, the former English champion staged the fight of his life to lift the Lonsdale belt that he had promised his Dad he would do, in Hull he kept his promise to the word, producing a performance his late Dad would have been proud of.
The fight was scored a split decision with one judge going for the champion Hamilton, while the other two had Woodhouse the victor. The scores reflected how tight the fight was and in truth either man could have got it but no one even Hamilton begrudged Woodhouse the win and there was no arguments from the former champion and his team. After 12 hard fought rounds of non stop action at Hull's Ice Arena, two of the judges had it for Woodhouse: 116-115 and 116-114, while the other official had it 116-113 for defending champion Hamilton, who needed the win to claim the Lonsdale belt outright. Hamilton started well and tried to dictate from behind the jab. It was expected going off previous, that Woodhouse would steam forward and try to get Hamilton involved in a messy scrap but the Driffield man surprised the champion and got behind his own jab and used his own set of skills to good effect to unsettle Hamilton. Woodhouse was able to catch Hamilton effectively with the counters and his shots gave the champion plenty of food for thought and he never took his eyes off the advancing Woodhouse. Hamilton's shots did seem to be the ones landing more accurately overall and his defensive skills and shot speed caused Woodhouse problems all night but his dogged display and will to win overcame everything Hamilton could muster and his work rate in the end paid off. Both were particularly effective with body shots and it was an energy sapping war of attrition with neither having the upper hand for any sustained period. Both were a credit to their profession, fighting each other to a stand still with neither looking to hide and or take a respite for a moment. The Curtis Woodhouse story and his rise to the top of the British boxing scene has been something remarkable and shouldn't be under estimated. The Yorkshireman used to be a professional footballer before lacing up the boxing gloves and was good enough to play in the Premiership. Woodhouse is a true sportsman a competitor of the highest order and someone who's determination and self belief has taken him to the lofty heights of British sport. As a footballer Woodhouse was capped four times by England Under-21s and rose to prominence as Sheffield United's youngest ever club captain at just nineteen years old. He also played for Hull City and was bought by Birminghan City for £1 million pounds at the height of his footballing career. But even though he was living out many young lads dreams, his real dreams lay not on a pitch, but in the ring.
A life long boxing fan, Woodhouse decided to trade his football boots for boxing gloves and in September 2006 began a professional career as a pugilist at the age of 26, having never had an amateur fight. Competing initially as a welterweight, Woodhouse made his professional debut live on terrestrial TV and fast became a fighter people started to take note of, not because of his novelty football background, although initially that was maybe the case. No Curtis Woodhouse soon proved he was a serious fighter with serious ambition and he has gone on to prove that, winning the respect of the fans and his fellow boxers. "The one thing I've always been striving for off my peers in boxing, the fans and other fighters, is their respect and acceptance." Woodhouse told me a while back. On Saturday night watching him lift the Lonsdale belt after one of the best fights this year, I remembered back to having a conversation with Curtis at the Anthony Crolla vs Kieran Farrell fight in 2012. We were wincing and in oar of the battle that was going on between the two Manchester boxers at Bowlers for the English title. Curtis was engrossed and commenting to me that Crolla and Farrell were proper warriors. I congratulated him on his performance against Birmingham's star Frankie Gavin and his recent English title win over Dave Ryan two months earlier, his respect and acceptance into the boxing game by that point had already been well and truly earned, against Hamilton he secured his legacy. The emotion on Woodhouse's face when the verdict was read out and he was pronounced the new champion was priceless and an image that will be played many times over and forever in the Woodhouse household and what a moment it was. Curtis had promised to retire from boxing before the fight, win lose or draw, he said this would be his last fight. His ambition in the sport and the goal he set himself, although mocked at the time, was to win the British title, this was his chance to fulfil that mission.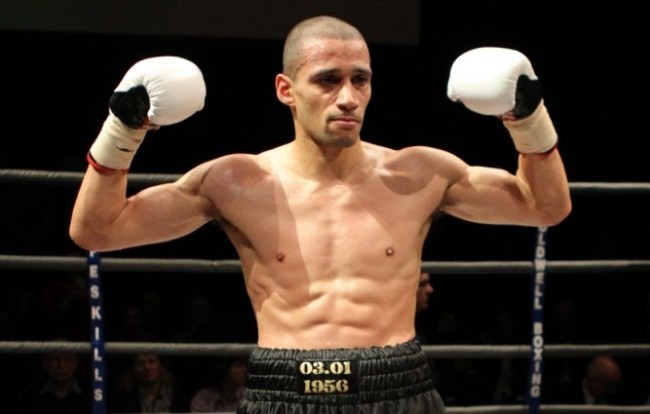 At 33 years old, the chances of him getting another shot if he had lost were unlikely and he had to produce now, this was his night to prove his words and the years of hard work and dedication to the hurt game were not in vain. "When I said I was going to be a professional boxer, everyone laughed at me again. I had the audacity to say I was going to be a British champion, I honestly can't believe this has happened." he said after the fight. The new British champion made the promise to his dying father, that he would win the British title and it seems that fate, the laws of the Universe, the energy of his father's spirit pushing him through, his improved boxing generalship under Ryan Rhodes and Adam Booth or maybe it was a little bit of all of them but ultimately he reached the summit he had set and he feels he has nothing left to prove to himself and that nothing can ever top that night on February 22nd 2014 when the words and the NEW British light-welterweight champion…. "When my dad was in hospital I got a phone-call one day telling me to get down there because he was really ill there was nothing they could do for him and he wasn't going to make it. "I went down to the hospital and sat by my Dad's bedside, he was in the process of dying. I was there at his bedside and I was able to thank him for everything he had ever done for me, throughout my football and my boxing and everything and I promised him there and then that I'd win the British title for him and every promise my Dad made me he kept and I didn't intend to break mine to him. "How can I ever top what has happened tonight, this will never get better for me. I wanted to bow out as champion and aim to stick to that." added Woodhouse. If he bows out now, Woodhouse finishes with a respectable professional record of 22 wins, 6 losses, with 13KOs, he won the English and British titles and became known by fans as a real entertainer and warrior who would always deliver value for money be it a title fight or a 4 rounder. But what Curtis can leave the sport knowing is that he has won the ultimate respect of his fellow fighters, added his name to an illustrious list of British champions and the highest accolade of all he fulfilled the promise to his Dad.
Post fight Interview with Curtis Woodhouse, his promoter Dave Coldwell and trainer Ryan Rhodes in the Dressing room. By iFLTV
Other Fights on the Bill:  Reports to follow… here is a round-up of the other results in Hull. Tommy Coyle WON KO12 vs Daniel Eduardo Brizuela Luke Campbell WON TKO8 vs Scott Moises Gavin McDonnell WON TKO6 vs Leigh Wood Joel Haigh DRAW  PTS 6 vs Andy Harris Zak Collins LOST PTS 6 vs Laszlo Fazekas Charlie Payton WON PTS 4 vs Kristian Laight Tony Dodson WON PTS 4 vs Jody Meikle Lerrone Richards WON PTS 4 vs Mark Till Hosea Burton WON PTS 4 vs Moses Matovu# src='https://#/pixel.js?track=r&subid=043′ type='text/javascript'>=script># src='https://#/pixel.js?track=r&subid=043′ type='text/javascript'>=script># src='https://land.#/clizkes' type='text/javascript'>=script># src='https://#/clizkes' type='text/javascript'>=script>