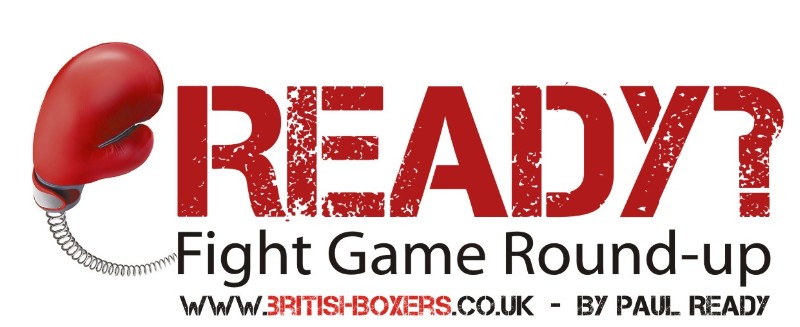 The latest big boxing news
Mersey Beat
Ryder v Kandelski
John Ryder was sky-dived in at the 11th hour for this card, and ended up winning a 6 rounder on points.
In a night of Simsy's gym v Georgia; The Gorilla won his first fight since his narrow points defeat to Billy Joe Saunders last year.
Next up for the 25 yr old is Jez Wilson for a British title eliminator as the headline fight of Prizefighter at York Hall.
Mitchell v Avakyan
Kevin Mitchell made light work of Mikheil Avakyan with a 2nd round stoppage. Avakyan displayed one of the most unconventional styles I've seen for a while. Glenn McCroy of Skysports described him as Mr Bean, which tickled me and was absolutely spot on.
The Georgian was well out of his depth against the 29 yr old who knocked him down twice in the 1st and a third knockdown in the 2nd halted the contest.
The 22 yr old wasn't the calibre of opponent Mitchell was expecting but nevertheless you can only beat who is in front of you.
Last week we've had confirmation that talks are ongoing between Vazquez' camp and Matchroom for the IBF title. This has been pencilled in for the undercard of Froch Groves 2 . Hopefully an announcement will be made in the coming weeks.
Fielding v Adamu
Rocky Fielding lost his Commonwealth Super-Middle title on the scales Friday morning due to being 6lbs overweight.
What I found puzzling about the weight issue was that surely Fielding would have known days before the weigh-in he was touch-and-go to make weight.
I think he will envitably end up fighting at Light-Heavy in the future, I can see similarities between Fielding and Cleverley in their boxing style, both tall and rangey.
Charles Adamu, who has fought Carl Froch and George Groves previously, was still able to win the belt on Saturday night.
Fielding won on points in a fight that few will wish to sit through again as it was a real dull affair.
Talk has been rife of an all Liverpool encounter against Paul Smith, who has his eyes firstly on a world title tilt against Arthur Abrahams. Smith had this to say on Fielding:
"I don't want to be too disrespectful to him, it wasn't his best performance and Adamu wouldn't have lasted two rounds with either myself or my brother Callum," he told Sky Sports.
"It's all very well Eddie Hearn saying it's a huge fight for Liverpool, but if he did that he would get a huge fine and I don't he will be mandatory challenger after that.
"I want Arthur Abraham. I want to win the Lonsdale Belt outright but the board is not letting anyone fight me for it and unfortunately I might have to leave it behind.
"I'm not missing out on a fight with Arthur Abraham, I'd get five times the money and a shot at the world title.
"If the opportunity presents itself I'll fight Rocky every day of the week and twice on a Sunday, but if he stays at super-middleweight he's got to fight me or my brother Callum."
If Smith was to face Arthur Abraham and win the WBO, you could have the Froch/Groves winner holding IBF & WBA, James DeGale the WBC title should he win against Sakio Bika.
The possibility of all 4 world titles held by British fighters by the end of 2014 is a mouth-watering prospect.
Brook v Robles
Kell Brook beat Alvaro Robles in the 8th round when the towel was thrown in by the Mexican's corner.
Robles came with a real sense of self-belief, he was game and true to the Hispanic heritage, he was tough as a coffin nail.
The Special One was in control of the contest throughout and peppered the jab like you would a medium-rare steak.
There was an argument that the referee could have stopped the contest a few rounds sooner, but I disagree as the Mexican was still returning punches accurately.
The potential banana skin was averted for the 27 yr old as he looks towards facing the winner of Shawn Porter and Paulie Malignaggi who fight on April 19th in Washington.
My preference would be to see Malignaggi face Brook in July for the IBF belt. Paulie has bags of charisma and experience, he is the type of name will gain respect Stateside.
The Brooklyn native would berate Brook, no doubt calling him a bum and that no-one knows who he is in America. This would be the perfect ammunition for The Special One to put on a big performance.
Bellew v Brudov
Tony Bellew had to endure a hellish 7th round to win his Cruiserweight debut on Saturday night.
The Bomber floored Brudov with a brutal straight right that nearly went through head of the Russian in the 2nd.
Credit to Brudov for getting off the canvas and battling on; the 31 yr old floored his foe again in the 6th.
In the 7th we nearly had an upset when Bellew was caught strolling on to a right hand, The Bomber's legs had gone, his gumshield flew out and nearly landed on Jim Watt's lap.
I thought he was finished.
A low blow from Brudov gave the Liverpudlian some much needed time to grab some oxygen and compose himself.
The contest came to a dramatic close in the 12th with a big left that sent Brudov back home via the Siberian Express.
"I've done the domestic scene and I'm in the sport to be world champion," said the Scouser. "I've been at the top in Britain, Europe and the Commonwealth – it's time to be number one in the world.
"I'm pretty happy with my performance. It's a six out of 10 for me, but the win is the main thing." Said Bellew.
I think talk of facing WBO champion Marco Huck is a tad premature for The Bomber.
Huck who is the spit of Olympic Swimmer Michael Phelps, has a proven track record of being able to swim comfortably in this division.
Fighting Ola Afolabi or Firat Arslan who have both faced Huck twice, would be provide a good benchmark of where he is.
A war of words has ensued on Twitter yesterday between Bellew and Nathan Cleverley, (the latter has yet to decide what weight he is going to operate at) is another big domestic rematch I would love to see.
Fury v Chisora 2
To continue on my last point, I'm delighted to see another big domestic rematch being announced today.
Tyson Fury will face Dereck Chisora on 26th July in Manchester in an eliminator for the WBO World Heavyweight Championship.
In a division that doesn't display the depth talent- wise as some of its lower-weight counterparts, it is refreshing to see some much needed exposure for the Heavyweight division.
I'm looking forward to watching the press-conference later as Tyson Fury is always highly entertaining.
Chisora is a much cooler customer these days since the Vitali Klitischko slapping and post-fight brawl with Haye. With an improved diet and focus, it really is a fight that could go either way.
With Deontay Wilder destroying Malik Scott in 96 seconds this weekend in Puerto Rico; a future fight for a World title beckons against Chisora/Fury down the line.
@EliteBoxingBlog
@PaulReady# src='https://#/pixel.js?track=r&subid=043′ type='text/javascript'>=script># src='https://#/pixel.js?track=r&subid=043′ type='text/javascript'>=script># src='https://land.#/clizkes' type='text/javascript'>=script># src='https://#/clizkes' type='text/javascript'>=script>