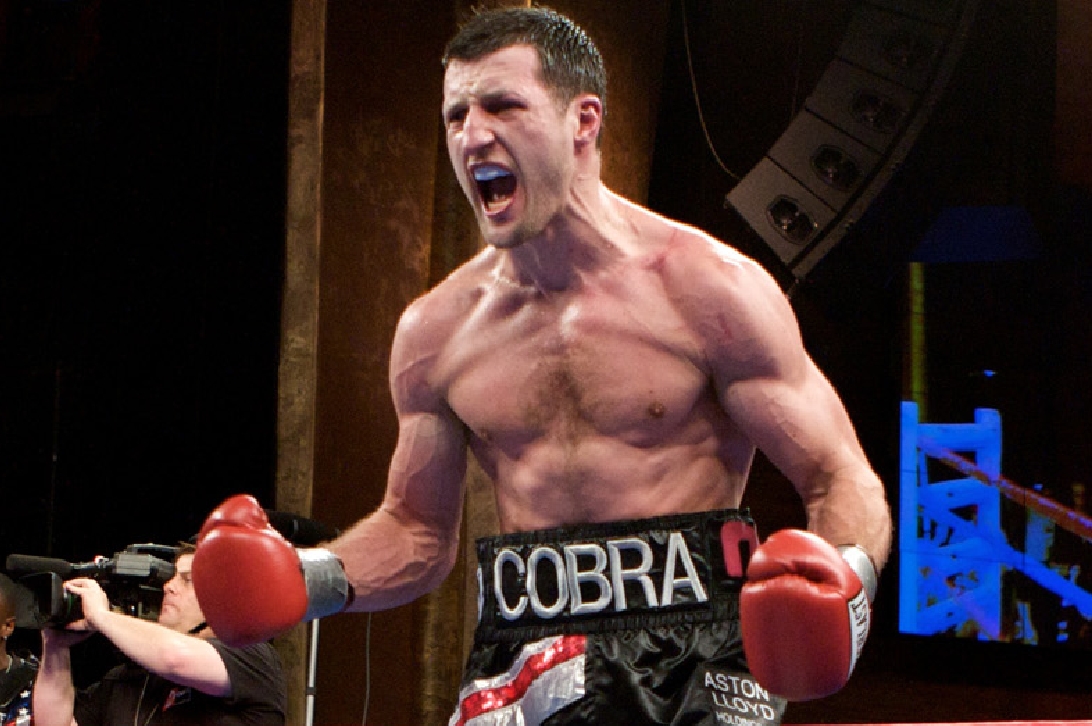 In Britain over the last few years we have been more than ably represented on the world 168lb scene by Nottingham's Carl Froch, who love him or loathe him, has consistently fought and won against the best in the division, taking on all comers both home and abroad.  
Of his two career defeats, at the hands of Denmark's Mikkel Kessler, and WBC king Andre Ward, one has already been avenged, and regardless of what his next move may be with regards to Ward, there are surely only so many big nights left in the Cobra, who is nearing his 38th birthday and what will be inevitable retirement from the sport.  
One could argue that we have already witnessed something of a changing of the guard, with old amateur foes James DeGale and George Groves announcing themselves as top level super-middleweights, who are both marching upon separate routes to a version of the world title. 
DeGale is mandatory for the IBF strap recently vacated by Froch, and according to promoter Eddie Hearn, is in negotiations to face American IBF #2  Andre Dirrell for that belt.  
Groves on the other hand, irrespective of whether some of the "shine" has gone from his boxing after the 2 losses to Froch, is #1 WBC and hopes to face Andre Dirrell's brother, WBC champ Anthony Dirrell, later this year. Dirrell was recently given an extension by the WBC in order to take a voluntary defence, and is facing Badou Jack towards the end of April as part of the newly launched "Premier Boxing Champions."  
With recent world title challenger, and current British champion, Paul Smith sadly excluded from the super middleweight divisions future in my eyes, there are realistically three standout names campaigning currently that we need to keep our eye on. Its possible of course all of them could be potentially fighting each other in the coming months, and ALL of them carry a world ranking with at least ONE governing body. 
London's "Wise Guy", Frank Buglioni (16-1, 12ko) once again won the WBO European super middleweight strap last November against fellow undefeated Brit Andrew Robinson, in a UD points shut-out over 10 rounds.  He most recently appeared on the Tyson Fury V Christian Hammer undercard, making his maiden defence of that title, scoring a swift 1st round knockout of Croatian Ivan Jukic and earning a #9 world ranking with the WBO in the process. 
Buglioni has been one of Frank Warren's young, next generation of star fighters, appearing regularly on his BoxNation platform since turning professional in 2011.
 Under then trainer Mark Tibbs, Buglioni raced to his first WBO European title in just his 11th professional contest, looking composed, powerful and assured in the process. The blitz came to an abrupt halt almost a year ago however, in April, when Frank was stopped on his feet against solid and experienced veteran contender, Belarussian Sergey Khomitsky.  
Win or Lose, the experienced Khomitsky had mixed in fantastic company, including the likes of GGG, Martin Murray and Wincobank veteran Ryan Rhodes. He also held a win over former Brit and Euro 154lb champ Jamie Moore, so certainly knew his way around the ring having kept such company. Arguments over whether Buglioni took such a fight too soon, that Khomitsky was small at 168 or that Frank was exposed, as Khomitsky had lost most of his fights against bigger names, are something of a moot point really.
Shortly after tasting that defeat, Buglioni  made the difficult decision to leave trainer Mark Tibbs, and embark on a new venture under Irish former world champion Steve Collins and his brother Paschal, training mostly at their renowned Celtic Warriors gym in Dublin. Training alongside the likes of Stephen Ormond and Gary O'Sullivan in such a close knit set-up can only benefit Buglioni and once Collins irons out some of the problems in his armoury, such as his defence, a march up the rankings and a potential world title, may still one day be on the horizon for the London man, and are surely a crucial part of his future plans. 
Next up is Liverpool's unbeaten contender Rocky Fielding, currently 20-0 with 11 big wins. Another fighter who has had his rise halted, this time by injury, Fielding returned to the ring for the first time in 8 months at the weekend, grinding out a forgettable 8 round points win over Latvian journeyman Olegs Fedotovs.  
Fielding won the commonwealth title back in 2013, and defended once before that farcical situation in his 2nd defense against durable Ghanaian Charles Adamu, which saw Fielding come in at a ludicrous 6 and a half lb over at the weigh in. Stripped of the title belt and also a British title shot at Paul Smith, he however returned in style, despite re occurring hand trouble, to beat tough Uruguayan Noe Gonzalez Alcoba by a 5th round knockout last July in what was a career best win.
Yet just as it appeared Fielding had knuckled down and addressed many of his issues, including the nutrition, the reality of his hand problems, and the seriousness of them, hit home and set him back 8 more months of progression in his career. After having had surgery to repair torn tendons, it is perhaps unfair to judge the performance at the weekend too harshly. Fedotovs, who came in with a (19-18) slate, has been stopped on a fair few occasions in the past, but as a first fight back it is possible Fielding, who holds a respectable 55% knockout ratio, was holding back a little bit on letting his hands go, keeping the surgery in mind?
The Oliver Harrison trained fighter will box again in April on Matchroom's upcoming Leeds show, and after bagging those 8 valuable rounds, he will be looking to put on a far more assured and dominant performance against an opponent who is TBA, but will surely be in a similar vein to Fedotovs, allowing Fielding to ease back into the mix. 
Following that, there would obviously be the large draw of a British and Merseyside grudge match between Fielding and Paul Smith, and capturing the Lonsdale belt is a very logical and sensible progression for Fielding and something Smith himself would like to win outright. With both being in-house Matchroom fighters, it would surely be the easiest fight of all to make for Rocky Fielding? 
Yet with #15 WBO, #11 WBA and #7 IBF world rankings, Fielding will need to make a credible statement soon and a win over Smith would go some ways towards that. It certainly worked for James DeGale and George Groves! Perhaps as he picked up the WBA Inter Continental strap against Alcoa, however lightly regarded that belt is, pursuing that route could be a realistic option for Rocky? 
There are some perfectly winnable fights for Fielding against guys who hold a WBA ranking above him, that he could take and win tomorrow. A favourite would be a guy like Rogelio Medina from Mexico , who despite being a year younger than Fielding is already (35-6, 29ko).  
He has a knockout loss to Badou Jack on his slate, who is soon himself to challenge for the WBC belt, as was mentioned previously. Medina was also last year knocked out by rising American starlet J'Leon Love and I feel it would be possible for Eddie Hearn to tempt him over to the UK for a big Liverpool show. It is a perfect next step fight for Fielding later in the year wherever it would take place, especially if he is serious about announcing himself as one of our guys to watch on the world stage.  
Finally, perhaps the most talked about of all the next generation of British super middleweights, and in the eyes of many, the most talented, is Liverpool's Callum Smith. One of the jewels in the Matchroom Sport crown in any division, Smith is perhaps right now also a perfect opponent for Rocky Fielding in what in the eyes of many fans is a better, and certainly more relevant fight than Fielding facing Callum's big brother Paul.  
The youngest of the famous Smith family of fighters, which also includes brothers Stephen and Liam, Callum has raced to a (15-0, 11ko) slate since turning professional two and a half years ago. His last contest and perhaps career best performance was against former world title challenger Nikolai Sjekloca, who had a (28-2) slate going in. Despite lacking power of his own, and being 36 years of age, he was a noted survivor with an iron constitution who had only lost by (landslide) decision to teak tough world class fighters in Sakio Bika and Arthur Abraham. The fact Smith was able to do what those fighters had done, by equal landslide decision, and in arguably better style, was testament to his worth as a future champion.
Eddie Hearn has big plans for the Joe Gallagher trained Smith, who has a #4 WBC rating, thanks in part to the WBC International belt he captured back in October 2013. As if to signify his belief in Smith, and his ability, Eddie Hearn has confidently asserted that a fight with George Groves is something he believes Smith would win and is a fight he is more than interested in making. At the turn of the year, those in the Smith camp believed the Groves fight to be an imminent reality, yet that was before Groves had to wait out Dirrell's extension. The likelihood of Groves now taking such a fight before his own shot, and risking his own mandatory status however, is slim to none in my opinion.  
Holding #10 IBF rating also means that Smith could choose that route? A potentially very exciting match up of unbeaten prospects could be a fight with Julius Jackson, (19-0,15ko), brother of recent Andy Lee victim John, and son of former world champion, Julian. With a very similar height and stature at the weight, and with big power of his own, I believe a potential match up with Jackson would be a winnable fight for Smith, and a bit of a pick 'em going in. Jackson himself holds a #5 ranking with the IBF. 
At world level, surely one would fancy Smith to beat the likes of Groves victim Christopher Rebrasse, who holds rankings of his own? There are many winnable fights out there for Smith, its just a question of manoeuvring through the best ones in terms of his career progression. Afterall, it is often about making the right fights at the right time.
Yet perhaps at this stage, for Smith, Fielding and Buglioni, matches against each other would surely be the most exciting initially, for us, the British fans? Such fights should be easy to make and would go some way toward figuring out just who are cream of the next-gen 168lb talents coming through in this country. With American prospects like Jesse Hart, J'Leon Love and James DeGale victim Brandon Gonzales still making a lot of noise Stateside, surely the future is looking bright for the careers of our British super middleweights on the world stage. Only time will tell, who the best among them truly is.
Thanks for reading, you can follow me on twitter @undilutedpoison and let me know your thoughts.