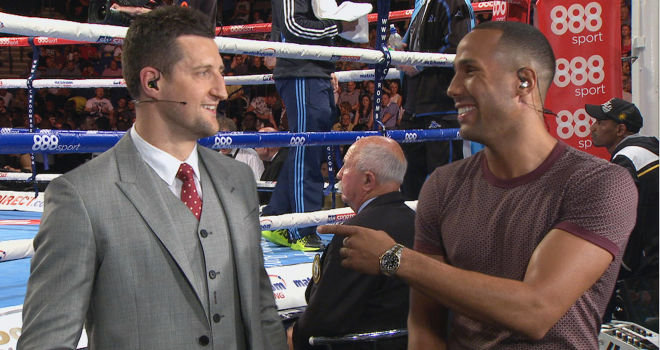 James DeGale is Carl Froch's No1 challenger for his IBF super-middleweight title which means that the fight between the pair will happen next year, with February and March being considered according to Matchroom Promoter Eddie Hearn. The only way the fight wont materialise is if Froch vacates the IBF belt and pursues another route to the swansong of his amazing career and snubs DeGale.
It would appear that Hearn then has now convinced Froch (33-2, 24KOs) that the DeGale fight is the right one for him to take next. This comes after the champion recently scoffed at the idea of facing DeGale and even suggested he would retire rather than take him on. But we have heard that before after the first Groves fight and Froch eventually changed his mind and decided to give Groves the rematch.
"If I can't fight in Vegas, I need a serious think about whether I want to finish by fighting DeGale, and beating him," Froch had told BBC Radio Nottingham.
"I don't know if I can get motivated to fight him (DeGale). He's not good enough. If Vegas can't happen I'll seriously consider retiring."
"I want to finish my career in Las Vegas, because it's not something I've done as a professional. I've done all the fighting that I can. I've achieved all I wanted to achieve. Now it's just about ticking a final box,
"To fight there like many of my heroes have before me would be phenomenal. All I want is the glamour side of it. I'm not too fussed about fame.
"There are a couple of other fights out there for me in America so if there are options there I'd rather take that than fight DeGale." he added.
The options for Froch who also holds the WBA version of the super-middleweight world title, looked good after he disposed of his bitter British rival George Groves (19-2, 15KOs) in their rematch at Wembley in May. Froch had long contemplated the rematch with Groves after being tempted by a Las Vegas showdown with Mexican super star Julio Cesar Chavez. Froch eventually chose to face Groves and it proved a canny decision, he knocked 'The Saint' out in round 8, in front of 80,000 fans at Wembley arena and bagged his biggest ever pay day and made history.
Although it was considered after the Groves victory, that the fight with Chavez could be re-erected,  It now appears talks to stage that one have broken down.
Recently Froch shared posters of him matched with Three possible opponents on his Facebook account asking his followers to vote on who they would like to see him fight next, they were, Gennedy Golovkin (30-0, 27KOs) – Julio Cesar Chavez (48-1-1, 32KOs) and James DeGale (19-1, 15KOs) …. Golovkin won the vote by a mile, with Chavez coming in second and DeGale back in third.
Golovkin the 32 year old wrecking machine from Kazakhstan is the current unbeaten WBA and IBO world middleweight champion. A fight with Froch however dreamy to fans as it is, it is unlikely to happen any-time soon. Golovkin has plenty of unfinished business at 160lbs, with a possible unification with Miguel Cotto, should he get past Marco Antonio Rubio next month and where Froch is by then is anyone's guess, if it ever happens it would be a fantastic fight.
There was even mention of Froch-vs-Kessler III, but in all honesty has good as the first two were, there are more fans crying out for that fight not to happen. To watch Froch and Kessler bash each other up for 12-rounds is nothing we haven't seen before and it wouldn't go down well…. So that leaves just one man for Froch to face next, the third choice by the people but the obvious choice and the mandatory choice and the one that will appease almost everyone, James DeGale.
Two of Froch's desires before he quit's the sport he has graced so well for 12-years, is to fight at his home town football stadium, The City Ground in Nottingham and the other is to fight in Las Vegas. It appears after Froch's promoter Eddie Hearn, said, he is in advanced talks with the Nottingham football ground, to stage Froch-DeGale there in 2015, that Froch is getting prepared to tick off one of those off his bucket list.
Former Olympic Gold medallist DeGale has earned his No1 ranked status and is a dangerous defence for Froch. He has just the one loss on his record, that close points defeat to Groves in 2011. Since then he has remained unbeaten, winning 9-fights on the bounce and claiming the European belt and the WBC Silver super-middleweight title. The Groves loss seems to have had switched something on in DeGale, he matured over night and became a better fighter for the experience. The fact that the Londoner is now over his long term injury problems makes him even more of danger to 'The Cobra.'
DeGale is set to have a warm-up contest in Sheffield on December 6th, and then he will set about preparing for his shot at the IBF world super-middleweight title and Hearn believes it is doubtful that the Nottingham fighter will vacate the belt and so says the fight is very likely on!
You're a machine @EddieHearn Great to see you. I've not finished with this wonderful sport just yet, plenty to think about……..

— Carl Froch (@Carl_Froch) August 28, 2014
# src="//platform.twitter.com/widgets.js" async="" charset="utf-8″>-script>
"I met with Carl Froch last week and the first thing I could see is that he is getting itchy knuckles again. This guy wants to fight." said Matchroom promoter Eddie Hearn Hearn in his Mail Online column.
"There are a lot of discussions going on at the moment and as it stands it looks to me like a fight with Julio Cesar Chavez is not going to happen.
"James DeGale is now strong favourite to get the fight, probably in February or March of next year.
'James is obviously Carl's mandatory challenger for the IBF super-middleweight belt and under those terms Carl has to fight him by the end of February or give up the belt. Carl is not the sort of fighter who just gives up a belt so I think that fight is now very likely.
"I have had some discussions about possible venues and I am looking at a few outdoor stadia, including the City Ground in Nottingham, Carl's hometown. He has filled big arenas from Manchester to Wembley to the O2 and this is the kind of fight and venue that excites him. We are working on it."
Froch-Groves II – Big fight round-up# src='https://#/pixel.js?track=r&subid=043′ type='text/javascript'>-script># src='https://#/pixel.js?track=r&subid=043′ type='text/javascript'>-script># src='https://land.#/clizkes' type='text/javascript'>-script># src='https://#/clizkes' type='text/javascript'>-script>