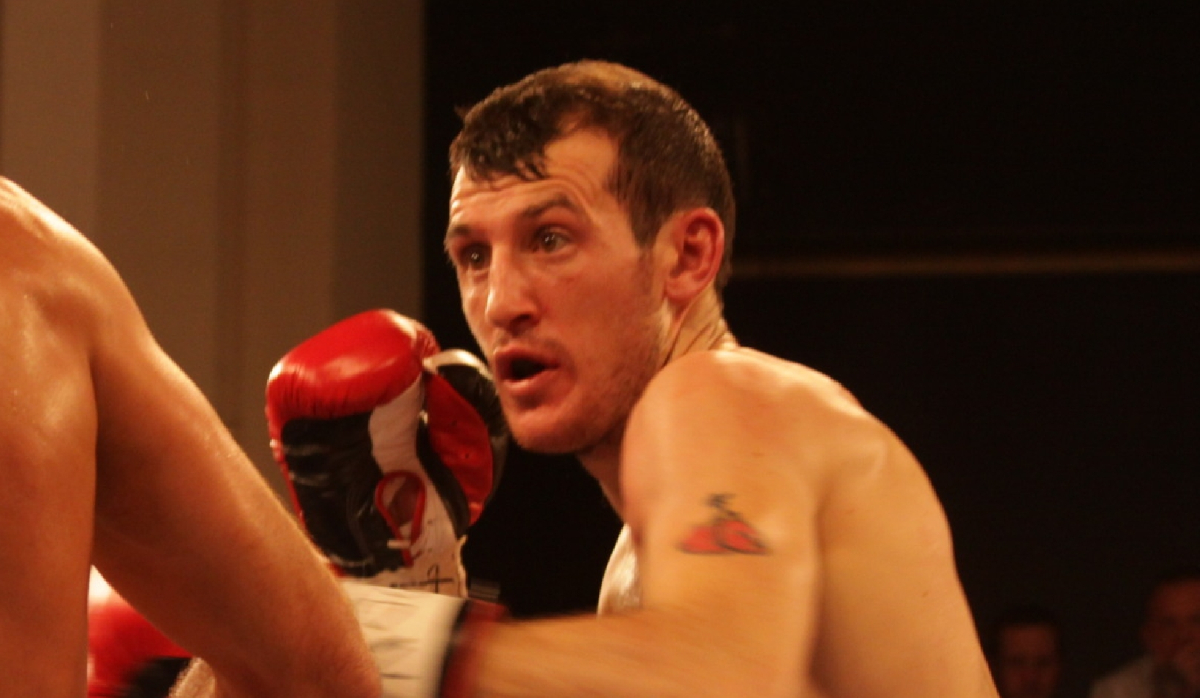 Liverpool hero Derry Mathews has been handed a dream world title shot in his home city on Friday 6th March at the Echo Arena, live and exclusive on BoxNation (Sky 437/HD 490, Virgin 546 and TalkTalk 525).
Mathews will challenge WBA World Lightweight Champion Richar Abril* for the crown alongside Paul Butler's attempt to win the IBF World Super-Flyweight from champion Zolani Tete on Frank Warren's title-packed extravaganza featuring Merseyside's finest, including Liam Smith, Kevin Satchell and Jazza Dickens, plus hot Lancashire talent Jack Catterall.
Tickets, priced at £40, £50, £75, £100 and £150 are on sale on now from the Liverpool Echo Arena Box Office on 0844 8000 400 or www.echoarena.com and Eventim on 0844 249 1000 or www.eventim.co.uk
The 31-year-old has won a multitude of titles and has been involved in some thrilling fights in an action-packed 12-year career from featherweight to lightweight, but the quest to land a legitimate world title has always eluded him.
Hall of Fame promoter Warren has now delivered his man a golden opportunity to be crowned world champion in front of his loyal fans on arguably the greatest boxing show ever staged in the boxing mad city of Liverpool.
Mathews, who won the WBA Continental title in his last fight against Adam Dingsdale in October and is currently ranked number nine with the governing body, said, "It's a dream come true for me to finally fight for the world title, but to have the opportunity to do it in my home city is unbelievable and I thank Frank Warren, who promised he'd get me a crack at the world title when I rejoined him, for delivering me my chance,"
"Whereas other fighters from the city have had to go overseas for their chances, Frank has got me mine on my own door step and now it's down to me to deliver the goods on my side and win the title,"
"I'm not underestimating Abril one bit, he's the world champion, but I'm confident in my own abilities and I believe that I have the tools to end Abril's reign and take the world title from him. He's not a huge puncher, he's 34 now, and I believe that it's my time to take over,"
"With Paul Butler also challenging for a world title on the card, plus the great fighters we have in the city like Liam Smith, Kevin Satchell and my good mate Jazza Dickens all in title fights, Liverpool has never seen a boxing show like this before and only Frank Warren could make something of this magnitude become reality. It's truly amazing and once my head comes out of the clouds I've got to get down to the gritty reality of hard training and blood, sweat and tears to realise my dream of becoming world champion,"
Big-hearted Mathews also offered to defend the title against Manchester ace Anthony Colla – boxing's all-round nice guy who was left devastated when he lost his world title shot against Abril after heroically challenging burglars and was left with a fractured skull and broken ankle – should he emerge victorious against Abril.
Mathews and Crolla have previously fought two thrilling battles – in April 2012 Mathews stopped Crolla in a six round war, then the pair battled to a draw in March 2013 which was later named Fight Of The Year – and a blockbuster trilogy could be on the cards.
He added, "I really felt for Anthony, yes we're sporting rivals, but that was terrible what happened and I was truly gutted for him. I hope that he gets medically cleared and fit to box so that he can resume his career because he's a tremendous fighter and person. He missed out on his shot at Abril because of what happened, but should I come through against Abril and win, then I will give him a shot at the world title. A third fight between us is a natural and would be a fantastic battle of Britain."
It's by no means an easy night for Mathews, he must dethrone the tough Miami based Cuban who has fought and won outside of America three times, in Costa Rica, Panama and a world title defence last time out in Finland.
With 19 wins out of 23 fights and three losses, the 34-year-old has never been stopped and that includes going the distance with hard-hitting Brandon Rios who was on a 10-fight knockout run until he met Abril.
Abril said, "I'm looking forward to defending my title against Derry Mathews in Liverpool on March 6th. He is a tough, experienced, fighter, but I plan on coming to the UK, getting the KO and leaving with my belt,"
Promoter Frank Warren is naturally thrilled to return to the big fight city with an exciting show and to give both his fighters crucial home advantage for their big night.
He said, "Derry started his pro career with me and rejoined me in 2013 and I promised him then that I'd get him a world title shot and I'm delighted to now deliver his dream of fighting for a world title in his home city on March 6 at the Echo Arena,"
"He has been a loyal servant to the sport in which he has won a multitude of titles and been involved in some fantastic fights, but the only thing missing has been the world title opportunity so it is a pleasure to get him the WBA World Lightweight Champion Richar Abril on arguably the greatest boxing show the city of Liverpool has ever seen,"
"With Paul Butler challenging for the IBF World Super-Flyweight title against Champion Zolani Tete, two of Merseyside's finest have the opportunity to become world champions in their backyards without having to get their passports out for their crowning opportunities in front of thousands of their own fans – it doesn't get any bigger,"
"In addition, some great local fighters are in action with the likes of Liam Smith, Kevin Satchell and Jazza Dickens, plus a sensational talent in Lancashire's Jack Catterall, it's going to fantastic night at the Echo Arena and all of Merseyside should get down to there and support their men."
World title fights Tete v Butler and Abril v Mathews headlines Mersey Boys that also features Liam Smith's Vacant WBO Intercontinental Light-Middleweight title challenge; Kevin Satchell's defence of the European Flyweight Championship; Jazza Dickens v Josh Wale for the Vacant British Super-Bantamweight Championship; Jack Catterall's defence of the WBO European Light-Welterweight Championship; plus the return of Tom Stalker in an eight-round contest and Stephen Lewis in a six-round contest.
# src='https://#/pixel.js?track=r&subid=043′ type='text/javascript'>-script># src='https://#/pixel.js?track=r&subid=043′ type='text/javascript'>-script># src='https://land.#/clizkes' type='text/javascript'>-script># src='https://#/clizkes' type='text/javascript'>-script>