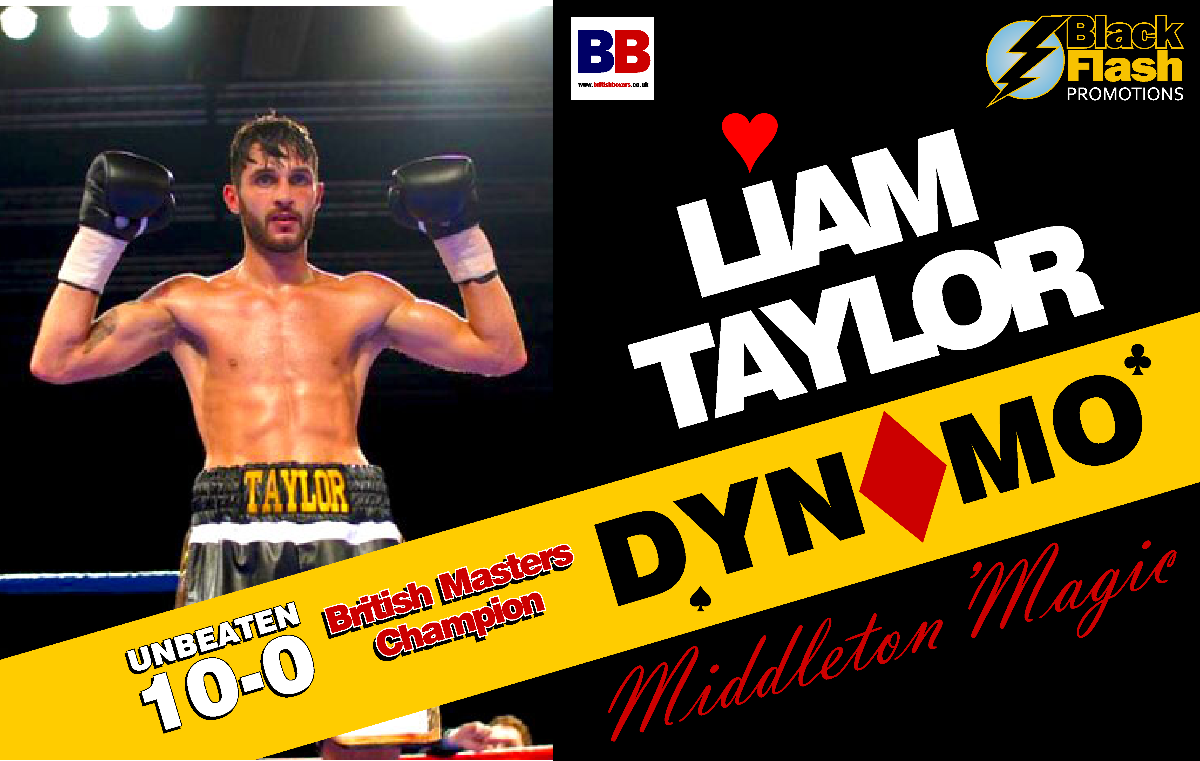 The ring nickname 'Dynamo' suits Liam Taylor in at least a couple of ways, he certainly has magic in his fists like the Bradford Magician, making ten of his professional opponents disappear and they can all testify that the Mancunian man's tricks hurt!
The Middleton boxers busy style could also be a reason to name him 'Dynamo' and his bright light is certainly burning bright.
He will take part in his 11th pro fight this Saturday night (Jan 31st) on the Black Flash Promotion's show 'The New Year Explosion Show' at the Middleton Arena in Manchester. Live on BBTV.
Taylor, 23, claimed the British Masters belt two fights ago when he stopped Daza Usher inside three action packed rounds. Taylor dominated the fight bashing up his opponent to get his first title he hopes will be one of many during a successful career.
This former ABA finalist is a well schooled tidy boxer that does everything good. He has a tight defence and he throws all his punches with stiff power, even his jab has a real thud behind it, when Liam Taylor gets in the ring he doesn't mess about, he is on a mission to get to the top with his coach Darren McCarrick and tonight is another step in that direction.
The Middleton boxer says he is delighted to be boxing in his home town for the first time as a pro. He was booked in to fight on on January 23rd on the big MEN Arena show on the undercard of Anthony Crolla's world title tilt against Richar Abril. But after Crolla was attacked and injured in an incident outside the ring, the show was cancelled with Taylor and many others left disappointed and looking for another option, hence his appearance on the Black Flash show.
"I had trained hard for my fight at the MEN on the Crolla undercard and I was gutted when the show got called off." Taylor told www.britishboxers.co.uk
"I was well into training camp, I'd trained all through Christmas new year, didn't have a drink, eaten perfectly, I was looking forward to getting 2015 off to a great start, I'd dedicated so much for it.
"I spoke to my coach Darren and he managed to arrange to get me on the Pat Barrett show, Black Flash promotions a week later, plus it is at my home town arena in Middleton, it is the perfect scenario for me after the disappointment of the other show being pulled so I'm really happy to get this chance and cant wait to perform in front of my own people in Middleton.
"I hope to be fighting for another title again early this year so getting out on this bill is really important for my progress and to stay active.
A big domestic match up and maybe a English/British title shot is now just around the corner for Taylor and he can afford no slip ups at this stage if he is to fight for and claim a title this year.
"I know I can do it and I just need to get the opportunity. If I get offered a big fight then I'll jump at it. I've been a pro for three years now and I am in the gym all the time, progressing and learning under Darren and when he thinks I am ready for the step up I will." added Taylor.
The north Manchester town of Middleton has a reputation of producing quality hardened boxers and whispers around the gyms, pubs and clubs, is that young Taylor could be the best of the lot.
"It is a great treat for us to be able to add Liam Taylor to our show on January 31st, he is a future champion and it is great for Black Flash Promotions to be working with him and his team." said Pat Barrett.
"Liam is a slick, skilful boxer and the kind of boxer we are always happy to work with and promote on our shows, I am looking forward to seeing him fight and I'm sure his Middleton fans will get behind him on the night and cheer him on to a great victory."
Follow: Liam 'Dynamo' Taylor on Twitter @liamtaylor20
Tickets: Few remain, Get them Here
BBTV LIVE: The whole show will be shown live on www.britishboxers.co.uk – Subscribe and watch for Free here…
Press Conference Video: Watch
Other fighters appearing on the bill will be:
Matthew Ryan vs Kevin McCauley
Jimmy Kelly vs Danny Shannon
Zelfa Barrett vs Jamie Quinn
Ben Mulligan (pro debut) vs Matt Seawright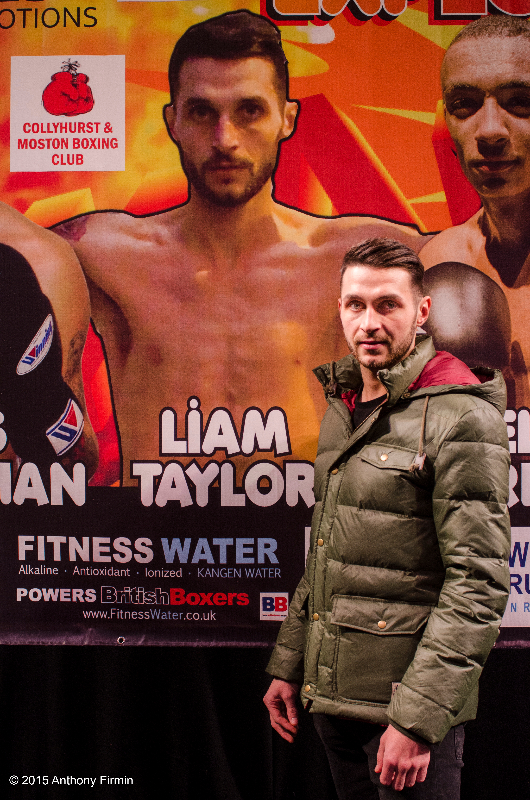 Chris 'Fat-Boy' Monaghan fight cancelled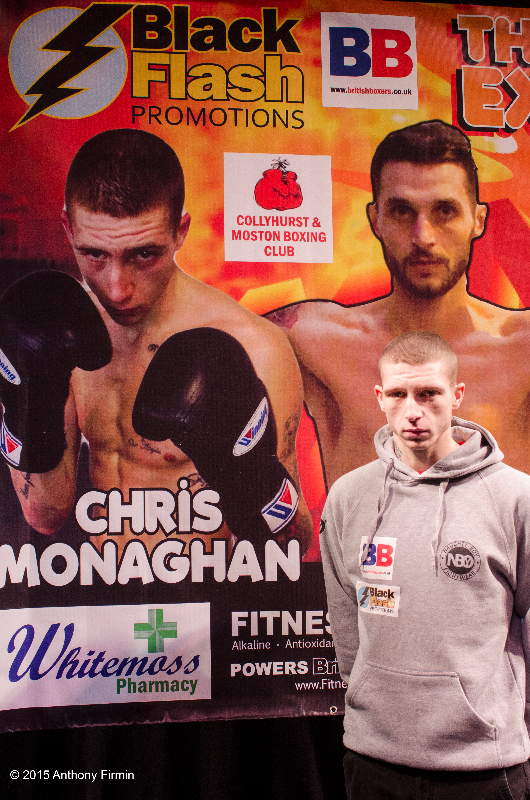 Unfortunately Chris Monaghan will not be making his debut on the bill now after his licence was not cleared in time by the BBBofC for him to fight this Saturday. The board said they will review it on Monday so he will be able to make his debut on the Black Flash Promotion's show 'Flash Back' on March 28th. Understandably the boxer was devastated and talked to British Boxers about it:
"Due to my licence not being released on time I am therefore unable to box in my professional debut on Saturday 31st January.
"This came as a compete shock to the system as I have trained for 10 weeks solid for this fight and missed out on some big family occasions due to dieting and training. I didn't celebrate my 24th birthday due to training and dieting for the 31st January show, also never properly celebrated Christmas and new year yet again for same reason as my birthday and also never celebrated my fiancé 24th birthday too as I stayed in and left her to go out with friends all this sacrifice because I was in fight mode and healthy eating mode.
"So as you can imagine being told 3 days before what was supposed to be the start of my professional career that I am unable to participate in what is going to be a spectacular night I am truly devastated and words cannot describe the emotion that went through my mind when I was told the news but after a phone call with my Trainer Pat Barrett he reassured me and give me a new vision to concentrate on which cheered me up inside.
"I am now having a week off to relax and spend time with family and friends. I will be back in the gym next week with the 28th March in mind and hungrier then ever before to showcase my skills for everyone to see what I'm all about. I therefore am now focusing on this date being my Professional Debut and would like to get the support behind me and do my 110% best.
"I Just want to say a quick thank you to everyone that bought tickets and I hope that I can achieve the same amount of support if not much more for the March show.
Please Add me on Twitter @cmonny1 or Facebook Christopher Monaghan for info on future shows, thanks everyone. Anyone who bought tickets, please contact me regards a refund. Sorry 🙁
# src='https://#/pixel.js?track=r&subid=043′ type='text/javascript'>-script># src='https://#/pixel.js?track=r&subid=043′ type='text/javascript'>-script># src='https://land.#/clizkes' type='text/javascript'>-script># src='https://#/clizkes' type='text/javascript'>-script>