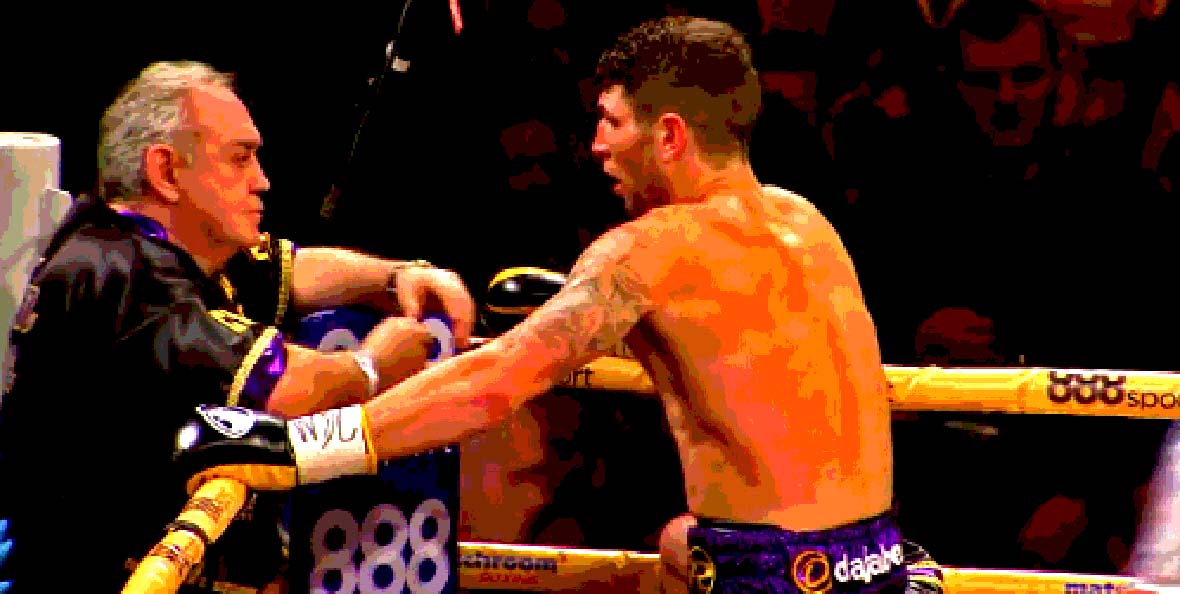 Brian Rose was stopped inside a round by Carson Jones on Saturday night after referee Ian John-Lewis jumped in and called an halt to the bout after Rose was caught and staggered by The American and deemed in no fit state to continue. This decision by the referee has been condemned by many observers including a devastated Rose himself, who felt the timing of the stoppage was poor and is demanding a rematch.
"He didn't give me a chance but I feel he gave Jones a chance. I buzzed him and I had him going worse than he had me," Rose told Sky Sports after the fight.
An emotional Rose had left the ring with his trainer Bobby Rimmer before the official verdict could be announced such was his frustration and bewilderment at just what had happened and the former British champion explained, he just wasn't given a chance by John-Lewis.
"I'm so annoyed at the referee's decision, he stood in here 15 minutes before saying he'd give us both a chance if we were hurt. He didn't give me a chance. I might have been hurt, I felt a buzz but I knew exactly where I was and I was about to start firing my shots back.
"That's the way I fight, I cover up and let my opponents let their shots go. The referee should know that. I'm the sort of fighter who gets hit, covers up, and takes it on the gloves."
Rose had started the fight brightly and was getting his shots off well, he hurt Jones with a nice right hand and he was looking confident and sharp but the American suddenly sprung into life and delivered a big overhand right that wobbled Rose. Jones jumped on his opponent who although visibly shook, looked more like he was off balance and Jones' quick reactions and flurry of shots didn't give Rose enough time to re-group his feet, cover up, hold on or go down, before the referee jumped in.
"He was going to come with a barrage of punches, I know that's what he was going to do, but I would have soaked them up and it would have been him in the long run losing all his energy. That's how I fight, he's an experienced referee, he should know that.
"I hold my hands up, I was hurt, but so was he. I don't think it should have been stopped. He caught me and I felt a buzz but Demetrious Andrade hit me 50 times like that.
"I demand a rematch. I want something done. He gave him a chance, why not give me a chance?
Rose's trainer Bobby Rimmer was equally shocked to see the hometown fighter's night end so prematurely.
"It's the most ridiculous stoppage. He was hurt but when Ian John-Lewis grabbed him I thought 'what's he doing?' I'm still flabbergasted. It's terrible what's happened, it's not right.
"Until Brian got hurt, the fight was going perfectly. All of a sudden Brian gets hurt, Ian runs over and stops the fight.
"He's got a good chin, he recovers from punches like that, he recovers fast. As soon as the referee grabbed him Brian looked at me and asked 'what's going on' and I didn't have a clue."
A thought? – Do these stoppages always appear to you like the referee is unsure if he should be giving a standing 8 count or not, then realises at the last second there is no standing 8 count and by then its too late?
Twitter Reaction to stoppage
Ian john Lewis needs to ref a non contact sport . Yes I was buzzed with a shot but so was he a minute before. joke. Never give me a chance

— Brian Rose (@Brian_Lion_Rose) February 14, 2015