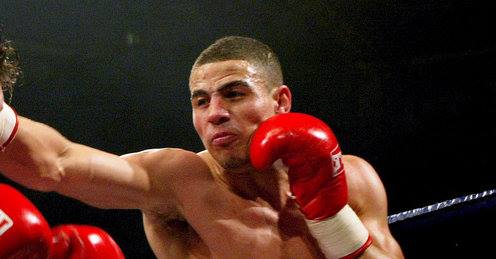 Manchester's David Barnes will launch one final assault on the light Welterweight division when he boxes for the British Masters Light welterweight title on 19th March at Glasgow's iconic St Andrew's Sporting Club.
The former two weight British title holder – the only man to achieve this feat at British level was last subject to public consciousness in 2013 when he lost to current British and Commonwealth Welterweight boss Frankie Gavin in a bid to wrest Gavin's domestic dominance and his British and Commonwealth title belts away.
In a brief interview, the affable Barnes spoke to British Boxers about his colourful boxing story so far, along with his plans for the future.
"My dad was a boxer over at Champ's Camp when I was growing up, I started at Partington and grew up with the likes of Ricky Hatton and Jamie Moore alongside me, I won one national title, then another, then another".
Southpaw Barnes' early boxing prognosis would point to stardom by many people's standards. However, he seemingly turned away from any professional career by joining the army; it was the armed forces that would change Barnes' life in a most unexpected way, as he recounted.
"I was boxing in the army and Frank Maloney turned up at the gym asking if I fancied turning pro – the year when Francis fought Tyson I asked the army if they would let me and they wouldn't so I absconded and signed with Frank Warren!" Barnes laughed.
From here, the impressive amateur starlet built a solid professional record, most notably cruising to a 6th round TKO win over future British champion Kevin McIntyre to defend the Lonsdale belt initially picked up in Dagenham, Essex after winning a closely fought battle with Jimmy Vincent for the vacant Championship.
Losses and setbacks have blotted Barnes' record intermittently, which has left question marks over Barnes ability and commitment, though David was quick to dismiss this notion:-
"It's been on and off, (his career) so it's hard getting going, but I feel that now is my time. Age is just a number and I can't wait to get going again, I've got another 2 years at least left in me as I've looked after myself and I've not fought often. I injured my shoulder in the 3rd round against Frankie Gavin and was still there at the end, so that showed what I've got left."
I don't have any regrets looking back – maybe I'd go out less but that's about it. I'd love to win the European title, I can't wait to get in the ring again on the 19th and I'm looking to get to the stage where the top have to fight me. All I can say to them at the moment is watch out, 'cause I'm coming after you!"