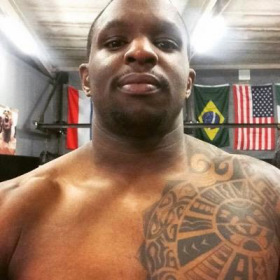 British heavyweight boxing has a rich and varied history, with some of the great names of the past such as Henry Cooper, Frank Bruno and Lennox Lewis establishing themselves as household names thanks to their combined in-ring heroics.  
Todays crop of heavyweight stars are arguably led by the colourful Tyson Fury, who himself will shortly be looking to capture world title glory with a shot at reigning world champions Wladimir Klitschko and/or Deontay Wilder later this year.  
Yet one of the leading charges chasing a British title opportunity and bigger things is South London's Dillian "The Villain" Whyte (14-0, 11KO) a man who has made a blistering return to the sport following his enforced 2 year exile in the wake of unknowingly consuming a banned substance (MHA) contained in a perfectly legal over the counter supplement.
The fans last had a chance to see Whyte when he boxed on the undercard of Carl Frampton's sizzling IBF super bantamweight title defence against Chris Avalos in February, live on ITV4, where he succeed in knocking out Georgia's Beka Lobjanidze in 4 one sided rounds.
I caught up with Whyte to discuss his current promotional situation, how the past has affected and impacted upon him and just where he sees himself going in the near future.
Hello mate. How are you? All's well I hope? 
Yes, thank you. Everything is good. Just having a relaxing evening after I've been training today. I'm just constantly ticking over, keeping myself physically and mentally in shape. Ready for anything! 
You are your own man promotionally and look after all your own interests. Do you feel given your increased exposure as of late, that it's still the right move to resist signing with someone? 
I've said all along that I'm going to make a decision on my future in the summer, and summer is fast approaching. There are offers there, but it's about making a decision that's best for me and my family. I want to sign with a promoter who is going to look after me and not push another heavyweight fighter ahead of me. It's about doing what's right. I need to be mindful of ALL my options and not just sign with someone because an offer looks good. I'm not completely out on my own as I have a lawyer. Its me and him. He will discuss everything with me but the ultimate decision is my own, and like I say I want to be 100% confident that I'm making the correct one. 
Boxing on ITV on (Barry McGuigan's CWM Cyclone show) was fantastic exposure for you. How was the experience?  
Yeah, it was fantastic exposure, and just what I needed then in my career. Let me say working with the McGuigan's was easy, everything went smoothly with them. We discussed and made that fight (Lobjanidze) in a little over two weeks, everything was problem free.
How did that fight on ITV come about? Did CWM Cyclone reach out to you? 
Yeah. They contacted me a couple of days before the Nascimento fight and we had a chat. I was committed to that fight on Micky Helliet's show and I'd sold 300 tickets. (Whyte KO2) Yet as I'd only done 2 rounds that night, fighting again just a fortnight later on their show was a no-brainer, really. The McGuigan's are cool people and very easy to deal with. 
You had the benefit of working with Bob Shannon that night. Surely you can only gain from such experience? 
Definitely. Bob is a really cool guy. His hand wrapping is amazing! I'd love to have him as part of my team as he's so knowledgeable having been in boxing for over 20 years. He wrapped my hands for the fight, and his skills are second to none. Bob Shannon is a nice guy, it was great to work with him. 
Let's talk fights. You're 14-0 now and have been pushing on fast. Despite this, Gary Cornish has just pulled out of fighting you in a British title eliminator. Are you finding it hard to get fights, and do you feel you're perhaps being avoided domestically? 
Well, Gary Cornish pulling out was no surprise, put it that way! He doesn't want to fight me. Yeah I am finding it a bit difficult domestically to get fights. I have approached guys only for them not to want to fight. That's happened internationally too. But I can't worry about that now. I need to push on. I don't want to sit around for months waiting for these guys only to then have them pull out on me. 
There are fights that seemingly should be easy to make. You have Ian Lewison as Southern Area champion and despite his inactivity, John McDermott is still the English champion. What about those guys? 
John McDermott is a joker. That's all I'm saying there! And of course I'd fight Lewison. But seriously, this is what me and my lawyer are looking at right now. Getting me fights. I don't want to say too much but there are options and we're closing in on a couple of potential opponents, be it domestic, european level, whatever. The important thing is that I'm ready.
Perhaps if you were signed to a promotional outfit do you not feel these fights might be a little easier to force? 
You see the thing is being a free agent has worked really well for me. At this stage, I get to work with any promoter which gets me more fights, which are just what I need. I could work with Itv, Sky, Boxnation, whomever. Of course, I see your point, and it could make things easier, but the bottom line is if these guys don't want to fight me, then they don't want to fight me. I'm ready for fights and I want fights. Like I said there are offers on the table and the time is fast approaching for me to sit back with my lawyer and have a look at exactly what is on the table.  
I know you know their team incredibly well, but one name being suggested as a potential opponent for you on social media is Hughie Fury. How do you rate Hughie and what are your thoughts on that fight? 
Hughie is a very good fighter and he's also a friend. I like those guys in that team so obviously right now that's not a fight I'd go looking for. I'm sure they are the same as me in that regard. However if the opportunity came up for us to fight for say the British title, then I know, just like me, they'd take the fight and it would be made. This is the fight game, anything can happen at any minute but right now it's not a fight either of us are really looking for. But we are both professionals so never say never! 
Boxrec has you at #9 on their rankings system. Do you feel confident in stepping up to face the likes of Richard Towers, David Price or Michael Sprott, who are ranked above you? 
Of course. That's what this game is all about and I've been saying that this is the year I want to step up in class. Yet Michael Sprott has already refused to fight me. I know Michael. I used to travel to Reading to spar with him. I asked both him and Martin Rogan to fight me and both of them said no. Its back to what I said about finding it difficult at times to get these fights. Mentally I feel that I am ready to step up and take on these guys. In 14 fights however, I've not been beyond 4 rounds, so I certainly feel staying as busy as possible and gaining valuable rounds is also going to be beneficial to me at this stage. 
I can't not ask you about Anthony Joshua. There's been so much history and beef, and its very well documented. Obviously you would have the edge psychologically after your amateur victory over him. Is it a fight you see for the future? 
You're right Olly, it is well documented. He knows where I am and to be honest, I'm not going to hang around and wait for him. I'm not prepared to say too much but things go on behind the scenes. I'd take the fight and I believe I can beat him. If the fight was to happen I'd like it sooner rather than later, because I honestly believe someone else is going to beat him. Then it wouldn't be such a big fight. Lets just say they know where I am. 
Joshua is soon to step up and face Kevin Johnson, a man you know well. How would feel about a step up in class to face a guy like Dereck Chisora who knows his way around at top level? There is a belief he's on the slide slightly and that now would be a great time to claim such a scalp. 
I would fight Dereck Chisora tomorrow. I've sparred with Dereck loads over the years, from back when I was 17 years old, had come in off the streets and had no real skills. I tell you Dereck is a good fighter. People can say what they want about him but he stepped up when he had to. To get in with Klitschko after what, 17-18 fights says it all. 
I feel stylistically it could be a good fight, I can see similarities between the two of you. It's a good match. 
I don't think I'm similar to him to be honest. He's more experienced than me and probably has more natural ability than me but I'm bigger than him, I'm more mobile and I use my jab more than he does. I've got longer limbs. I throw  a better left hook than him. You could call Dereck one-dimensional. I'm not one dimensional.
Do you see Chisora as a good fight for you potentially? 
Yeah, it would be a good fight and it's a fight I would train hard for. I know also it's a fight Dereck would turn up and train hard for too. We know each other very well and have had some great sparring sessions in the past. If I'm honest, If Dereck is with (trainer) Don Charles then I don't see it 'cos Don said he wouldn't want that fight unless it was for massive money. But he's not with Don Charles now. I don't know who he is with or what he's doing, but what ever he decides he's a credit to British boxing. He's always worn his heart on his sleeve. He's given us some good nights. 
We all know about the ban and the circumstances surrounding it. Given that you were banned for the maximum 2 years, upheld on appeal, do you feel harshly treated given that (Welsh 175lb fighter) Enzo Maccarinelli was convicted of exactly the same offence and substance yet only received a 6 month ban? 
I can go one better than that! Tony Dodson was banned for 5 months for the same thing. But listen, I'm not bitter. I don't complain. It was an incredibly difficult time for me but I said to myself I've just got to get on and deal with it. I focused on my training and simply told myself I wouldn't let it break me. I was never going to quit and just walk away. That's not who I am. The setbacks only make me tougher. I've come back a stronger, different animal. 
The timing couldn't have been worse though. It came at a bad time and really put the brakes on your momentum. 
You're right it did. I was about to fight John McDermott. I would have knocked him out and been English champion. I lost a shot, I lost everything basically. But what good is it to dwell? So many good things have actually come out of the ban. I've improved so much mentally and technically throughout that time. The main thing was I had time to look at myself, my team and the people I had around me. I had time to reflect and make changes, and I did just that. I educated myself most importantly. 
So it was a time for you to make positive changes? 
Yes, exactly and things are just so much better for me now. I'm doing everything properly where perhaps I wasn't so much before. I have a nutritionist, a health and conditioning coach, and above all a lawyer; someone who is helping to look after my interests. I'm much happier now. In many ways I look at the ban as a blessing in disguise as I've learned so, so much. I stayed disciplined, didn't let it break me, kept myself in shape and came back better. I'm a big believer in myself and my ability. I would never have quit and packed it in. That just isn't me. Look, when bad things happen in life there's a couple of things you can do. You give up and let it break you, or you fight and use it as fuel to spur you on in the future. 
So when and where can we expect to see Dillian Whyte next? 
I'm looking realistically at the end of April, perhaps early May, and that's going to be whether I'm with a promoter or not. There are some things being worked on that are close to done, I can say that much. Hopefully I'll have confirmation very soon. I'm not sure where it'll be yet, but this is something me and my lawyer are going through. What I've learned is that I need to be sensible. Boxing is a short career. I'm more mindful than ever of making the right choices. I'm not in a rush. I don't need to reach out and grab the first thing that comes my way because I'm going to get there, whatever happens. I'm sure of that. I just want to be active and keep gaining valuable experience along the way. I intend to be patient and keep working my way up the rankings. I honestly believe that I can become the heavyweight champion of the world one day. Its what I set out to do when I started all this and I'm confident that I will achieve it. 
Finally, I can't let you go without asking about the May 2nd fight between Mayweather and Pacquiao. How do see that one going? 
(laughs) You know, I only see it going one way and that's a victory for Mayweather. I can see Floyd schooling him actually. I expect Pacquiao to be aggressive early, but I can see his aggression being his downfall. I say that because when Floyd is under pressure his defence just seems to shine. Floyd has great feet, his shoulder roll, he just seems to have something that other guys haven't got. He's so calm under fire. He doesn't care if people boo him either. He's a very intelligent fighter, he's so patient and that's what makes him special. Mayweather wins come May  2nd…I just can't see any other outcome.
Follow Dillian on Twitter: @DillianWhyte
Interview by Olly Campbell. As always many thanks for reading and please give me a follow on twitter @undilutedpoison as I'm new over there. Like me for all my features, articles and interviews. email – [email protected]