On October 31st, Halloween night, Black Flash Promotions will host a professional boxing show titled 'Fright Night' at the Castle Leisure Centre in Bury, Greater Manchester.
It will be a year in October that Black Flash has been established and this will be their 6th event in that time.
This next show will feature a host of unbeaten Manchester talent and promises to be a night not to be missed. Black Flash feature every fight on the bill like the main event and each boxer is given the stage to perform in front of their fans and build up their careers locally. The event will feature star attractions from the Collyhurst and Moston Boxing Club including headline act Zelfa 'Brown Flash' Barrett, Sean Ben Mulligan, Chris 'Fat Boy' Monaghan, Michael Gomez Jr, Blaze 'The Lion' Mendouo, Mohammed Fahim, Sam 'Nowhere2' Hyde and making her professional debut will be top female amateur Laura 'Cyclone' Kelly.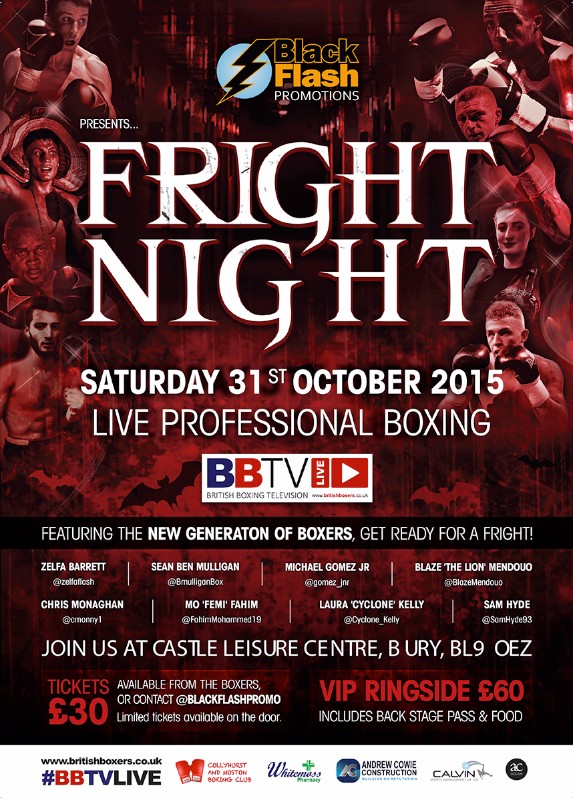 The show will be beamed Live and Exclusive on BBTVLIVE on this website www.britishboxers.co.uk – Details
Tickets for the event go on sale this week and are available from the boxers. £30, Ringside £50, VIP Ringside £60
Zelfa Barrett: @zelfaflash
Sean Ben Mulligan: @BmulliganBox
Chris 'Fat Boy' Monaghan: @cmonny1
Michael Gomez Jr: @gomez_jnr
Blaze Mendouo: @BlazeMendouo
Fahim Mohammed: @FahimMohammed19
Sam Hyde: @SamHyde93
Laura 'Cyclone' Kelly: @Cyclone_Kelly
Black Flash Promotions: @BlackFlashPromo
British Boxers: @britishboxers 
More information on this bill and the boxers interviews and video footage coming soon.
[sam id="1″ codes="true"]