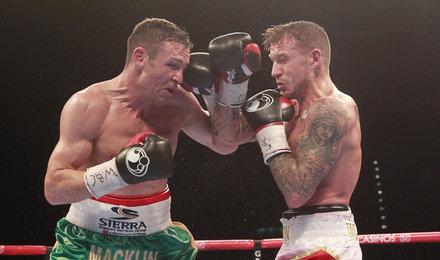 Matthew Macklin claimed the vacant WBC International super-welterweight belt in a tough busy entertaining encounter in Birmingham on Saturday night taking a unanimous points win over brave fellow Midlander.
Macklin, 33, took the win with scores of 96-94, 96-94, 97-93 victory after 10 highly competitive rounds with plenty of leather being thrown by both throughout this clash.
Welborn was adament to set the pace of the fight and spent much of it on the front foot, but Macklin (34-6, 22 KO) used his experience and superior boxing ability to stay out of trouble and pick up the points with more accurate shots which impressed the judges more. Welborn (17-4, 6 KO) can hold his head up high on what was a gallent performance.
It was Macklin's first fight at 154lbs in nearly 10 years, which was his epic British title fight against Jamie Moore in 2006,  after he shed the pounds recently to give it another go at reaching a world title. But despite showing some nice work at times particularly to the body and managing to stem Welborn's aggressiveness, Mack the knife wasn't too pleased with the performance.
"It wasn't a great performance. I've been practising countering. When it worked, it's brilliant, and when it doesn't, it's bad. It's not going to work straight away. Sometimes I was there too long." said Macklin after the fight.
"I shouldn't have allowed it as much as I did. I was coming back with nice ones and twos. I was staying there too long but that was one thing that I've been working on."
Post Fight Interview with Matthew Macklin